Los Angeles, Oct. 10 – NBC's Perfect Harmony is, at heart, a show about saving and being saved. The show was billed as being about former Princeton University music professor Arthur Cochran (Bradley Whitford) saving an out-of-tune church choir, but the choir, led by Ginny (Anna Camp) ends up saving him back.
An important subplot revolves around Ginny – her love life and her son, who often gets in trouble for acting out at school. Arthur discovers the reason for her son Cash (Spencer Allport) getting into fights at school – "having trouble reading."
"Every time he looks at a page, the letters float around. It's called dyslexia," Arthur tells Ginny. "A lot of successful people have had it. Yates, Churchill, Tom Cruise."
Ginny is relieved, having thought she caused his bad performance at school "by getting a divorce."
Arthur reassures her it is "not your fault," something important as parents often blame themselves for their children's disability when most likely not caused by anything they did or could have done differently.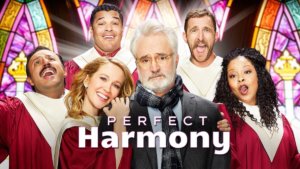 Since what people see on screen influences how they act in real life, accurately showing individuals with dyslexia in television shows is vitally important. For example, Cristina Yang (Sandra Oh) played an extremely successful doctor on Grey's Anatomy. While she earned straight A's all throughout medical school, she was diagnosed with dyslexia when she was six years old. This shows that people with dyslexia can be – and are – successful in one of the hardest professions.
In family television, CeCe Jones (Bella Thorne) did not allow her dyslexia from achieving her dreams of becoming a famous dancer in Shake It Up. What is important about Thorne is that she is not just playing a character with dyslexia but has dyslexia herself. Thorne is a spokesperson for the Dyslexia Foundation. "Dyslexia might have made things more challenging but it didn't stop me, and the challenge made me stronger," she said as a spokesperson for The Dyslexia Foundation.
Actress Salma Hayek, who has talked about her dyslexia openly, shared how her disability has made her a better actor and director. "Some people read really fast, but you'll ask them questions about the script, and they'll forget. I take a long time to read a script, but I read it only once. I directed a movie, and I never brought the script to set."
Theo Huxtable (Malcolm-Jamal Warner) of The Cosby Show was one of the first TV characters to have dyslexia in the late 1980's. While Warner does not have dyslexia, his character was based on a boy with the learning disability – Bill Crosby's son Ennis. What is most important is how Theo is able to learn new ways to study, leading to him graduating college from New York University, showing that people with dyslexia are fully capable but may not learn the way most individuals do.
Showing accommodations for people with dyslexia also is important. This occurred for Donna Martin (Tori Spelling) in 1991 in Beverly Hills 90210 when, after her diagnosis of dyslexia, she is given the opportunity to retake the SATs as an oral exam.
The most common disability among children in the United States is a learning disability, which is a neurologically based condition that may manifest itself as difficulty learning and using skills in reading (called dyslexia), writing (dysgraphia), mathematics (dyscalculia) and other cognitive processes due to differences in how the brain processes information. Individuals with learning disabilities can have average or above average intelligence, and the term does not include a learning problem that is primarily the result of another cause, such as intellectual disabilities or lack of educational opportunity. ADHD is not a learning disability. However, ADHD can interfere with learning. According to understood.org, experts estimate that one-third to one-half of individuals with a learning disability also have ADHD.
Dyslexia is a learning disability that likely affects more than 40 million Americans, but only two million know they have it. Dyslexia is characterized by difficulties with accurate and/or fluent word recognition and by poor spelling and decoding abilities. These difficulties typically result from a deficit in the phonological component of language that often is unexpected in relation to other cognitive abilities and the provision of effective classroom instruction. Secondary consequences may include problems in reading comprehension and reduced reading experience that can impede growth of vocabulary and background knowledge. It is a common learning disability among children, although adolescents and adults living with dyslexia often exhibit symptoms as well.
Perfect Harmony airs on NBC on Thursdays at 8:30 p.m. ET.