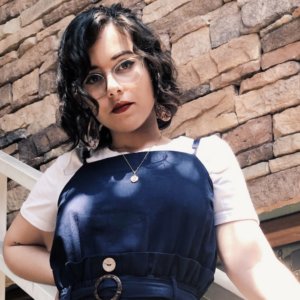 Los Angeles, California, Oct. 9 – As people with disabilities turn to YouTube to create content and normalize their experiences, Andrea Lausell is quickly becoming a YouTube star for her honest conversations about disability.
For Lausell, disability was not a negative word that her family was afraid to use. In fact, her parents taught her to be proud of it. They told her it was okay not to be able to do something.
"My mom just always said, as a matter of fact, said, 'I'm disabled,'" Lausell recalled during an interview with RespectAbility, stating how unique that is based on her Latinx culture.
There is not a world in Spanish that describes disability unless it is a negative word like broken or bad, Lausell said, describing how her paternal grandmother was very distant toward her as a child and only speaking Spanish.
So, her grandmother never talked about her disability. She would always just say in Spanish, "Oh, she has a bad back." It was her grandma who started making her feel different as a child. "That was my first inkling of, oh our culture doesn't have the words to talk about disability without it being depressing," she said.
As the country celebrates National Hispanic Heritage Month, which began on September 15, 2019 and ends October 15, 2019, it is important to include Latinx and Hispanic individuals with disabilities as well. 4,869,400 Latinx and Hispanic Americans live with a disability in the U.S. While studies show many people within the Latinx, Hispanic and other communities hide their invisible disability due to negative stigmas, Lausell has learned to use her voice to share her stories, educating people about both visible and nonvisible disabilities.
Becoming a Self-Advocate
Lausell was born in Orlando, Florida and raised outside of Orlando in Lake Mary. She was born with Spina Bifida lipomyelomeningocele, which is one of the least common forms of Spina Bifida. This was a result of her father being exposed to Agent Orange while serving in the military during the Vietnam war.
Her family did not let her aspirations as a child stop her. If it was something she wanted to do or try, they let her. If she could not do it, it was not a big deal, and she just moved on. She always had the attitude of, "it's ok not to be able to do something," which she says contributes to how she views the world today living as an adult with a disability. "That's the whole point of being disabled, is you're letting people know you can't do everything and that's fine."
When she was in elementary school, Lausell didn't understand why kids did not understand her disability. Like most kids born with a disability, you don't think you are "different" until someone points it out. Her doctor gave her important advice that she needs to teach other children about her disability. "If after I teach them, and they still don't care, then I shouldn't pay them any mind," he told her. Lausell started to find her voice in middle school, and that was her first taste of self-activism. She soon found an interest in theater.
"Especially in the theater, I needed to self-advocate so people understood I still could act and perform. I just needed to learn a little bit differently than everyone else."
In college, her self-activism turned into activism for the disability community. While talking with RespectAbility, Lausell recalled an incident where her sister would drive her to college, and they would be harassed by the campus police and other people with disabilities for parking in the accessible parking. She was annoyed by all the judgment for assuming she was not disabled and did not need the parking space. She quickly remembered the echoes of her doctor long ago telling her she could use her life experience to educate. So, she started her YouTube Channel, which has more than 11,000 subscribers: www.youtube.com/user/AndreaLausell.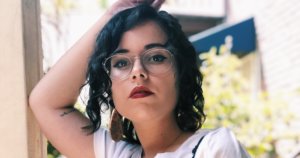 Her channel started as a means to educate non-disabled people. "Not every disability looks like someone in a wheelchair," she says. At first sight, you would not be able to tell that she has a disability. Lausell does not use typical assistive technology, like a wheelchair, crutches or leg braces. She walks with a different gate and uses the aid of a cane when she has days where her body is in pain.
Lausell soon realized that her channel had turned into a resource for other disabled people, particularly for people with Spina Bifida. "I realized there wasn't a lot of information out there for people with Spina Bifida that wasn't driven by parents of disabled people or doctors. There wasn't anyone living with it that was talking about it."
Lausell says her channel has morphed into so much more and now that she is older, she feels a sense of responsibility to cover more intersections of disability. She warns that her content is not made for an abled society. She creates her content to be a resource to empower others with a disability. "Until disabled people's feelings are put first in disability discussion, I don't care how someone non-disabled feels about the content I create."
Proud to be a Disabled Latina
Lausell makes it a point to identify as a disabled Latina because she wants people to understand she can be both. She believes her culture should not want to hide disability. She says in the U.S., we have words that describe disability that we are reclaiming like disabled, crippled etc. and she can only speak for living in the U.S. as a Latina, but in Spanish and in other countries where Spanish is the dominant language she feels "they just ignore disability even in how we speak."
Lausell has started using the word Discapaz, which is a slang to describe disability, and she hopes this catches on instead of using negative words to define disability. "We are at a significant point in time where people want more diversity and inclusion," she says. They have groups to support Indiginus Latinx, Afro Latinx, and Asian Latinx, but then no one talks about disabled Latinx. She even says the events she attends that are for Latinx people are not accessible to people with disabilities.
"I felt like my American culture is disabled and my Latina culture is not, and I felt I wasn't allowed to embrace my disability in my Latin culture."
Through her YouTube channel and other activism, she wants to show that the two identities can coexist with each other and be proud of it.