Rockville, Maryland, July 1 – Earlier this summer, Eleanor Clift, a Daily Beast columnist and member of RespectAbility's Board of Directors, served as the first guest speaker for RespectAbility's Summer 2019 National Leadership Fellows. The hourlong discussion focused on activism in party politics, the current U.S. political climate and Clift's experiences growing up at a time when women were fighting for equal employment opportunities in a longstanding patriarchal society.
Clift spent the bulk of her career at Newsweek, getting her start as a secretary before breaking into reporting. She has covered every presidential campaign since 1976 and was a longtime panelist on The McLaughlin Group.
Clift highlighted the rampant discrimination against women in her 2012 cover story for Newsweek about the television show, Mad Men. Clift pointed out striking similarities between Mad Men and the real-life situations she encountered.
"The two days I spent hanging around the set of Mad Men were like entering a time capsule that took me back to that period in the '60s," she wrote in the acclaimed article. "Everything from the pencil skirts and stockings with garters to the electric typewriter that was the latest technology."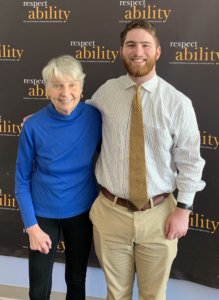 Clift wrote about the white, heterosexual, male-dominated office culture at Newsweek, where male writers carried on extramarital affairs with their female secretaries, even as they assigned them menial tasks such as picking up a martini at the bar across the street. At many points throughout the article, it was even difficult to discern whether Clift was talking about the fictional show or her actual experience at Newsweek. As Clift spoke to the Fellows, she acknowledged the progress we have made in eliminating this culture while making clear that there is still a long way to go.
Hearing about Clift's work in the women's rights movement was particularly profound for some of the female Fellows.
"Eleanor Clift is such an inspiration for all women," said Public Policy Fellow Angelica Vega. "As one of the first prominent female reporters in an era of male-dominated journalism, she paved the way for future generations of female reporters. Listening to her story, I hope to make the same level of impact in my future political career as a woman of color with a disability."
Moving forward, Clift is optimistic about the direction of the disability rights movement in this country. "I think disability rights is coming into its own as a priority for the nation," she said. "And I know RespectAbility will be on the front lines."
JOIN OUR TEAM!
RespectAbility is a nonprofit organization fighting stigmas and advancing opportunities for and with people with disabilities. This summer, 11 Fellows have the opportunity to learn from a variety of guest speakers. Learn more about the National Leadership Program and apply for the next cohort! Contact [email protected] for more information.
ALL FELLOWSHIP OPPORTUNITIES
LEARN MORE