In a few days, I'll be at a graduation—not an unusual event for this time of year, but this graduation will be unique.
It'll be the culmination of a year of intense learning and internship experiences for six young adults from across the state of Maryland, all of whom have developmental and/or other disabilities. They'll be graduating from a program called Project SEARCH, which was carefully designed to support individuals with disabilities transition to adulthood by teaching them the skills they need to live in the community at-large, and to find and keep gainful employment.
All six are unique individuals, beloved by their families, friends, teachers and mentors, each with their own dreams and goals, and special, unique talents to offer the workplace. They want to be a part of the world—to live as independently as possible, and to work and contribute to society. They've worked so hard this past year, and I can't wait to celebrate them at their graduation.
Project SEARCH is one of two programs at Kennedy Krieger Institute that help individuals with disabilities transition to adulthood; the other program is called CORE Foundations. A team and I started the programs in Baltimore and surrounding areas last year to address the need for high quality programs to increase employment outcomes for individuals with disabilities.
According to the Office of Disability Employment Policy, 80% of individuals with disabilities are currently not in the workforce, That's unconscionably high. It means we are failing our individuals with disabilities by denying them the opportunity to apply what they've learned in their training to making their way in the workplace—and the world.
Project SEARCH is a 10-month transition program providing individuals 18 through 24 years old with hands-on job training through integrated worksite rotations, career exploration, innovative adaptations and mentoring from experienced Kennedy Krieger staff members. The Project SEARCH model was founded in 1996 at the Cincinnati Children's Medical Center, and has been replicated throughout the U.S. and internationally.
CORE Foundations ("CORE" stands for Community, Opportunity, Respect and Employment) at Kennedy Krieger, on the other hand, is brand new. Approved as an adult service provider by the Maryland Developmental Disabilities Administration, CORE Foundations provides individuals with the opportunities and education they need to continue developing the core skills that are the foundation for a successful adult life. Through a person-centered approach, CORE Foundations develops individual programs to support the independence of each individual.
Our vision at Kennedy Krieger is to support and facilitate each of these amazing individuals on their journey toward living a meaningful life. Successful employment looks different from person to person, but with a desire to work, inclusive workplaces ready to give them a chance, and the right supports, training and person-centered approach, each one of the graduates will have a chance to succeed.
Granted, we have a long way to go before we achieve total workplace immersion for individuals with disabilities or neurodiverse traits. But over the course of this past year, I know we've taken our first great steps toward reaching that goal. I can't wait to attend the Project SEARCH graduation, and to see what these individuals do next. Judging by what they've already accomplished at their various internships and trainings, I know they'll do amazingly well at whatever they take on.
---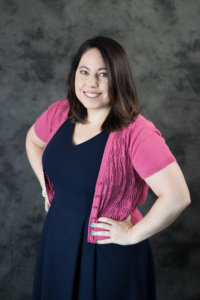 Stacey Herman is the director of Post-Secondary Services at Kennedy Krieger Institute and is a member of Kennedy Krieger Institute's Neurodiversity initiative, working with community leaders, business professionals, and policy makers to improve employment outcomes for individuals with disabilities. Stacey holds a Bachelor's degree in Inclusion Elementary and Special Education and a Master of Science in Special Education from John's Hopkins University.
In our weekly Shabbat Smiles, RespectAbility welcomes a wide spectrum of voices. The views expressed in each Shabbat Smile are those of the guest contributor.
The Shabbat Smile is curated and edited by Debbie Fink, RespectAbility's Director of Community Outreach and Impact and Vivian Bass, RespectAbility Executive Committee Board Member.