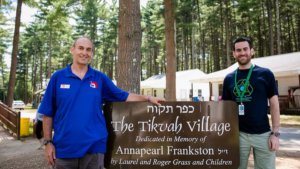 In considering great heroes, dates, places and milestones in the history of disabilities inclusion, one is more likely to think of Tom Harkin, ADA, and 1990 rather than think of Herb and Barbara Greenberg and Donny Adelman (z"l), 1970 and Camp Ramah in Glen Spey, New York. Yet, without the pioneers Greenberg and Adelman, there may have been no Jewish inclusive camping. The Ramah Camping Movement's network of Tikvah ("Hope") programs, which currently serves nearly 400 participants each summer in ten overnight camps, five day camps and Israel programs, is currently celebrating 50 years from that first memorable summer in 1970.
In the late 1960's, the Greenbergs, two school teachers from Long Island, NY, proposed what seemed back then like a radical idea—including campers with disabilities in a typical Jewish overnight camp. Not surprisingly, they were met with institutional opposition from all sides: People worried about the financial impact; how the level of Hebrew in the camps would suffer; and that the "normal" campers would leave. Even the camp doctors felt ill-equipped to care for these campers.
One visionary director, Donny Adelman, saw the potential benefit not only for the campers with disabilities and their families, but for the entire camp community. Adelman felt that including campers with disabilities was consistent with the mission of Ramah –and Judaism.
That first summer, the Greenbergs invited eight campers with varied disabilities to participate in Tikvah. They spent a great deal of time problem solving and supporting the specialists working with the Tikvah campers. The experiment was so successful that other Ramah camps soon replicated the program. When Ramah Glen Spey relocated to New England, the Tikvah program went with it. In 1973, Tikvah was started at Ramah Wisconsin. Ojai, California joined in 1985 and Canada in 1993. Fast forward to 2018—Tikvah and a wide range of services and supports for children and young adults and families (from a wide range of Jewish backgrounds) currently exist in all Ramah camps.
In 2018, 387 young Jews participated in in Tikvah programs across North America, supported in typical bunks, as part of a Tikvah division, or as participants in vocational training programs. In addition, 227 people (64 children with disabilities from 59 families) participated in family camps at our various Ramah camps. Teenagers with disabilities are regularly supported each summer on Ramah Israel Seminar, and more than ten groups of Tikvah participants have visited Israel over the years on Ramah Israel Tikvah trips. When Rabbi Sarah Shulman became founding director of Camp Ramah in Northern California in 2016, she insisted they not open their doors without a Tikvah program!
Ramah continues to grow, evolve, innovate and lead the field. Graduates of our vocational training programs are salaried workers in some of our camps. Staff members go on to present at conferences and lead the field. Reshet Ramah, our alumni network, strives to include graduates in year-round activities. Other year-round programs include "Shabbos Is Calling" and "Shavua Tov," weekly video chats where participants at various Ramah Tikvah programs discuss their week, learn about the portion of the week and just say "Shabbat Shalom."
Perhaps Ramah and Tikvah's biggest accomplishment to date has been pioneering the field of disabilities camping. It is no longer acceptable to tell a family of a child with a disability, "I wish I could help, but…" There are now dozens of camps across movements and across the country that support campers with a wide range of intellectual, developmental and mental health conditions. The Greenbergs and Donny Adelman showed what is possible, even in the face of institutional adversity. Chazak, chazak v'nitchazek—May we be strong, continue their mission, and strengthen one another as we grow in our efforts to support the growth of our people with disabilities through the world of Jewish camping.
---
Howard Blas lives in New York City and currently serves as director of the National Ramah Tikvah Network of the National Ramah Commission and director of the Tikvah Program at Camp Ramah in Northern California. Howard previously served as the director of the Tikvah Program at Camp Ramah in New England for 15 years. Howard has led five Tikvah Ramah Israel trips and served as group leader for three Shorashim Birthright Asperger trips to Israel.
Howard, a social worker and special education teacher by training, teaches Jewish Studies and bar/bat mitzvah to students with a range of disabilities and special circumstances. Howard writes regularly for many Jewish publications including the Jerusalem Post, JNS (Jewish News Syndicate), and The New Normal (of the New York Jewish Week). Howard received the S'fatai Tiftakh Award from Boston Hebrew College's Center for Jewish Special Education in 2012 and the 2013 Covenant Award for Excellence in Jewish Education.
For more information about Ramah's disabilities inclusion programs, click here.
To read about Ramah's upcoming Israel bike ride and hiking trip in support of Tikvah, click here.
To view "Ramah Tikvah by the Numbers," click here.
In our weekly Shabbat Smiles, RespectAbility welcomes a wide spectrum of voices. The views expressed in each Shabbat Smile are those of the guest contributor.
The Shabbat Smile is curated and edited by Debbie Fink, RespectAbility's Director of Community Outreach and Impact and Vivian Bass, RespectAbility Executive Committee Board Member.