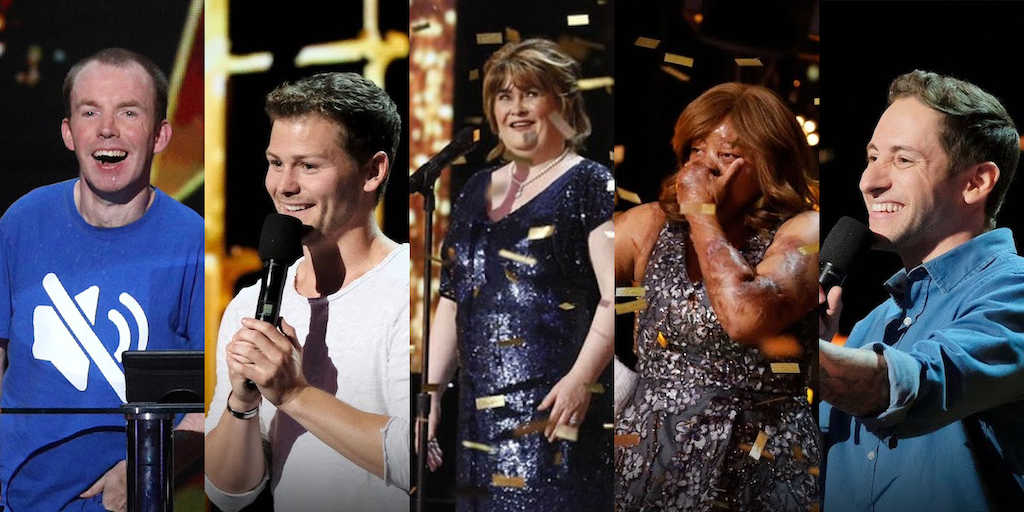 Los Angeles, California, Feb, 20 – This week on NBC, America's Got Talent: The Champions crowned Shin Lim as the winner of the title "Best In The World." But there were plenty of other winners on the show, including several talented acts with disabilities who returned to the Got Talent stage to perform for the world once again.
Talented Singers with Incredible Stories
Susan Boyle became a global sensation after her first audition on Britain's Got Talent went viral in 2009. The panel of judges were skeptical of Boyle because of her appearance, but when she started to sing, they were all blown away. Boyle finished in second place, but it didn't matter. She took the world by storm, selling more than 14 million copies of her debut album. Boyle grew up thinking she had a learning disability and was bullied as a child. But in 2012, she was told she was misdiagnosed and actually is on the autism spectrum. Boyle has had struggles with the pressures of fame, but she went on America's Got Talent: The Champions and made her comeback, earning a golden buzzer from judge Mel B. Her finale performance of her initial audition song I Dreamed A Dream reminded the world why we all fell in love with her in the first place.
Kechi Okwuchi is a singer who made the finale of Season 12 of America's Got Talent. She was one of two survivors of a plane crash in 2005. The crash left her with third degree burns over 65 percent of her body. On America's Got Talent: The Champions, Kechi received the golden buzzer from Simon Cowell, who said that she "really defines what a champion is." Kechi's golden buzzer moment has been viewed more than four million times in just three weeks. Kechi is touring all over America and has been putting out new music.
Hilarious Comedians with Disabilities Take the Spotlight
Lee Ridley, also known as Lost Voice Guy, won Season 12 of Britain's Got Talent last year. Ridley is a comedian with cerebral palsy who uses an iPad with a text-to-speech app to communicate. Since winning Britain's Got Talent, he has performed on the Royal Variety Performance in front of members of the Royal Family. He wrote a new book that is coming out soon, and he is currently on a tour of the United Kingdom. One additional prize was a performance spot on America's Got Talent: The Champions. For his American television debut, Ridley told some of his best jokes from Britain's Got Talent, along with a few new ones. Notably, he took on the concept of Inspiration Porn, joking that "I'm not here to inspire you. I'm here because I love attention." In my judgement, the seven-minute segment featuring Ridley on America's Got Talent: The Champions was about as perfect as a reality TV segment on disability can get.
Drew Lynch acquired a stutter after a sports injury in high school. When he took up stand-up comedy, he used his stutter as an asset in his material, such as in jokes about voicing a GPS system. In 2015, he auditioned for America's Got Talentand earned Howie Mandel's Golden Buzzer. He subsequently received praise from the judges and the voting public for the entire season and made it all the way to the end, finishing the competition in second place. On the Champions season, Drew told more jokes about his stutter, saying that he is the only comedian whose jokes double as their own remixes. Lynch has toured the country performing stand-up comedy. He also is active on YouTube with his "Dog Vlog" video series. Lynch also co-hosted the Media Access Awards in November 2018.
Samuel J Comroe is from Los Angeles and he has Tourettes syndrome. Like Lost Voice Guy and Drew Lynch, Comroe uses his disability in his comedy to great effect, turning his disability into the subject of some of his material. For example, his website features the pun "I got 99 problems…but a twitch ain't one." Comroe's comedy won over the judges and audience on Season 13 of America's Got Talent, finishing in fourth place out of thousands of applicants. And on America's Got Talent: The Champions, Comroe's performance was viewed over 700,000 times.
As a person with a disability who cares about positive and accurate portrayals, I was impressed with Britain's Got Talent last year. But it would be an understatement to say that America's Got Talent: The Champions blew me away. All five of these acts were showcased for their talents, not their disabilities. In particular, Lost Voice Guy went above and beyond, directly taking on the concept of inspiration porn in his act.
Reality TV has made great strides toward being more inclusive of all minorities including people with disabilities. I am truly excited to see more talented people with disabilities on America's Got Talent this summer.