[UPDATE March 30, 2019] – "Ian" will be showing at the
ReelAbilities Film Festival: New York
on Tuesday, April 2, 2019 in Queens and Saturday, April 6, 2019 in Manhattan. The festival is adding audio description to this animated short so people who are blind or who have low vision can enjoy it independently at the April 6th showing.
Rockville, Maryland, Dec. 6, 2018 – All kids want to play. Kids with disabilities are no different. "Ian" is a short, animated film inspired by the real-life Ian, a boy with a disability determined to get to the playground despite his playmates bullying him. This film sets out to show that children with disabilities can and should be included.
"Ian" premiered for audiences around the world on YouTube and was broadcast in Latin America simultaneously on Disney Junior, Cartoon Network, Discovery Kids, Nickelodeon, PakaPaka and YouTube Kids Nov. 30, 2018.
"Ian" started as a mother's mission to educate her son's bullies on the playground—one to one. When she realized that the need for inclusion was bigger than one playground, she wrote a book and founded Fundación ian to change thousands of minds and attitudes about people with disabilities. She approached MundoLoco, a top digital animation studio in Latin America, about creating "Ian," an animated film to deliver the message of inclusion to audiences all over the world.
A Universal Story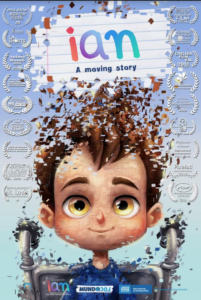 The film is wordless—a deliberate decision to make "Ian" inclusive of all people. "We worked hard to make it as simple and honest as we could, so it could be understood by a preschool child, yet an adult could discover other layers of the story," said Gastón Gorali, who wrote the short.
The universality behind the idea for "Ian" spoke to Gorali immediately. "In that first meeting with [Ian's mom], I felt the urge to do something about it. To get involved. Ian's story was so honest, tough and yet full of hope," he said. "The feeling of being alienated is common to all of us. There's no need to have a disability to have experienced in our lives isolation and exclusion. To find ourselves fighting a force that pushes us away from whatever we want to be and do."
"I can play and participate"
The real Ian is a fourth grader who, like most fourth graders, wants to play with his friends. But because some kids are not used to someone like Ian—someone who has cerebral palsy, uses a wheelchair, and a computer that works with his eye movements to communicate—they bully him and don't include him when they play.
Ian wants the world to know that he and all the other kids like him can play, too, if others include them. "I can play and participate," Ian said.
The film, to him, educates the children on the playground that he wants to play, and they can play with him. In animation, the film "Ian" shows that all children, disabled or not, are made of the same stuff.
Bigger than the Playground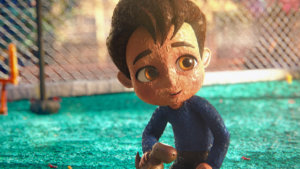 When Ian's mom, Sheila Graschinsky, saw how children who were not used to people with disabilities treated her son on the playground, she set to work to change their perceptions. She wrote a book called The Gift about the daily life of a family that includes people with disabilities, which she handed out to children who bullied Ian, she told Variety. But handing out books on playgrounds would not have the wide impact she wanted.
For Graschinsky, the message of "Ian" extends far beyond swings and slides. The wordless plot of "Ian" is a boy struggling to achieve access to something he wants, something other children have readily available to them. People with disabilities regularly struggle for access to public spaces, jobs and social inclusion. The international attention the film is getting proves to Graschinsky that "a more inclusive world is possible."
"The film is an opportunity for all society…to break down barriers, walls, and free us from prejudices," Graschinsky said. The film was crafted to "guide [all children] to acquire concrete tools to be people of solidarity."
"Ian" premiered at Cannes in May 2018. It was written by Gastón Gorali (Metegol/Underdogs), produced by Academy Award winner Juan José Campanella (The Secret in their Eyes) and Fundación ian, a nonprofit founded by Ian's mom, whose mission is to make life better for families with disabilities. The mixed stop-motion and CGI animated film has won numerous awards internationally. "Ian" has also qualified for the Best Animated Short category in the 2019 Academy Awards.