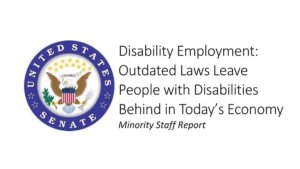 Washington D.C., Oct. 31 – During October 2018, U.S. Sen. Patty Murray (WA) and the U.S. Senate Committee on Health, Education, Labor and Pensions (HELP) wrote a report entitled "Outdated Laws Leave People with Disabilities Behind in Today's Economy."  The report claims that laws are not up to date with current disability employment policy and provides an update about the implementation of the Workforce Innovation and Opportunity Act (WIOA) of 2014.
The report reflects on the modern legal landscape that directly supports the success of the 56 million Americans living with disabilities. Modern disability employment policy includes five laws: the Rehabilitation Act of 1973, the Americans with Disabilities Act (ADA) of 1990, the Genetic Non-Discrimination Act of 2008, the Workforce Innovation and Opportunity Act of 2014, and the Individuals with Disabilities Education Act (IDEA). Underpinning the success of these laws is the legal framework created by the landmark 1999 decision made by the Supreme Court in Olmstead v. L.C. That decision calls for "the most integrated appropriate setting" also has critical consequences for efforts to get more people with disabilities into the workforce. Likewise, 36 states have passed Employment First laws which were created by state level policy makers to support competitive integrative employment for people with disabilities.
The report shows that labor force participation rates remain low and unemployment rates are high for people with disabilities compared to their peers without disabilities. Some key statistics highlighted by the report include:
30.3 million working-age people with disabilities out of a total labor force of 258.3 million working-age people in the United States.
The labor force participation rate for people with disabilities is 21.4 percent compared to 68.2 percent for people without disabilities.
The unemployment rate for people with disabilities was 7.3 percent compared to 3.4 percent for people without disabilities.
Keeping Vocational Rehabilitation Accountable and Fixing AbilityOne
The Senate Health, Education, Labor and Pensions (HELP) Committee investigated reports that state vocational rehabilitation agencies are not keeping up with the requirements of WIOA. The Committee wrote to all 79 state VR agencies requesting information on informed choices, case-by-case analysis of an employment setting, and referral procedures related to AbilityOne. AbilityOne is a federal contract set-aside program created in 1938 that provides contracts to non-profits that have at least 75 percent of direct labor hours performed by people with disabilities. Based on all 79 responses, the HELP Committee Democratic staff found that "state VR agencies are complying with the dual requirements to refer clients to the job they choose while also using WIOA funds to support and promote competitive integrated employment."
Competitive Integrative Employment Is Best
An essential element of WIOA's legislative goals was to empower more people with barriers to work into the labor force. That includes people with disabilities who deserve the chance to pursue competitive integrated employment. Competitive integrative employment means that people with disabilities are being paid at least minimum wage, interacting with people without disabilities and that there are opportunities for advancement. The Committee Report makes the argument that AbilityOne program contradicts the goals of WIOA given AbilityOne's 75 percent requirement. Further some AbilityOne contracts offer segregated employment where people with disabilities are not working alongside their non-disabled peers.
AbilityOne and the issue of CIE has been a source of controversy in recent years. Complicating the regulatory environment were changes adopted by the Obama Administration, which introduced new requirements that all federal contractors must be paid $10.34 an hour. However, half of the clients in AbilityOne contracts are being paid below the federal minimum wage because of the Section 14 (c) clause in the Fair Labor Standards Act (FLSA) of.  Section 14c allows employers, including AbilityOne contractors, to pay people with disabilities less than minimum wage only to the extent necessary to prevent curtailment of opportunities for employment of individuals whose earning or productive capacity is impaired by age, physical or mental deficiency or injury. The HELP committee found that there is insufficient evidence that paying people with disabilities subminimum wage is necessary when it comes to preventing the curtailment of economic opportunities for people with disabilities, which is required by the 14c certificates.
Recommendations to Help People with Disabilities
The HELP Committee concluded their report with four crucial recommendations:
AbilityOne should be modernized to include competitive integrative employment, which means ending subminimum wage and modifying the AbilityOne contracts to include allowing people with disabilities to work long-term in a competitive integrated environment.
The federal government should end the use of Section 14c certificates that allow employers to pay subminimum wage to people with disabilities. According to WIOA and the principle of competitive integrated employment, employers must pay people with disabilities at least federal minimum wage and that allowing federal contractors to pay less than minimum wage is a form of government-sanctioned discrimination against people with disabilities. According to HELP, the federal contractors must pay at least federal minimum wage, but 48 percent of AbilityOne programs pay less than federal minimum wage.
Department of Labor's Secretary Alexander Acosta should to no longer award 14c certificates to contractors until Congress can repeal 14c of the Fair Labor Standards Act.
Lastly, that WIOA regulations should not be changed because vocational rehabilitation agencies are following WIOA regulations for competitive integrated employment. Any lapses within VR agencies are a result of poor implementation and a sign that these VR agencies need technical assistance from the Rehabilitation Services Administration—not a change in the law or its regulations.
With the new Congress convening in 2019, it remains to be seen if any of the Committee's recommendations will be implemented.