Washington D.C., Sept. 4 – "I accept this award on behalf of, especially, our son Jeffrey, who to me is someone who goes through life with the kind of courage I only wish I could possess," PBS NewsHour's Judy Woodruff said while accepting a flag flown over the U.S. Capitol in her honor.
Woodruff was one of two recipients of the RespectAbility Excellence in Journalism award during the nonprofit's "From Washington to Hollywood and Beyond" summit on Capitol Hill because of her decades-long dedication to ensuring positive, accurate portrayals of people with disabilities in media. Fellow journalist Joe Shapiro also received an award.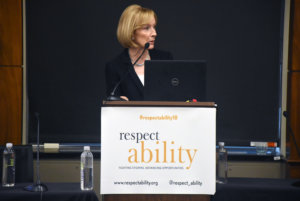 "My great hope is that the younger generation is going to come along and they're going to figure out ways to tackle some of the issues that consume us, and they're going to tackle them in more effective and powerful ways than we can imagine," Woodruff said in envisioning the future of disability.
During her tenure at PBS, Woodruff has covered a diverse number of topics but has devoted a significant amount of time and energy to reporting on disability. What is exceptionally notable in much of Woodruff's work is her commitment to person-first storytelling. Rather than speak to caregivers or teachers or parents, much of Woodruff's work highlights the opinions, emotions and achievements of people with disabilities.
While introducing her to the crowd, RespectAbility President Jennifer Laszlo Mizrahi noted that Woodruff's reporting is largely free of the pitiful and inspired tones that disability reporting often takes. "What was important about [this piece]," said Mizrahi, "was first of all she highlighted the self advocate, the person with a disability who was making the progress happen, and the pity and the ableism that we've seen in some other reporting was completely absent from the piece."
Woodruff has a distinguished career as an exemplary journalist that makes her worthy of this award. Prioritizing disability issues and stories in her work has led her to begin to fill a much-needed niche in the media. Representing authentic and realistic stories of disability in media is not only important in fiction but also in journalistic projects. With her great attitude and strong skills, Woodruff is sure to continue making waves with her reporting on people with disabilities.