Rockville, Md., Jan. 20 – Season five of The Fosters returned with a bang – tackling issues from low expectations for students with disabilities to immigration rights.
Last season one of the leading characters, Jesus, had a traumatic brain injury (TBI). The show did a good job conveying how a person might change after experiencing a TBI. The show also shares how TBI affects the relationships between family and friends for people who have a TBI.
On the first day back at school this season, his teachers have lower expectations for Jesus, giving him less homework and more flexibility with test taking. He also is made fun of by his classmates, one saying he wished he had been hit in the head to receive the "benefits" Jesus is getting.
Jesus also is given a paraprofessional – David – who is there to aid him in his classes. At the first meeting, David has Jesus sitting in front of the class. This is not something you would typically see from Jesus, and it made him uneasy. In a future class, the teacher allows Jesus more time for his test but David unilaterally decides Jesus should skip lunch to complete the test instead. The show highlights an important aspect of disability aids that should be taken into consideration. The goal is to aid, but not make decisions for the student with the disability. Jesus looks as if he feels put down by his aid instead of supported by, contributing to his breakdown later.
Jesus' two adoptive mothers join him in group therapy with others who have a TBI. There, we hear a girl expressing feelings that Jesus is not yet ready to express himself:
"My family…still [doesn't] get it. Because I look fine, they think I should still be like I used to be. They don't understand because the disability you have is invisible so they think you are either being defiant or not trying or faking it to try and get off. They end up talking behind your back, not sharing stuff with you because they think you can't handle it. Makes you feel even more alone and isolated."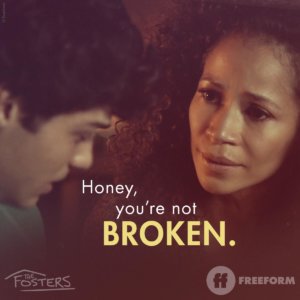 It is at this moment that Jesus runs out in tears, and only then do his mothers understand that this is how they have unintentionally been making him feel. Both Moms promise to change.
"We've been doing this wrong … we just thought we were helping you," they say. "You're not broken and I promise you we're going to stop making you feel that way."
The show has made a reputation for itself by confronting social topics, as stated by the executive producers in their premiere interview on Facebook. Since the first season, they have covered issues ranging from foster care, gay marriage, LGBTQ rights, gun violence, and, most recently, mental health. In the TV Guide, Joanna Johnson, the show's executive producer said:
"'The Fosters has never shied away from tackling important social issues like immigration rights, LGBTQ rights and adoption rights. We will continue to tell those important stories this season for those who too often are not heard."
A major plot line this season is Callie helping her undocumented friend Ximena claim sanctuary in a church. The opening episode unravels as ICE tries to separate the family.
Just like how the show handles many other social issues, Jesus' emotional tension is showcased beautifully. The Fosters not only portrays the struggles that people with TBI face but also addressed how those trying to help could be mishandling the situation or making someone feel worse.
The Fosters airs on Tuesdays on Freeform 8:00 p.m. ET.