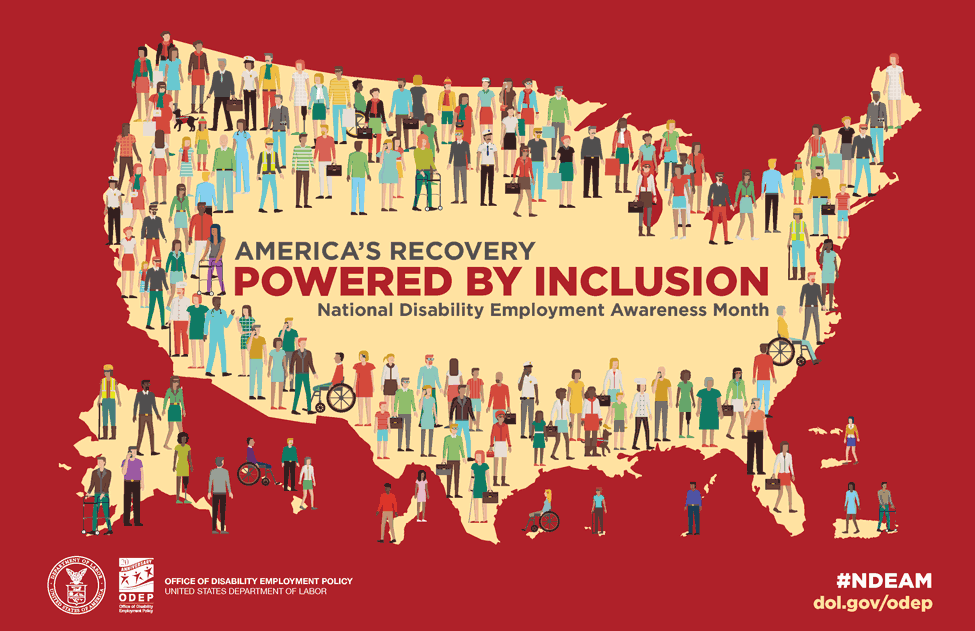 Even as the nation continues to grapple with the consequences of COVID-19, there are reasons for millions of jobseekers with disabilities to look at the future with optimism. There are over 22 million working-age people with disabilities in America today and thousands of them are looking for new jobs in the post-COVID economy.
In the autumn of 2021, the labor force participation rate for working-age people with disabilities is now two full percentage points higher than it was before COVID-19. This means that people with disabilities are engaging with the labor force in higher numbers than before the pandemic. According to the Bureau of Labor Statistics, people with disabilities now have a 35.6 percent labor force participation rate, compared to 76.1 percent for those without disabilities.
NDEAM is an annual celebration occurring in October that is dedicated to raising awareness about disability employment issues and acknowledging the incredible contributions of people with disabilities. The theme for NDEAM 2021 was "America's Recovery: Powered by Inclusion." This theme reflected the importance of ensuring that people with disabilities have full access to employment and community involvement during the national recovery from COVID.
"NDEAM's theme calls attention to a key principle: People with disabilities want to work, can work, and are striving to work harder than ever before," said Olegario "Ollie" Cantos VII, RespectAbility's Chairman. "People with disabilities deserve the opportunity to earn an income and achieve independence, just like anyone else. Celebrating NDEAM in states across the country is just the first step in getting more people with disabilities into the workforce so they can earn an income and be included in all aspects of society."
This year, several governors showed their support through public proclamations, executive orders and press statements. These include:
"Disability employment and advancing opportunities are truly bipartisan issues," said the Hon. Steve Bartlett, the Chair Emeritus of RespectAbility, former Mayor of Dallas, and a key Congressional leader who helped pass the ADA. "There is broad support across party lines found around advancing opportunities for people with disabilities. Now, after the pandemic that has reshaped our economy, it is time to devote significant attention to supporting the economic advancement of students, job-seekers, and entrepreneurs with disabilities."
The success or failure of getting more people with disabilities integrated into the workforce impacts thousands of communities and millions of families nationwide. According to the Census Bureau, there are more than 56 million Americans living with a disability. Disabilities include intellectual or developmental disabilities, visible conditions such as spinal cord injuries, visual impairments or hearing loss and nonvisible disabilities such as learning disabilities, mental health, or neurodiversity.
"The COVID-19 pandemic has grown the disability community," said Philip Kahn-Pauli, RespectAbility's Policy and Practices Director. "From those with "long" COVID to people with new mental health conditions, there are more Americans with disabilities than ever before."
In 2020, more than 1 in 5 people with disabilities lost their jobs, compared to only 1 in 7 individuals without disabilities. Before the pandemic, workers with disabilities, especially those with intellectual or developmental disabilities, would often be placed into customer-facing jobs such as retail or hospitality. Getting people with disabilities back to work and retraining them for new jobs will be critical to rebuilding the economy.
Brand name companies such as JP Morgan Chase, Coca-Cola, Ernst & Young, IBM, Walgreens, Starbucks, CVS and Microsoft know that workers with disabilities improve the bottom line and add value to the workforce. "People with disabilities bring unique characteristics and talents to the workplace," added RespectAbility President Jennifer Laszlo Mizrahi. "There are no limits to what they can do when given the chance."
In addition to its work with governors and policy, RespectAbility hosted a series of virtual celebrations, panel conversations and networking opportunities celebrating National Disability Employment Awareness Month to advance disability representation in the entertainment industry. When we increase the number of people with lived disability experience throughout the entire media ecosystem, which increases diverse and authentic representation of disabled people on screen, this leads to systemic change enabling people with disabilities to be seen for what they CAN do, instead of what they cannot do. Learn more about the NDEAM Entertainment Media Summit.
For more specific information about NDEAM, visit the Office of Disability Employment Policy's website.