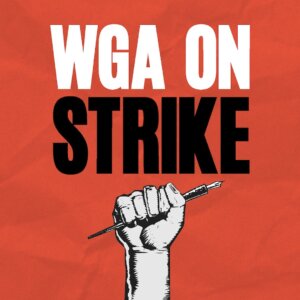 On May 2, 2023, after failing to come to an agreement with the Alliance of Motion Picture and Television Producers (which includes 350+ TV and film studios and production companies), the Writers Guild of America (WGA) went on strike – stopping all writing projects and bringing many Hollywood productions to a halt.
Since 2018, screenwriters' pay has gone down about 20%. Additionally, writers are no longer receiving residuals (a percentage of the profit a show makes after it premieres) after their shows go on streaming platforms. Many writers are struggling to make enough money to live. With more than half of American households "cutting the cord" and only buying streaming services, along with the rise of AI technology capable of writing scripts, the concerns around writers' wages only continue to grow. Writers are seeking a new contract with studios to protect their livelihood given the changing technological landscape.
The major WGA demands include:
Increased minimum compensation for writers
Residual agreements for streaming platforms
Addressing the abuse of mini-rooms – a small writers' room that works for a short period of time before a show has been approved by a studio allowing studios to pay writers less money and not keep writers on contract
Increased contributions to health funds
Regulated use of material made by AI
Learn more: Full List of WGA Demands.
What could this mean for you?
If you are currently a member of the WGA or ever want to be a member of the WGA, you must follow the Strike Rules. If you cross picket lines either in person (by going on a studio lot) or virtually, you may be banned from the WGA for life. Broadly speaking, it means you cannot write, pitch, develop, or promote any content for a struck company no matter how small, including tweaking dialogue or rewriting stage direction. This also includes participating in general meetings. A struck company is any company that is part of the Alliance of Motion Picture and Television Producers – the WGA put out a full list of the roughly 2,000 struck companies.
This does not mean you have to stop writing all together! We recommend that you reach out to the WGA directly if you have questions or concerns about your own projects. If you would like to reach out to the WGA, fill out this form and a WGA representative will get back to you.
How does the strike specifically impact the disability community in the entertainment space?
The Inevitable Foundation, which supports disabled writers in the entertainment industry, conducted a survey on the strike and found that disabled writers should expect to lose career momentum and prospects that could result in a loss of $2 million in potential earnings. They surveyed mostly WGA members and found that many of these one-off projects connected to studios will probably not be revisited if the strike goes on for a long time. Disabled writers in general also have less savings and so almost half of those surveyed think they will need to look for work outside of the entertainment industry.
However, there is a general consensus that this strike will be better for disabled writers in the long run. These mini-rooms and shortened streaming season are making it hard for disabled writers to get staffed full-time. Hopefully, a new deal will create opportunities for disabled writers to make a living wage from their writing. It is also important to note that roughly only 60 WGA members (half a percent) identify as disabled. If the WGA achieves their goals, this may help more disabled writers have the opportunity to fulfill the requirements for WGA membership. Currently, many disabled writers are pre-WGA, who also are facing similar concerns and loss of opportunities.
How can you support the strike?
The WGA is organizing picket lines every day and continues to update the calendar on a weekly basis. At each picketing location, they do provide minimal information about accessibility. Think Tank for Inclusion & Equity expanded on accessibility information and concerns and created a spreadsheet that provides parking locations, the closest accessible bathrooms, and other details such as whether there is shade.
However, many disabled people in our community have found that the WGA-created picketing opportunities are not accessible. The Inevitable Foundation has created opportunities where accessibility is a priority. They choose access-friendly locations and bring in accessible bathrooms. Please follow Inevitable Foundation's socials for more information. You also can support virtually by sharing information about the strike with your own networks and donating to relief funds!
Do you need financial support?
If you are a member of the WGA, please contact them directly for strike assistance and they can tell you more about no-interest/low-interest loan options. More information: https://www.wga.org/members/finances/good-welfare-emergency-assistance-loans.
Additional opportunities for those who are being impacted financially by the strike:
Please contact each organization for more information as needed. If you would like to reach out to the WGA with questions on what is and is not permissible, fill out this form and a WGA representative will get back to you.