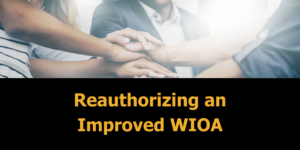 Our nation's workforce system is a crucial aspect of the economy. It consists of many organizations, laws, and programs that connect people to jobs. But one significant component of the modern workforce system is in need of reauthorization.
The Workforce Innovation and Opportunity Act of 2014, or WIOA, combined more than a dozen workforce development programs under a single legislative roof. Each program served one population with a barrier to employment, such as veterans, at-risk youth, or people with disabilities. The idea behind WIOA was that one integrated workforce program would be stronger and more effective than several isolated programs. The integrated workforce program serves all clients, regardless of which barrier(s) to employment they face. It is also subject to updated standards for performance and transparency.
The initial WIOA funding expired in 2020, but Congress has included funds in the budget every year since then. Some representatives have tried to officially re-authorize WIOA to ensure funding stability and make improvements to the legislation. In 2022, the House passed a WIOA re-authorization bill along party lines. The bill never made it through the Senate.
When considering the ideal form in which to reauthorize WIOA, we need to answer two questions: Is WIOA working as intended? If not, how can we improve it? The answer to these questions is found by examining the successes of WIOA as it relates to people with disabilities, and analyzing the causes in those places where the goals were not met.
WIOA has increased the accessibility of American Job Centers (AJCs). WIOA required disability employment services to merge with other employment services intended for the general population. AJCs recognized the need for their programs and facilities to be accessible to people with disabilities. In case studies done by the American Enterprise Institute, AJCs in Wisconsin and Texas said integration was crucial in increasing overall accessibility. As a result, people with disabilities can now access employment services even if they aren't specific to disability.
In 2016, when Rehabilitation Research and Training Center researchers asked VR counselors how WIOA affected their work, counselors reported dramatically stronger collaboration between schools, families, and VR agencies. They also believed more students were receiving VR services after they graduated because they already had connections to staff. This resulted specifically from the WIOA requirement that a certain amount of funds be used to serve high school students with disabilities. Under the new regulations, Vocational Rehabilitation (VR) agencies must contact all students who may be eligible for future services and give them pre-employment transition services (Pre-ETS) before they graduate.
WIOA promotes competitive integrated employment as the primary outcome for VR participants. However, it is unclear whether agencies are achieving this goal, or why they might not be. As a result of WIOA regulations, many more people with disabilities receiving subminimum wages are being referred to VR agencies. Unfortunately, according to the Rehabilitation Services Administration (RSA) 2022 Report, many decline to apply for services. Additionally, the VR's employment outcome rate is falling, but the RSA cautions not to view this as a complete failure. The decline in outcomes is partially due to serving a higher percentage of people with more significant barriers to employment who may need services for longer than one year. VR agencies also report issues with staffing, high caseloads, and, as of 2020, COVID-19, which all contribute to the falling employment rate. We must determine a solution, such as more funding, to allow VR agencies to return to the efficiency levels of 2017 when more than 175,000 clients achieved competitive integrated employment.
One barrier to the success of WIOA is that it does not provide supportive services. Most WIOA funding is earmarked for specific purposes, and "supportive services" are often unallowable expenses. Supportive services are not direct employment assistance but additional resources such as daycare, housing, and transportation assistance. Without these services, many people are unable to access employment assistance. Fortunately, the VR program specifically addresses and even requires these services (34 CFR 361.430(a)(9)). Perhaps VR's successes in this area could persuade legislators to expand WIOA's provision of supportive services.
Funding distribution has also been a challenge under WIOA, particularly for supported employment funds. Many states and territories have failed to meet funding match requirements, which causes them to lose potential funding. According to the 2022 RSA Report, this happened in 23 states and territories in FY2020. Collectively, they lost $1.2 million of supported employment funding that year. Additionally, many agencies are struggling to spend all of their funding in part due to restrictions on the use of funding. Since they have to return unexpended funds at the end of each grant cycle, more than $2 million was returned at the end of FY 2019. At the same time, 31 VR agencies have implemented waiting lists because of insufficient resources. We can't afford to lose millions of dollars a year while people are unable to receive services.
In conclusion, I feel that we need to reauthorize WIOA to ensure stability for workforce programs. Continuing without official legislation increases the danger of employment programs–including VR services–losing their funding. These programs are essential for people with and without disabilities to gain the skills they need to be successful in the workforce. We must have the assurance of funding security for the long term. At the same time, we can improve WIOA by authorizing supportive services for all programs and allowing more flexibility in funding streams. With these changes, WIOA can be the key to ensuring an accessible, inclusive, and effective workforce system.