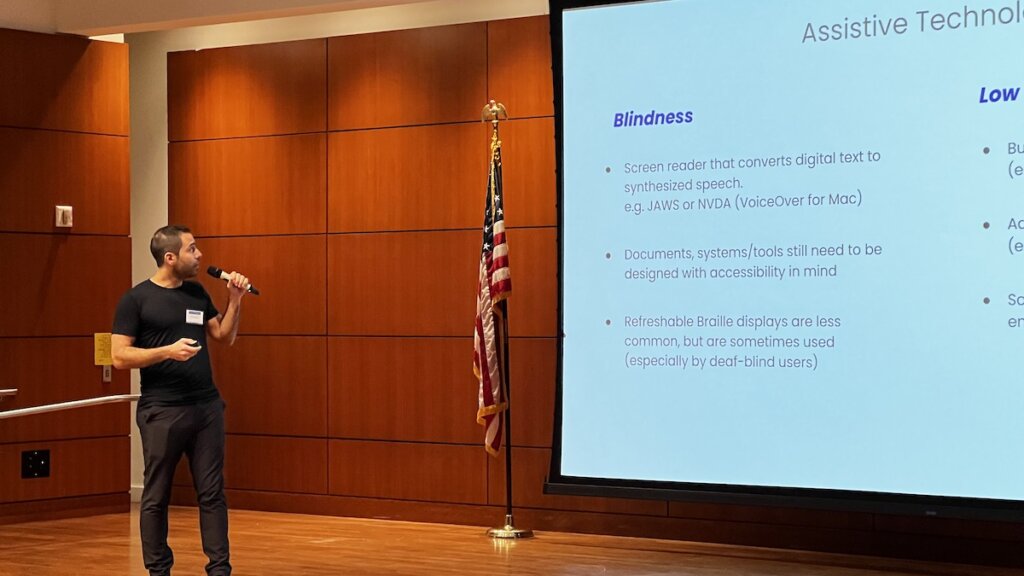 On the last day of February 2023, I joined a roomful of employers, job seekers, and advocates in a conference center in San Francisco all united by one passion – building a workforce that was diverse, inclusive, and welcoming to all. This one-day event, hosted by Roy Baladi of Jobs for Humanity and cosponsored by the California Department of Rehabilitation, was a whirlwind of trainings, hands-on activities, and mentorship all oriented around this one singular goal.
The keynote remarks were delivered by Ken Oliver, Executive Director of Checkr.org. An employer himself, Oliver shared his story about rising from solitary confinement in prison where he educated himself in the law enough to realize that his civil rights were being violated, forming the foundation of a case that led to his eventual release. His experience and emergence into the job market later in life taught him the value of persistence and second chances, something that he has made into a career as a leader of the philanthropic arm of a company valued at $4.6 billion.
Throughout the day, Oliver's charge to us rang in our ears, that many people don't get a second chance, and that walking in the shoes of those we are committed to supporting is essential to eliminating bias and promoting fair chance.
That charge quickly turned to an opportunity for reality when Director Theresa Woo of the California Department of Rehabilitation introduced attendees to 12 community organizations focused on the Bay Area, who are doing the work and partnering to make inclusion in the workforce a reality.
The remainder of the day was a series of hands on exercises, including building an inclusive hiring process (pro tip: when interviewing, make sure you include format, logistics, and written questions to defeat anxiety and support inclusion of people with disabilities), defeating your own personal bias ("if you have a brain, you have bias"), and reverse recruiting, where employers were paired with a job seeker to mentor them in their search.
I was paired with Dan, who shared that he had recently lost his role as a software engineer at a major tech company and was looking to continue his passion of building quality software. Over the course of our conversation, Dan blew my mind over and over, sharing how he had developed software that would test instruments on a planetary rover at NASA, pioneered tools for studying autism at Vanderbilt University, and even been proven to be better at cognitive reasoning than Anderson Cooper on a 60 Minutes segment. Those last words are mine – after watching the segment, it is obvious that Dan blew Cooper out of the water. Dan, for his part, was a perfect gentleman about his time with Cooper, emphasizing how kind and thoughtful he was.
As a disability advocate, an employer, and a person with a disability, it took me a while to realize that the point of "The Point" was about challenging my own bias and uniting me with others to do the same. While it is easy to assume that we are already as inclusive as we can be – especially when working in advocacy – I was reminded that the work that we do to further best practices in employment policy at RespectAbility is about more than influencing the world around us. It is far more effective when we are willing to start with doing the hard work by being honest and improving ourselves. Only then can we bring that change into action in the world.