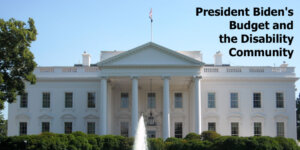 President Biden released his budget last week, and it has tremendous potential to advance the disability community, but only if disabled people are included and remain vigilant.
The budget includes a number of programs which are framed as making the economy more competitive and Americans more secure. The first thing of note is the specific call out of Home and Community-based Services (HCBS). The budget would invest $150 billion over 10 years to improve and expand Medicaid HCBS, to, in the words of the press release, "allow older Americans and individuals with disabilities to remain in their homes and stay active in their communities as well as improve the quality of jobs for home care workers." This is the time to be strong advocates and partners to ensure not only that this funding becomes law, but that we continue to modernize programs to allow Medicaid recipients to work, to marry, and to fully participate in society.
The other direct mention of disability comes in the President's educational priorities, where the press release by the White House specifically affirms that "[e]very child with a disability should have access to the high-quality early intervention, special education services, and personnel needed to thrive in school and graduate ready for college or a career." This statement prefaces an announcement of a proposed $2.1 billion increase in Pre-K through 12 IDEA spending, and almost a billion dollars in early intervention spending. This is a prime opportunity to bring our collective voices to ensuring passage while strengthening special education practices and access throughout the country so that the money leads to the best outcomes.
There are many other areas where strong advocacy will make a difference for our community. The budget would fund "evidence-based training models to ensure all students and workers—including women, workers of color, and workers in rural areas—have the skills they need for the good jobs [in the growing economy]." It would expand free community college while supporting tuition for job training programs and invest hundreds of millions of dollars in apprenticeship programs.  Apprenticeships are a tremendous way to support success for people with disabilities, provided that they have appropriate access and supports. The community should make certain that as this money opens up opportunities in in-demand industries, from construction to clean energy, these opportunities flow to people with and without disabilities. The same could be said of the grants developing public-private partnerships and other career training opportunities.
The budget recognizes that among the successful employment strategies for closing wealth gaps, business ownership is both a driver and a source of resiliency. While we commend the President in proposing increasing funding and expanding access to credit for women of color-owned enterprises, we recognize the opportunity for and importance of similar measures for disability-owned business enterprises.
The budget has numerous initiatives around healthcare and prescription drugs. These include maternal health equity, rural health support, and reducing the cost of healthcare and prescription drugs. We encourage the passage of all of these, as we agree with the President's statement that healthcare for those with and without disabilities is a right. It is a view that the entire disability community should get behind.
The last major area with specific impact on the disability community is around housing. The budget would increase the affordable housing supply, subsidize down payments and reduce PMI payments to promote home ownership. It would also "support…fair housing enforcement organizations and…further education, outreach, and training on rights and responsibilities under Federal fair housing law." This allows for robust funding of disability access, as The Fair Housing Act covers disability. This, as well as the proposed expansion of the Housing Choice Voucher (HCV) program, present important opportunities.
It is especially pleasing that the press release refers to "mandatory funding to support two populations that are particularly vulnerable to homelessness—youth aging out of foster care and extremely low-income (ELI) veterans." The prevalence of disability is tremendous among these populations, and supporting these initiatives should be a key priority for our community, provided that the programs are administered accessibly and equitably.
In closing, the 2024 Presidential budget represents a robust advocacy opportunity for the disability community. For almost any issue of import, there is a relevant expenditure. We will keep our readers posted on the budget's progress, but encourage advocates to engage on their own as well.