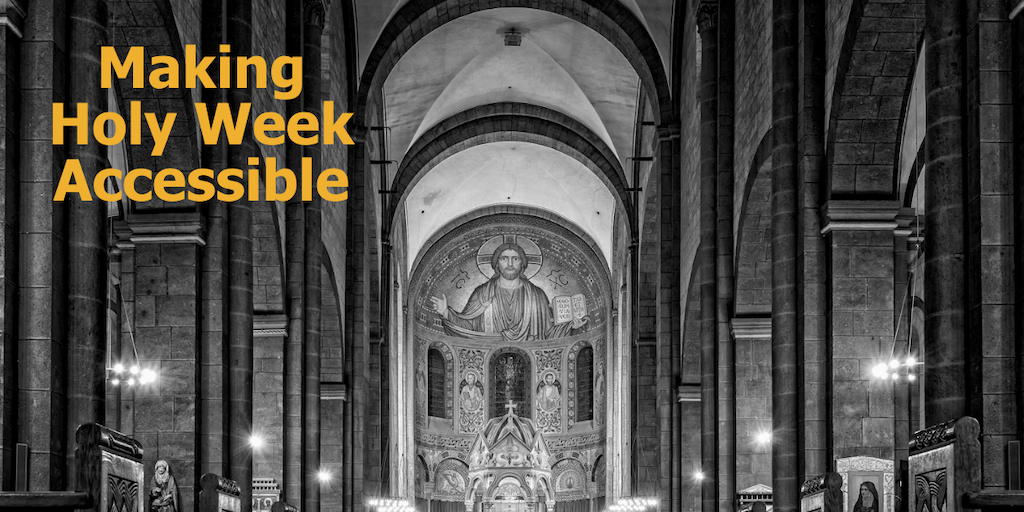 In the Christian tradition, Holy Week is the last week of Lent. The significant days within Holy Week often include but are not limited to: Palm Sunday, when Jesus enters Jerusalem; Maundy Thursday, where Jesus has his last supper with the Disciples; Good Friday, which commemorates the death of Jesus; and Easter, which celebrates the resurrection of Christ.
These services are of deep spiritual, theological, and communal significance for the Christian community. Unsurprisingly, they are also significant for Disabled Christians. It is vital as faith leaders and community members to work with fellow Disabled Christians to create worship services during Holy Week, where we experience inclusion and belonging during this sacred time.
As a faith leader, I want to offer concrete examples of how our services can implement accessibility measures during Holy Week. I hope these examples inspire us to think more broadly about accessibility in our services and communities.
During Maundy Thursday services, there are often foot-washing rituals inspired by scripture where Jesus washes the feet of those around him. If this is a part of your service, consider offering multiple options so congregants can choose how they prefer to participate. For example, if someone is an amputee or has a limb difference, they may prefer to have another part of their body washed. Other congregants, such as those with post-traumatic stress disorder (PTSD) or sensory needs, may prefer not to be touched at all.  This can be an excellent opportunity to have an option for congregants to receive a blessing from a clergy member.
Tenebrae is a service that usually involves the slow extinguishing of candles and dimming of lights until the sanctuary is in total darkness. This lack of light can pose a problem for folks who are blind and or low vision who rely on strong lighting to navigate safely through the sanctuary. Consider communicating before the service begins that there will be a 3-minute period of darkness at the end of the service, which will promptly end at the 3-minute mark so that Blind and or low-vision congregants can safely leave the sanctuary.
Our spaces can become highly stimulating during Easter, a celebration which often includes loud brass music, fragrant flowers, and is consistently one of the largest services of the year. For folks with sensory needs, thinking of ways to support their Easter experience is essential. A form of support can be offering foam earplugs for the service to enjoy the celebration at a lower volume or a space inside or outside the sanctuary where folks can decompress and recharge during the Easter festivities.
In all of these services, it is vital to provide quality virtual options for Disabled and non-disabled congregants to participate in Holy Week who, due to COVID-19, do not feel safe attending indoor events.
May this Holy Week be an opportunity to lean into accessibility, belonging, and acceptance.