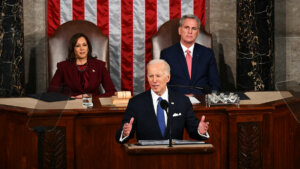 Last week, as he delivered his State of the Union Address, President Biden called upon Congress to "get seniors and people with disabilities the home care services they need and support the workers who are doing God's work." RespectAbility joins with the rest of the disability community in gratitude for this call to leadership, and further thanks the President for recognizing the value of the choice for those of us who rely on care to stay in our homes, and reminding us that these programs are already fully paid for. You can learn more about this issue in this informative article in Disability Scoop. We also are grateful to President Biden for calling out the critical need for stronger mental health support, especially for young people.
At the same time, we encourage the President and Congressional leadership to ensure that other important initiatives include people with disabilities. The President celebrated the creation of 12 million new jobs in his first two years in office, and pointed out that unemployment is at a 50 year record low, including record employment levels for Black and Hispanic workers. While people with disabilities also have benefited from this job creation, our employment rate remains less than half that of the general population.
Biden correctly quoted his father saying, "a job is about a lot more than a paycheck. It's about your dignity. It's about respect. It's about being able to look your kid in the eye and say, 'Honey –it's going to be OK,' and mean it." As we continue to work on employment initiatives, we respectfully ask that all partners ensure that this dignity and respect is also available to Americans with disabilities. The President also said, "My economic plan is about investing in places and people that have been forgotten." We ask all leaders to work with us to make sure that people with disabilities are among those to be remembered.
We agree with President Biden that "every time somebody starts a small business, it's an act of hope." RespectAbility is embarked with partners on a major entrepreneurship initiative for people with disabilities. We hope that this recognition means the federal government will be active partners in these efforts.
The President also recognized the importance of health insurance, housing, and criminal justice reform among others. All of those things have disability facets, and we look forward to progress on them all.