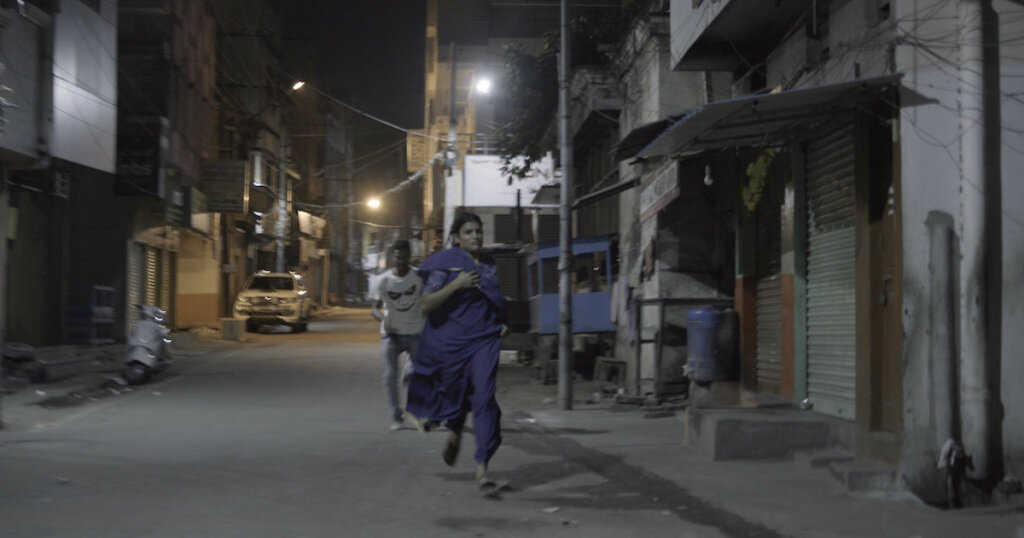 Salt Lake City, Feb 23 – Aleeya, written and directed by RespectAbility Lab Alum Nina Mahesh (she/her), follows a trans woman in small-town India as she tries to buy a sewing machine for her boyfriend. This short film is both a simple love story and an intricate depiction of how trans women are treated in India. Over and over again, Aleeya, played impeccably by Nithu Rs, is either objectified or completely ignored by the people around her. Even the man she is trying to buy the sewing machine from won't look up from his newspaper to engage.
In a conversation with Mahesh around the film, she remembered back to her yearly trips to India as a child where she would be ushered away from trans women coming up looking for change. Mahesh didn't understand why these women were treated so poorly both in this one area as well as globally. As she got older and learned more about the community of these women, she wanted to see more positive representation. More specifically, as a narrative filmmaker, Mahesh said, "I didn't see a lot of other things than documentaries [about these women]" and decided to make a narrative piece about them.
In her yearly trips, now as an adult, Mahesh started to approach these women and ask for their stories. The storyline of Aleeya came out of conversations with a group of trans women that lived together as a family. The story is not based off of one specific person but rather a collective truth. After Mahesh wrote the script, she went back to these same women as well as Rs "to make sure it resonated properly and that it seemed true to them." As a lot of the short is about making money to purchase the sewing machine, it depicts the few options trans women have to make money — selling food on the street, dancing at weddings, and sex work. Mahesh wants the audience to see Aleeya being used; she is "being looked through" by the people around her.
It was a labor of love to get Aleeya made. It was hard to find a trans woman to lead the film and Mahesh learned of Rs because she had won Miss Trans India in 2019.  Mahesh went back to her father's hometown in India to shoot it because "we had deep budget constraints, all our transportation we had for free, hotels were much cheaper, food was cheaper, locations feasible." It also meant that a crowd of people surrounded them whenever they filmed outside – "you will amass 100 people very quickly" — meaning "quiet on set" was much harder to achieve. It was so uncommon for a film to be made in this town that while filming the climax of the film where Aleeya gets sexually assaulted, the crew got the cops called on them twice.
The film itself is incredibly powerful, with smart storytelling. You are able to see how in love Aleeya is within only a couple scenes and learn a lot about her previous life through simple interactions – many of which are people completely ignoring her. During the carefully crafted sexual assault, Aleeya breaks the fourth wall and looks straight into camera directly at the audience. Mahesh said "you're meant to be deeply uncomfortable" and she definitely achieved that throughout the film and specifically in this scene.
Aleeya was accepted into multiple festivals including Slamdance's Unstoppable where all the films were made by people with visible or non-apparent disabilities. Mahesh is considering making Aleeya into a feature length film, but is currently working on a couple shorts and a few screenwriting projects. One of the shorts she is hoping to get made this year is around a girl with dyslexia, with which Mahesh has lived experience.