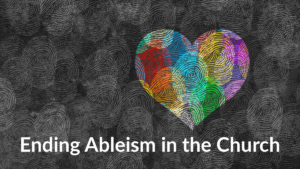 On August 11 and 12, we attended Let's End Ableism at Church, an interactive webinar hosted by the Disability Concerns ministry of The Christian Reformed Church of North America and The Reformed Church in America.
The first day largely focused on defining ableism in its many forms. The second day laid out practical solutions to ending discriminatory practices against disabled people in the Christian church.
Each day began with a song and reflection on scripture. The pastor giving the first reflection urged us to give grace to our oppressors so that we might invite them into the work of ending ableism. He reminded us that power is a threat to one's faith in God, and so, in inviting oppressors to be liberators, we engage in life-saving work.
There was extensive discussion about use of prayer and theology as ableist weapons; many disabled attendees and panelists had received unsolicited prayers for healing. A blind man even spoke of someone spitting in his eyes as Jesus did to heal a blind man in the Gospel of St. Mark. As shown in later group conversation, these stories triggered many people's uncomfortable memories of unsolicited healing prayers.
Speakers talked about their visions of heaven: ones of healing and freedom from disability, of zipping about in rocket-powered wheelchairs—a heaven without the societal barriers that this world so often imposes on disabled people and where disability in all forms is celebrated. One keynote speaker, Chantal Huinink of Faith and Wheelchair Ministries, talked of her desire to return the weaponized prayer, asking God, "Forgive them, because they know not what they do in not accepting my body for what it is today and for not seeing that God is just as active in my life as anyone else's." Another panelist submitted that "healing that compromises or removes identity is not healing."
On the second day, keynote speakers and panelists, like Melinda Baber and Lynn Swedberg, laid out practical tools to aid the church in ending ableism. Several accessibility audit checklists are available, and church leaders were asked to consider who their programs are designed for and who has been left out.
Speakers mentioned Hebrews 11:1. The verse says, "Faith is the reality of what we hope for, the proof of what we don't see." This verse suggests that there is faith for everyone, but sometimes people don't have enough faith to believe in a church without ableism. We may not see disabled people in our churches, but to bring them into the fold, we must first create welcoming spaces. This includes creating sensory corners and rooms for those with ADHD, autism, and other kinds of disabilities.
Ableist microaggressions play a harmful role in church communities. In many ways, non-disabled people don't treat people with disabilities with the respect they give everyone else. Ableist microaggressions are denial of personal identity and disability experience, denial of privacy, of body, space, or information, and assumed or forced helplessness.
It was suggested that Able Privilege Checklists would help with self-reflection and accountability amongst non-disabled church leaders. When non-disabled church leaders compare their experience in the church to those with disabilities, it allows them to see how the church doesn't fit the needs of disabled people.
The speakers talked about how ministry is not done in isolation and how people in churches can overcome ableism when working together. Practical suggestions included creating usher partner systems with intentional greeters trained specifically to welcome those with disabilities.
In summary, it was encouraging to see others of faith so invested in the work of ending ableism in the church. May the movement gain ever more momentum!