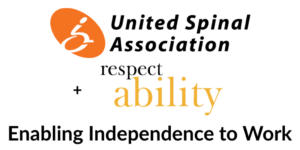 United Spinal Association and RespectAbility have embarked upon a major joint initiative to fundamentally change personal care for working people with disabilities by implementing market-driven solutions. The Enabling Independence to Work (EIW) program has designed a Medicaid buy-in model that will allow individuals with disabilities with personal care and complex medical needs to join the workforce. This program will be politically popular and economically feasible, as it will require substantial financial participation and still reward increased compensation.
Personal care services are basic life necessities for those that need them, as going without would be choosing death. The EIW program would reduce cost to the government by increasing economic self-sufficiency and cost sharing. Changing eligibility is unlikely to increase or decrease cost to the state, as actual medical cost doesn't change. Currently very few people make enough money to pay for these needs out-of-pocket. Since they cannot forgo the services without dying, the individuals affected by a change in eligibility are primarily those who currently sacrifice income to live. Our model will resolve the conflict between survival and joining the tax paying workforce.
Potential cost reducing factors include:
Models like Massachusetts', without income limits, but with premium based cost-sharing;
Medicaid savings as recipients meet their other health-related needs from private insurance;
Savings from reduced reliance on low incomes work programs like Housing Choice Voucher Program (Section 8), Supplemental Nutrition Assistance Program (SNAP), and Social Security Income (SSI) or Social Security Disability Insurance (SSDI),
Transforming the recipients into taxpaying earners, who contribute talent to the economy;
Phase One was designing our proposed model, which has no income or asset limit and no assumption of spousal obligation, thereby fostering financial independence. A money-follows-the-person approach will allow workers with disabilities to move for work. In the event of an employment gap, a grace period will allow for continued eligibility. Most importantly, premiums must be calibrated to be a meaningful cost-sharing, and while they should not be capped, they should with a formula ensuring that raises will not be entirely absorbed by medical costs.
Phase Two will be to retain one or more economists to do comparative cost analyses of our model and existing models. This is targeted for early 2023, it is predicated on raising $75,000-$100,000.
Phase Three is a concerted advocacy effort to implement the model as broadly as possible at the state and federal level. EIW is expected to be well-received by traditional "safety-net" liberals, fiscal conservatives, and "bootstrap" conservatives, so we hope they will join in coalition. They are currently looking at the start in late 2023, predicated on the completion of Phase Two and our ability to raise an estimated additional $100,000, to be revised as circumstances change.
Enabling independence to work is a core part of our work. By reforming a system which currently disincentivizes work and creates dependency on the state, this project would provide a means to increase the number of people with disabilities able to participate meaningfully in the workforce while contributing to the funding for their own life preserving healthcare needs.