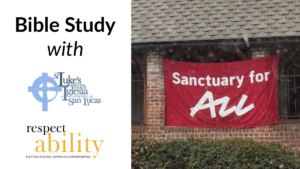 Here at RespectAbility, we hope to destigmatize disability in all realms of life. In the Faith Inclusion and Belonging department particularly, our work is in making all houses of worship across all faiths places where disabled people belong and thrive. RespectAbility, in partnership with St. Luke's Episcopal Church in Long Beach, California, hosted a 5-session, weekly online study on disability in Jewish and Christian scripture.
Sessions were taught on Zoom by David Tabb Stewart, Professor of Religious Studies at California State University, Long Beach. In these interactive sessions, we approached scripture with curiosity, looking at what the bible says and doesn't say about disability, and how these perspectives inform our theology today. We critically examined theologies that lend themselves to both the medical and social models of disability and looked for ways we can move away harmful ideas and practices into spaces that are welcoming and life-giving.
Syllabus
Session One: Wednesday, October 19, 2022, 7:00-8:15 PDT live; David Tabb Stewart
Moses: The Disabled Leader: Exodus 4:10-18, chs. 7-9.
The story of Moses is also the story of a disabled person called to leadership—in Moses' case, a speech impediment that the Bible refers to as 'thick-tongued'. When he objects to his call—he will have to do a lot of talking—his brother Aaron becomes his "accommodation." His story uncovers an early relativization of ability and disability in the biblical text. The texts reframe the two categories as intersecting or falling on a continuum—an idea that we might think is a product of contemporary life. Other examples of reframing disability in the Bronze Age will also be considered.
Session Two: Wednesday, October 26, 2022, 7:00-8:15 PDT live; David Tabb Stewart
Aaron as Cyborg, Disabled Priests, and the Nazirite Work Around: Leviticus 8:1-30, 21:16-24, 22:4-7, 21-25, Numbers 6:1-21.
Aaron, Moses' brother, as the first High Priest cannot perform his priestly duties unless his body is modified. As for the regular priesthood, some bodily impairments prevent priests from serving temporarily, others permanently, and surprisingly, some do not. Do priestly service restrictions apply to all Israelites or not? How does the Nazirite vow in Numbers 6 function as a disability accommodation or work-around?
Session Three: Wednesday, November 2, 2022, 7:00-8:15 PDT live: David Tabb Stewart
The First Disability Law, Leviticus 19:14.
This law protects persons blind or deaf in specific ways. But, does it protect people with other sorts of disabilities—that is, is it generalizable? Are 'blind' and 'deaf' head terms for ancient categories of disability? Are biblical categories relating to the body different from contemporary categories? Do some biblical laws create disabilities through trauma:c punishments, or actually exclude people with certain disabilities from the community? That is, can biblical laws "cut" both ways?
Session Four: Wednesday, November 9, 2022, 7:00-8:15 PST live: The Rev. Jane Soyster Gould and David Tabb Stewart
The Former and Laker Prophets and the Royal and Everyday Israelite.
Mephibosheth, a disabled Israelite prince, seeks kingship. Micah 4:6-7 speaks of a strong nation composed of disabled citizens. But then, 'blindness' and 'deafness' become idioms for 'misunderstanding' and 'disobedience' (Isaiah). Unfortunately, negative metaphors can easily undergird prejudices. What would the prophets have us do?
Session Five: Wednesday, November 16, 2022, 7:00-8:15 PST live: McKenzie Stribich and David Tabb Stewart
Disability in Johannine Literature (Christian Testament)
"Do You Want to be Healed?" or "Did You or Your Parents Sin?" In the Christian Testament, and especially in the Gospel of John, one finds a bad theology derailed (disability comes from sin), but also may create pressures for some to think "healing" is the preferred goal for persons with disabilities. The rich use of sight, sound, and kinetic metaphors throughout the two Testaments may also add to this pressure, or create alienation. How can a person with a disability avoid objectification by well or-ill meaning persons using biblical texts as their proofs?