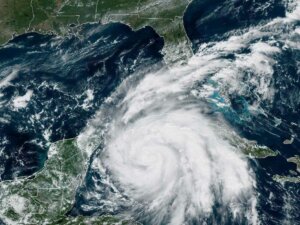 As the U.S. celebrated Hispanic Heritage Month this year, two places with large Hispanic populations were dealing with the aftermath of natural disasters. Hurricane Fiona made landfall in Puerto Rico on September 18 and Hurricane Ian made landfall in Florida on September 28. According to the Center for Disaster Philanthropy, people with disabilities have a greater risk of mortality and morbidity when a disaster hits.
CDC data shows that there are more than a million disabled adults in Puerto Rico, and more than three million disabled adults in Florida. What happens to them during natural disasters? The Global Alliance for Disaster Resource Acceleration (GADRA), a resource from the World Institute on Disability, surveyed organizations to find out. Every disability-led organization that responded believed organizations led by disabled people are left out of disaster relief funding, causing a lack of support for the population in times of great need.
On September 21, the U.S. Commission on Civil Rights published an extensive study that revealed how the Federal Emergency Management Agency (FEMA) failed to serve people with disabilities, along with non-English speaking people and poor communities. The U.S. Commission on Civil Rights analyzed FEMA's response in 2017 to Hurricane Maria in Puerto Rico and Hurricane Harvey in Texas, another place with a large Hispanic population. The study was published just three days after Hurricane Fiona made landfall in Puerto Rico and follows a similar report from the Government Accountability Office in 2019.
In light of these findings, we want to highlight a few organizations that are focusing on providing aid for people with disabilities in Puerto Rico and Florida:
The Partnership for Inclusive Disaster Strategies is an U.S. disability-led nonprofit that is actively responding to the needs of people with disabilities in both Puerto Rico and Florida. Donations to the Partnership will support a disability-led and focused response. In Puerto Rico, the Partnership is coordinating their response with the Puerto Rico-based organization MAVI. In Florida, the Partnership is collaborating with the Florida Statewide Independent Living Council. You can donate to the Partnership at their website.
Project HOPE is also on the ground in Florida to provide support, specifically focusing on people with disabilities, along with the elderly, and those with pre-existing medical conditions. You can donate to Project HOPE here and learn more about their response to Hurricane Ian.
While Hispanic Heritage Month has come to a close, supporting Hispanic communities that have been impacted by these storms is not something to only care about from September 15 – October 15. It is imperative that multiply marginalized communities are centered in the response to natural disasters that disproportionately impact them. We hope that communities in Puerto Rico and Florida receive the help they need to recover as soon as possible.