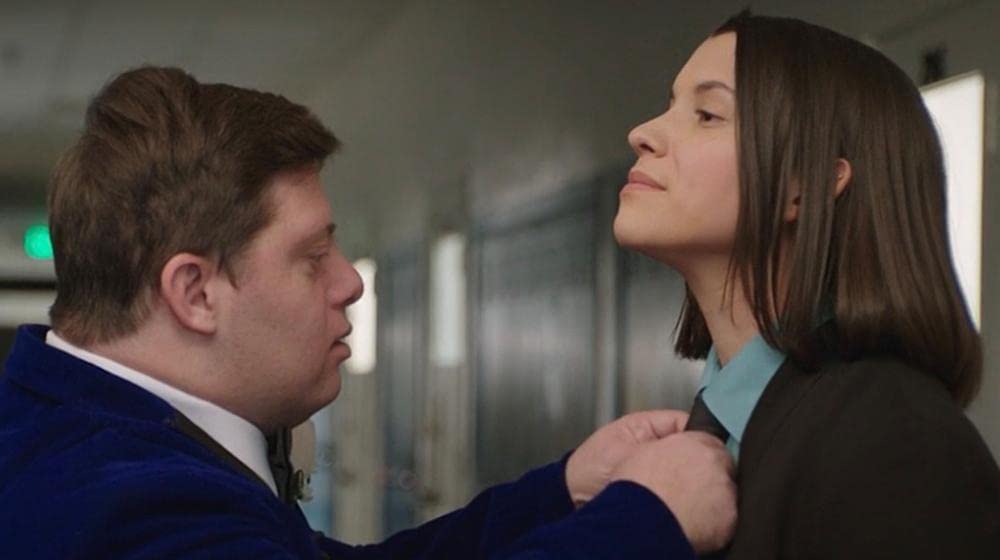 When one thinks of the stereotypical high school experience, a few things might come to mind: football games, classes, graduation, cliques, or even first loves. In her short film, AT LAST, director Lorena Gordon explores identity at the most quintessential high school experience of all: prom.
Starring Katie Burton, Zack Gottsagen, and George Lopez, AT LAST tells the story of Lauren, a teenager who reveals her truth during her high school prom. AT LAST speaks to intersectionality of identity, as the film's protagonist fears rejection and upsetting her Latinx parents if she were to come out. The film does not explicitly discuss Latinx culture or family, but Lauren openly discusses how she feels that coming out challenging to her parents. The pressure she feels as their only child to make them proud and be perfect is a relatable truth that audiences of all identities can connect with.
Gordon's film captures the pain and burden of masking. Lauren's inclination to hide her queer identity from her parents is a shared experience of many LGBTQ+ people. Instead of asking her crush to go with her to the dance, Lauren takes her best friend, Flash, as her date. Instead of choosing the outfit that she wants to wear, Lauren opts for a frilly, turquoise dress and formal hair and makeup to please her parents. Lauren's conformity shows how her fears associated with coming out directly correlate to the expectations and feelings of her parents. Many queer youth may relate to Lauren's journey as they navigate similar conversations and expectations from their own families.
The themes of identity and self-acceptance resonate throughout the film. Upon arriving at the prom, Lauren ducks into the school bathroom to change into her authentic self, donning a suit and tie and a sense of relief. When she emerges from the bathroom, she is welcomed by Flash, who embraces her wardrobe change. Her newfound comfort is palpable; Burton's display of ease in that moment speaks to the film's greater message of living authentically. Changing her clothes gives Lauren the confidence to approach her crush, Sam, who reciprocates her feelings. Lauren's connection with Sam and the support of her best friend provides her with the courage to come out to her father. This moment is the film's best, as her father reiterates that he loves her unconditionally. Living one's truth and experiencing the acceptance of others is something we all wish for.
Katie Burton's performance as Lauren offers connection and relatability, as she captures the highs and lows of high school, love, and acceptance brilliantly. Zack Gottsagen gives a wonderful performance as Lauren's supportive best friend, Flash. Gottsagen, who has Down syndrome, exudes acceptance and respect for Lauren throughout the film. Flash's presence at the prom is essential to Lauren's story, as his acceptance and respect when Lauren came out to him gives her the courage to come to her parents. Director Lorena Gordon's choice to cast a disabled actor as Lauren's best friend further contributes to the film's commitment to representation and intersectionality.
The film's relatability and delightful acting performances make AT LAST a welcome narrative about growing up, identity, and self-acceptance. Lauren's fears of what others, particularly her family, will think if she reveals her truth as a gay woman is a story that many LGBTQ+ people can understand. The pressure to be perfect and meet the expectations of others is not strictly an experience of queer individuals, but rather one that is human in and of itself.
AT LAST is available for streaming on HBO Max.