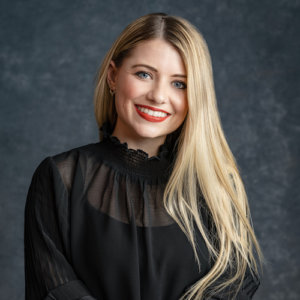 Los Angeles, CA, Aug. 30 – With 20 Lab Fellows interested in writing and directing, the Virtual Cohort of the RespectAbility Entertainment Lab eagerly welcomed Writer/Director Ashley Eakin for a discussion on working in the entertainment industry. Eakin is a writer and director known for Netflix's Forgive Us Our Trespasses (2022), Single (2020), and the Apple TV+ show Best Foot Forward (2022). Eakin also participated in RespectAbility's 2019 and 2020 Entertainment Lab, and served as a Faculty Advisor for the 2021 Lab.
Eakin discussed working with Jon M. Chu on Crazy Rich Asians (2017) as an assistant, stating it was "a really amazing experience because I got to know from beginning to end how a film was made on a bigger scale with a studio." She described the differences between directing feature and short films verses episodic directing, explaining how with the former, the director takes the lead over every element, whereas for the latter, the director primarily serves the showrunner and the writers. She discussed navigating contracts and the importance of having an entertainment lawyer to ensure that you are paid for your work in a timely manner.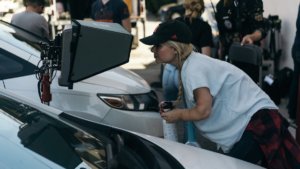 Eakin also talked about the process of selling shows, stating that working on multiple projects and having samples is essential. Eakin took questions from the cohort and gave tips for successful pitch decks, emphasizing to keep them short and casual while focusing on the larger concept. She described getting into the AFI Workshop for Women (AFI DWW+) as "life-changing" and encouraged the Lab Fellows to apply, saying that it was where her career "really took a turn" as the program is so well known in the industry.
In closing, Eakin described how the Best Foot Forward (Apple TV+) crew was led by and included many disabled people, which broke industry norms and needs to become common. She discussed her desire to lift up disabled creatives in the field and support the community of disabled writers and directors, stating, "we need so many different voices of disability, we're not a monolith."
On September 8, Eakin's episode of the Disney+ series Growing Up will premiere, featuring Disabled Activist Emily Flores.
RespectAbility's fourth annual Lab for Entertainment Professionals with Disabilities brings authentic and diverse portrayals of people with disabilities to the screen by creating a pipeline of diverse professionals with disabilities behind the camera. Participants include people with physical, cognitive, sensory, mental health, and other disabilities. Lab alumni currently work for a variety of studio partners including DreamWorks Animation, Netflix, Nickelodeon, Paramount Pictures, Sony Pictures Entertainment, and The Walt Disney Company, as well as in a variety of writers' rooms. Others have had films featured at festivals such as Cannes Short Film Festival, SXSW, Slamdance, and Tribeca, and participated in additional career track programs including with Film Independent and Sundance Institute.