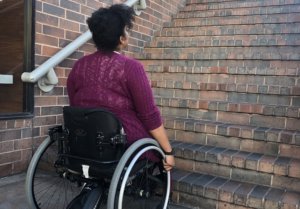 July is Disability Pride Month. It commemorates the passage of the Americans with Disabilities Act (ADA) on July 26, 1990. The ADA is a milestone civil rights law that prohibits discrimination against individuals with disabilities in all areas of public life, including employment, education, transportation, and all public and private places that are open to the general public. However, mosques, synagogues, churches, and other religious institutions are largely exempt from ADA regulations.
Courts have upheld this exemption because requiring religious institutions to follow ADA regulations and allowing the government to take enforcement action against them could go against the First Amendment. Exempting religious organizations from the ADA's equal access standards allows them to erect structures and deliver activities according to their religious convictions. Unfortunately, this means disabled people can be denied accommodations such as curb cuts, special parking spaces, ramps, elevators, just to name a few.
We invited two people with disabilities to describe the consequences of the ADA's exemption for religious organizations and the exemption's impact on their lives, the lives of others, and their communities.
There are times when Erin, a Catholic wheelchair user, goes to mass and is unable to enter a church building for confession. She can't go to the altar, an honor in the Catholic faith; thus, she can't be a lector, altar server, or eucharistic minister. She prefers to hold the Eucharist, but the eucharistic clergy grow impatient while she wheels her wheelchair. Since there are usually no slots in the seats for a wheelchair, she must sit in the first row or block the aisle during Communion. Ableism runs rampant in her church. She has heard members of the congregation murmur that a disability is a burden, and that disability is synonymous with sin, consistent with the moral model of disability, which is still promoted in many faith-based settings. At her former church, she was a faithful parishioner, yet she consistently faced attitudinal and physical barriers that prevented her from being able to participate in the service and truly feel welcomed. Reflecting on feeling excluded, she commented, "I am a lifelong wheelchair user, and I don't feel welcome in the church."
Sharon is a congregant at Bet Shalom Congregation in Minnetonka, Minnesota. She goes to services and belongs to the Jewish Community Center, where she participates in programs designed for people with disabilities. She asserts that "her sense of belonging comes from knowing that she's among Jewish people." Living with cerebral palsy, her biggest obstacle to participation is transportation, as her transportation service is often unreliable. She says, "it's hard for me to control the rides. They either get me there too early or too late." She has observed that people in her faith community are progressively adjusting their attitudes around her disability, but more work must be done to ensure that they are more comfortable with those who are disabled.
Many religious institutions, motivated by religious conviction and values, acknowledge that people with disabilities should be welcome to participate in services, and all other programming. The Rev. Mark Kimpland, pastor of The Endwell United Methodist Church said, "we just take seriously the goal of the church. Everyone is included. No one is left behind." Hopefully, more institutions in the future try to make this goal a reality.