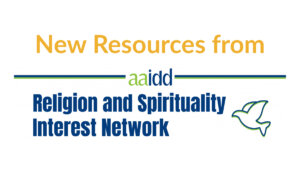 Interfaith conversations and programs are a staple of the Religion and Spirituality Network of the American Association on Intellectual and Developmental Disabilities (AAIDD). Every year, the Network produces a webinar series on timely and important concerns with an interfaith approach.
The Network's 2022 webinar series, "When Hospitality & Belonging Become Hard: Faith Community Strategies for Responding to Adults with Varying Needs," is now available. Facilitated by the Rev. Bill Gaventa, an esteemed leader in faith inclusion, religious leaders engaged in conversation to share experiences, wisdom, and practical advice from their respective faith traditions.
Presenters in the final 2022 webinar, Dilshad Ali, Tom Reynolds, and Rabbi Norman Cohen, provided resources from Muslim, Christian, and Jewish traditions. In our interfaith work at RespectAbility, we want to know about disability and mental health inclusion initiatives and organizations both within faith traditions and those focused on interfaith work.
If you have resources that you would like RespectAbility to know about, I invite you to send resource links to [email protected].