Setting the theme of 'Connection,' RespectAbility and more than 1400 companies and organizations will drive calls to action to address the surge of loneliness and isolation felt by millions as a result of the pandemic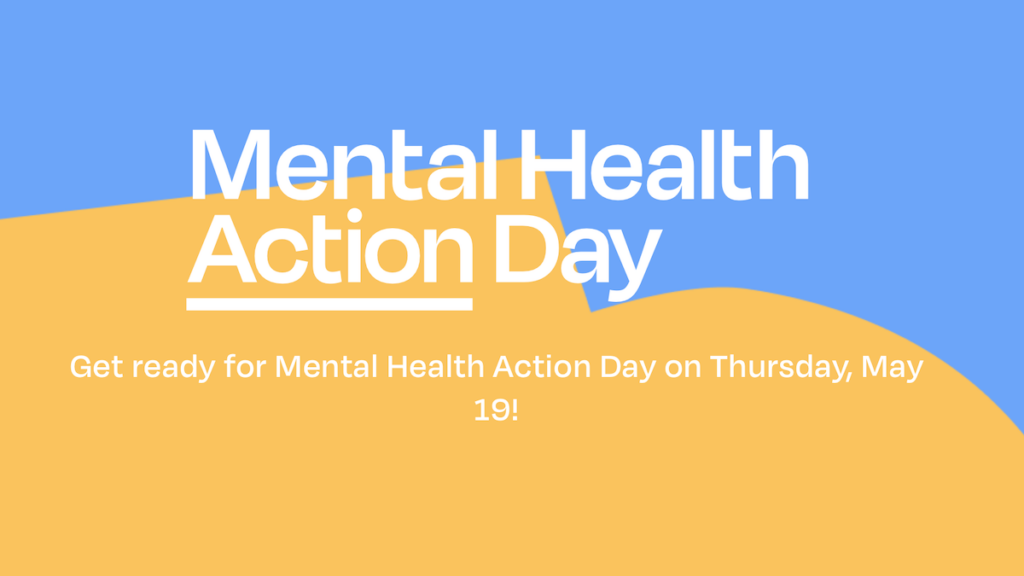 Los Angeles, April 1 – RespectAbility announces today its participation in the second-annual Mental Health Action Day held on Thursday, May 19 with more than 1,400 other leading companies, brands, nonprofits and cultural leaders globally.
As the global conversation around mental health continues – including the White House's new unity agenda strategy to address mental health in the United States – finding effective resources and knowing how to get help remains a challenge. Convened by MTV Entertainment Group, Mental Health Action Day was created with an open-source model that has effectively united and galvanized brands, organizational leaders, and cultural leaders to seamlessly integrate the message and spirit into their existing branding and voice.
This year's Mental Health Action Day theme, planned in partnership with TaskForce, is Connection as people of all ages continue to seek out ways to cope with loneliness stemming from the pandemic and turn to peer counseling to support their emotional wellbeing when struggling with isolation. We will encourage people to take their first steps towards mental health action — whether for themselves, for their loved ones or to advocate for systemic changes through a wide range of tools. Additionally, this year MTV has piloted a new partnership model, Mental Health Action Champions, that empowers interested partners and provides them with the freedom to innovate, manage, and customize a sector-specific strategy powered by Mental Health Action Day.
"RespectAbility has been proud to partner with the MTV Entertainment Group on a variety of projects and Mental Health Action Day is one such initiative – one which should spur action 365 days a year," said Lauren Appelbaum, VP of Communications and Entertainment & News Media at RespectAbility. "By bringing together a diverse group of corporations and nonprofits, MTV's Mental Health Action Day can continue to help both decrease the stigma that prevents people from living their authentic lives while also ensuring that people know where to find mental health and well-being resources. One way to do this is to ensure more authentic storytelling of mental health on screen. RespectAbility is honored to once again be joining in this effort to raise awareness, the first step in leading to concrete action."
"The last two years have brought to light mental health challenges and made it easier to talk about them – but there is still so much work to do to help people take actions to address them," said Erika Soto Lamb, Vice President of Social Impact Strategy at MTV Entertainment Group. "That's why the second Mental Health Action Day will focus on connection by providing leaders with resources to encourage and empower people to take action and those struggling with mental health and isolation with the tools they need to improve their emotional wellbeing."
Partners will encourage people to take their first steps toward mental health action — whether for themselves, for their loved ones or to advocate for systemic changes. Free resources and tools, such as an employer toolkit and platforms for hosting and organizing events, are available for organizations and groups to help support their audiences through a myriad of ways – from starting a meditation practice to learning how to support a friend to advocating for change.
Last year RespectAbility hosted a virtual event: Raising Awareness and Promoting Change Through Authentic Mental Health Representation in Media. Nikki Bailey (comedian, actress, author, and producer), Amanda Burdine (screenwriter), Diego Kusnir (blind psychologist), Ali MacLean (playwright and TV writer), and RespectAbility's Tatiana Lee spoke about the importance of portraying mental health accurately and authentically in TV, film, and other forms of media, especially as a means to create awareness and serve as a first step to systemic change.
Additional participants and more information about how each partner will activate this year on May 19 will be forthcoming. More on Mental Health Action Day and a current list of partners can be found at www.MentalHealthActionDay.org
About Mental Health Action Day
Mental Health Action Day is an open-source movement of brands, organizations, and cultural leaders to drive culture from mental health awareness to mental health action. The second Mental Health Action Day will take place on May 19, 2022 with a mission to encourage and empower people to take their first steps towards mental health action — whether for themselves, for their loved ones or to advocate for systemic changes, because mental health is health. Learn more at www.MentalHealthActionDay.org