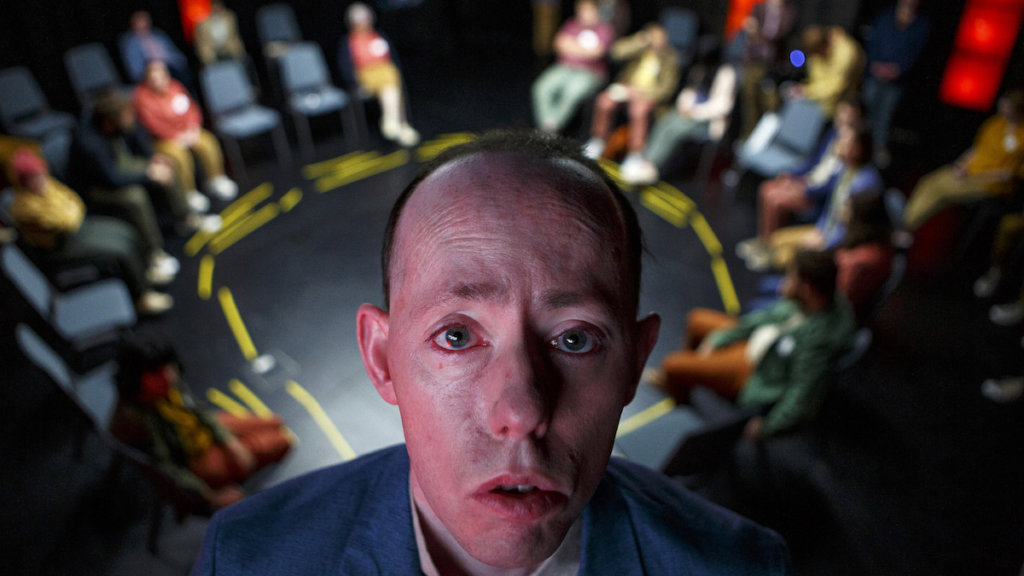 Austin, Texas, March 17 – "When artificial intelligence overtakes human intelligence, how will people be treated?"
This is the question at the heart of the groundbreaking film Shadow, which made its world premiere at SXSW Film Festival earlier this week. Produced by Back to Back Theatre, a genre-bending drama with documentary elements, the film was created by individuals with intellectual disabilities and centers people with disabilities. Shadow unravels questions surrounding the disability community, ability, and the emergence of artificial intelligence. It tackles these innovative themes with fervor and a beautiful sense of artistic direction.
Three activists with intellectual disabilities, Simon, Scott, and Sarah, are leading a town meeting about the future impacts of artificial intelligence on the disabled community. However, things quickly go awry when there is tension between the three leaders and those they are speaking to. We come to understand that there is more than meets the eye in regard to the question of what artificial intelligence can do for people with intellectual disabilities. AI might be the consequence of a society that holds little value and humanity for those that don't meet ableist, and sometimes absurd, standards.
"Thematically, we wanted to understand individual and collective responsibility and question how we come together to make decisions that are in the best interests of society," the filmmakers explain in their director's statement.
At the start of the meeting, one activist named Simon decides he will be the "mayor" of the meeting and appoints himself as leader, while Scott reluctantly takes on the role of a speaker because he is deemed the most "charismatic." Sarah is cast off as "an assistant" to the other two. As they decide each other's roles, the conversation evolves into a question of who seems the most "capable, charismatic, and vocal." The conversation, written and performed in an exceptionally witty scene, shows an unfair hierarchy between this group of disabled activists, directly critiquing the internalized ableism the disabled community faces on an everyday basis.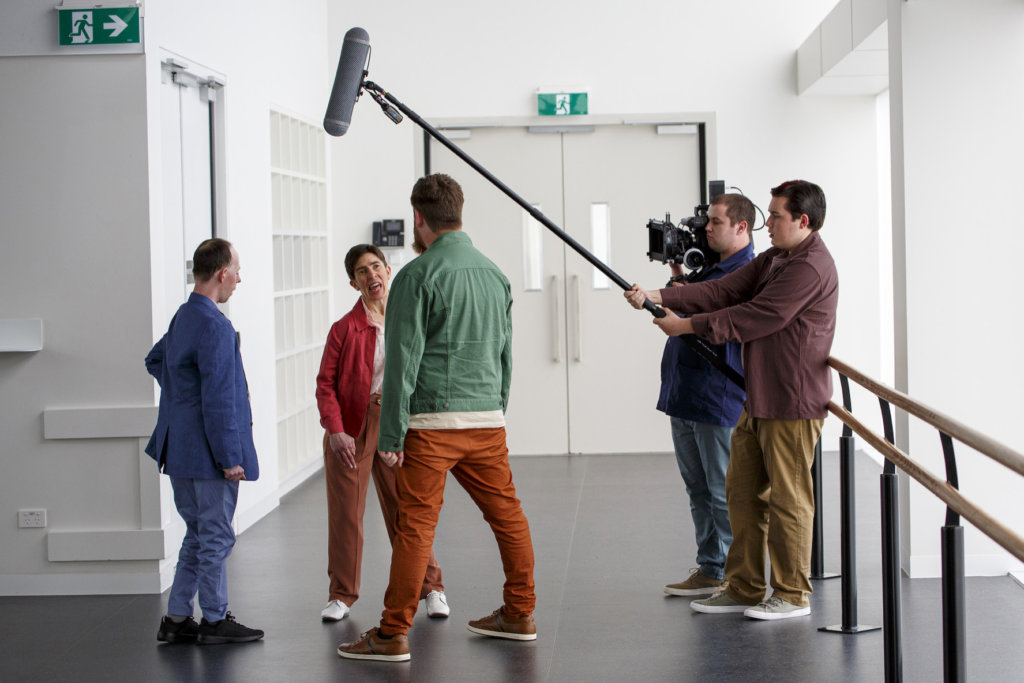 We see another version of this nuanced sense of ableism when different characters assume that one meeting attendee, Mark, is incapable of understanding what others are saying. Scott goes as far as declaring he has the intellectual abilities of a child. However, Mark comprehends so much more and retorts with his own sense of humor. Mark is a standout character, having one of the funniest and memorable performances in the film. Sarah even snaps at others who condescendingly look down on Mark and those like her – shouting: "You're speaking as if Mark isn't there…He is an adult."
Shadow seamlessly points to the social model of disability: the fact that systemic barriers and social exclusion can be what's truly disabling for most people. And not only is it pointing this out so openly, as our protagonists confess that they don't know why they feel ashamed about being disabled, but it connects this concept to the fact that one day we might all be intellectually disabled with the rise of AI.
These might sound like two lofty concepts that don't fit – but Shadow artfully shows that they do. Artificial intelligence points out our limitations every day, just as nondisabled humans have structured society to discriminate against people who look like they have certain limitations. Our group of activists are struggling to be understood and are frustrated that a piece of technology repeatedly points out that they are limited.
Just because society doesn't understand disabled people, it doesn't mean that they are of less value, that they are allowed to be dehumanized, or that they in turn don't understand society. One of the strongest moments in the film is when a protagonist simply states: "We're more normal than normal people." Maybe, the issue at hand is that our everyday world fails to understand the perspective of disabled peoples and their intrinsic value regardless of how it holds up to what the rest of the world deems as "successful."
The outside world seems to bleed into the relationships between the activists as our protagonists start to judge each other on who looks more "capable." Sarah being cast out, despite being the only activist who is trying to keep the meeting on track, might hint at how some people in the disability community are unfairly cast out due to internalized discrimination. Sarah at one point declares: "We need to be united as one community."
It begs the question, how can we all work towards uniting our disability community?
Through its sharp and dark humor, graceful cinematography and a musical score riddled with tension, it's difficult to step away from the film. In addition, it is refreshing to see such a moving film about disability completely led and written by people with intellectual disabilities. It couldn't capture its authenticity, humor, and thoughtfulness in any other way.
Director Bruce Gladwin might be at the forefront of inclusivity and filmmaking when he suggests that the film is a part of a larger concept of "community filmmaking." The film was a highly collaborative process, co-authored by the performers, script consultants, and the original writers.
Back to Back Theatre also put out an open call for people with disabilities who were interested in working in film. Individuals were assigned mentors and individually asked about what they desired to work in, learn, and how they can be accommodated to do their best work. Overall, it is clear that the nurturing and inclusive environment behind the scenes translated to the final product. According to the director's statement, "95% of the people on screen are people with disabilities, and the majority of the crew roles are fulfilled by interns who identify as people with disabilities supported by professional mentors."
If you are looking for an experience that is insightful, poignant, and still wildly funny, then Shadow delivers. It will leave you with a new perspective on the future of disability and what each of us brings to the world as human beings.
For upcoming screening details and more info on the film, visit Shadow's official SXSW page.