Los Angeles, Dec. 9 – Following a a worldwide search for blind and low vision actresses, Aria Mia Loberti will make her acting debut in the bestselling Pulitzer Prize winning adaptation of "All the Light We Cannot See."
Loberti will play Marie-Laure, a blind teenager, whose path collides with Werner, a German soldier, as they both try to survive the devastation of World War II in occupied France. While she has no formal acting training, she beat out thousands of submissions.
She also is an advocate for people with disabilities, especially those who, like she, are blind or low-vision. These efforts have taken her from her small Rhode Island hometown to global forums like the United Nations, UN Women, TEDx, the Thomson Reuters Foundation, and beyond.
"To find an actress to play the iconic Marie-Laure – a young blind woman whose greatest strength is the tenacity of her hope and the power of her voice across the airwaves during wartime – was no small challenge," said Director and Executive Producer Shawn Levy. "We searched the world and reviewed thousands of auditions. We never thought our path would lead to someone who has not only never acted professionally, but never auditioned before. It was a jaw-drop moment when we first saw Aria Mia Loberti, who is both a natural performer and an advocate for disability equity and representation. I can't wait to tell this beautiful story with her at the center."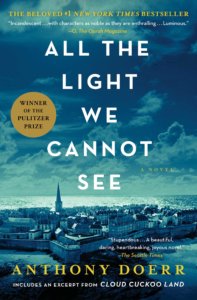 Loberti learned about this casting search from a former childhood teacher. She had previously read the book and was a fan of the story.
"Inclusion of characters – and actors – with disabilities – must be an intentional effort; it will not happen by accident," said Lauren Appelbaum, who leads RespectAbility's Hollywood Inclusion efforts as the organization's Vice President of Entertainment & News Media and author of The Hollywood Disability Inclusion Toolkit. "What we see on screen influences how we act in real life. By casting authentically for 'All The Light We Cannot See,' Netflix can help remove the stigmas that currently exist around interacting with blind individuals. Prioritizing both disabled actors and accurate portrayals on screen go a long way in helping to remove these stigmas."
Currently a PhD student in Rhetoric at Penn State, Loberti received her Masters in 2021 from Royal Holloway University of London as a Fulbright Scholar and earned her undergraduate degrees in 2020 in Philosophy, Communication, and Political Science from the University of Rhode Island.
In addition to focusing on authentic casting, the production also hired Joe Strechay (See, The OA) to serve as Associate Producer, Blindness and Accessibility Consultant.
Anthony Doerr's Pulitzer Prize-winning bestseller "All The Light We Cannot See" will become an epic four-part Netflix limited series produced by Shawn Levy's 21 Laps Entertainment (Stranger Things, Free Guy, Shadow and Bone, Arrival) and written by Steven Knight (Peaky Blinders).  Levy is set to direct all episodes.