The National Organization on Disability Announces the 2021 Leading Disability Employers at Annual Forum Bringing Together Global CEOs, Celebrities and Policy Influencers to Reimagine the Future of the Workplace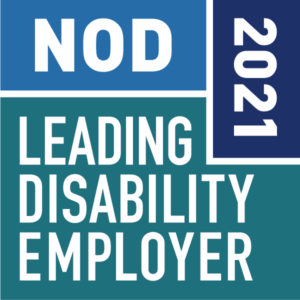 New York, NY, October 1 – At the National Organization on Disability (NOD)'s Annual Forum, entitled "Disability Inclusion in the Next Normal", RespectAbility was honored as a 2021 NOD Leading Disability Employer. Now in its seventh year, the NOD Leading Disability Employer Seal recognizes companies for measuring and achieving strong talent outcomes for people with disabilities. With this recognition, NOD endeavors to shine a light on employers, like RespectAbility, that are committed to building an inclusive workforce by adopting exemplary employment practices for people with disabilities.
"Congratulations to all the 2021 Leading Disability Employers for creating an inclusive and diverse workplace that allows people with disabilities to be successful," said NOD President Carol Glazer. "NOD's mission is to ensure that no ability is wasted, that all Americans, including those of us with disabilities, have an opportunity for enterprise, achievement, and earnings and that corporate America knows how to put our talents to work. These winning organizations have stepped up and are doing just that. We want to applaud their leadership and thank them for their commitment to hiring and retaining people with disabilities."
"We are honored to be recognized by NOD with this award," said Tonya Koslo, RespectAbility's Director of Finance and Administration who has onboarded hundreds of Staff, Fellows and Lab participants to RespectAbility's team since the organization was founded in 2013. "We know that authentic leadership is one of the keys to our success. We work hard to ensure that we practice what we preach when it comes to employing people with disabilities."
The 2021 NOD Leading Disability Employers are:
AbbVie
Accenture
American Heart Association
Anthem
AT&T
BellTextron
Blue Cross Blue Shield of Michigan
Blue Shield of California
The Boeing Company
Capital One
Centene
Cerner Corporation
Children's Hospital of Philadelphia
Comcast NBCUniversal
Dow
Eli Lilly and Company
Endeavors Unlimited
EY
Financial Industry Regulatory Authority
GDIT
The Hershey Company
Hilton Worldwide
Horizon Blue Cross Blue Shield of New Jersey
HSBC
Humana
Huntington Bank
Idaho National Laboratory
Independence Care System
Kaiser Permanente
KeyBank
KPMG U.S.
Leidos
Level Access
Lockheed Martin
L'Oréal USA
M&T Bank
Marriott International
Martinsburg Veterans Affairs Medical Center
Mayo Clinic
National Grid USA
National Security Agency
Nautilus Hyosung America
New Editions Consulting
New York Life
Northrop Grumman
PRIDE Industries
Prudential Financial
PSEG
Puerto Rico Industries for the Blind
PwC
Randstad US
Reed Smith
RespectAbility
SEI
Skookum Contract Services
Sodexo
Sony Corporation of America
TD Bank
TIAA
T-Mobile, USA
U.S. Bank
United Airlines
Unum Group
The Viscardi Center
W.W. Grainger, Inc.
WeCo Accessibility Services
Wells Fargo & Company
The announcement was made before an audience of hundreds of diversity and inclusion leaders from global companies at NOD's two-hour virtual Forum. Academy Award winner Marlee Matlin kicked off the event with an inspiring keynote address, while comedian and actress Santina Muha served up glitz and glamour as the emcee. An executive panel discussion, featuring DiversityInc CEO Carolynn Johnson, Hilton CEO Christopher J. Nassetta, and Eli Lilly & Company CEO David A. Ricks, addressed the emerging workforce challenges in the COVID era and was moderated by Rhonda Nesmith Crichlow, Senior Vice President and Chief Diversity Officer, Charter Communications and NOD board member. The impactful discussion examined new opportunities the global pandemic has afforded employees with disabilities, including remote working, increased digital accessibility, better access to mental health programs and more flexibility.
About the NOD Leading Disability Employer Seal + Employment Tracker
The NOD Leading Disability Employer Seal is a selective award given to companies demonstrating the positive outcomes in recruiting, hiring, retaining and advancing people with disabilities in their workforces. To see current and past winners of the NOD Leading Disability Employer seal, visit www.NOD.org/seal.
Winners are determined based on data provided by companies on the NOD Employment Tracker™, the only assessment tool available that focuses on the workforce, to help companies evaluate their disability inclusion policies and practices. Organizations wanting to compete for the NOD Leading Disability Employer Seal voluntarily opt in to be considered. Those companies' responses are scored, taking into account both disability employment practices and performance. Scoring prioritizes practices that are associated with increased disability employment outcomes over time, and companies receive additional points based on the percentage of people with disabilities in their workforce. At NOD's Annual Forum, the cohort of winners are revealed by name; no specific scoring or ranking is disclosed.
To be considered for the 2022 NOD Leading Disability Employer Seal, companies must complete the annual Employment Tracker survey during the qualifying window. Sign up to be notified when the 2022 Employment Tracker opens this November.
About National Organization on Disability (NOD)
The National Organization on Disability (NOD) is a private, non-profit organization that seeks to increase employment opportunities for the millions of working age Americans with disabilities who are not employed. To achieve this goal, NOD offers a suite of employment solutions, tailored to meet leading companies' workforce needs. NOD has helped some of the world's most recognized brands be more competitive in today's global economy by building or enriching their disability inclusion programs. For more information about NOD and how its professional services, Leadership Council and Employment Tracker can help your business, visit www.NOD.org.