Today we celebrate workers. As a long-time working professional with a disability, I am intimately familiar with the barriers that keep talented people with disabilities out of the labor force. Beyond public policy issues around the benefits systems and work disincentives, popular culture itself and media depictions of disability are a crucial barrier that harm the aspirations of millions of people with disabilities. For decades, people with disabilities like me have been seen as "less than" – as incapable of doing any job or becoming a leader in any career field.
How have many people with disabilities responded to being told what they cannot do? They have paved their own way into a rewarding career by becoming entrepreneurs.  According to the Bureau of Labor Statistics, people with disabilities are self-employed at a rate nearly twice that of their non-disabled peers. As of the 2019 American Community Survey, over 700,000 workers with disabilities were self-employed, enjoying the flexibility and opportunities that entrepreneurship provides.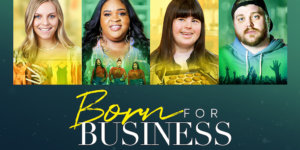 Streaming now on Peacock and CRAVE, Born For Business is a brand-new docuseries that spotlights the untold stories of entrepreneurs with disabilities and gives viewers an insider's look at what it takes to launch and run a thriving small business. It is really a thrilling show to watch and puts a clear spotlight on the innovation that people with disabilities bring to the workplace.
Best of all, this new show does not sugar coat anything. It shows stories of resilience and innovation that will have universal appeal, perfectly timed for a moment when people are struggling to get past the challenges of these unprecedented times.
The American people may be struggling right now, but there are clear signs of hope that make me optimistic about the future of the disability community. Approximately 70 percent of people with disabilities want to work. Thousands more could become entrepreneurs if they can develop their skills and access capital. Now, in the summer of 2021, the labor force participation rate for working-age people with disabilities is up to 35.4 percent, compared to 77.2 percent of people without disabilities. This means that more people with disabilities are engaging with the workforce now than they were before the pandemic.
Our communities and our economy are at their best when all people, including people with disabilities, can earn an income and become independent, just like anyone else. Entrepreneurship offers new, innovative pathways for Americans with disabilities to bring their talents, ideas, and innovations to the labor force.
Born For Business, which features talented and diverse entrepreneurs with disabilities, creates a paradigm shift for people with disabilities because it is authentic and shows what people with disabilities CAN achieve. We still have a long way to go. Together, we can change our culture, fight stigmas, and create new opportunities for people with disabilities to succeed.
---
Olegario "Ollie" D. Cantos VII, Esq., has been a disability and civil rights attorney for thirty years. A blind Filipino American, he has served in a variety of public sector leadership roles. He Chairs RespectAbility, a disability-led national, non-partisan, nonprofit organization that fights stigmas and advances opportunities so that people with disabilities can participate in and contribute to every aspect of community.