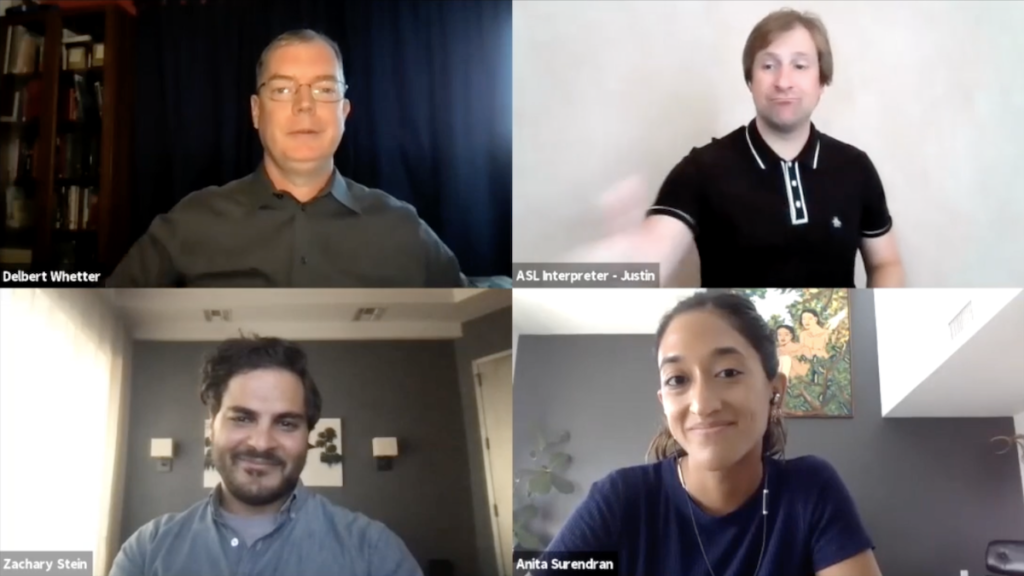 Los Angeles, July 22 – When starting out a career in the entertainment industry, many creators find themselves needing to learn how to protect their intellectual property and navigate various contracts. That is where entertainment lawyers often play a role. Entertainment law is often the unsung hero that makes it possible for a script to make it on screen without any hiccups.
As the RespectAbility Lab for Entertainment Professionals continues to expand its teaching and mentoring opportunities, additional sessions are added to ensure all participants are fully prepared to continue advancing their career in the entertainment industry. As such, RespectAbility Board Member Delbert Whetter sat down with Anita Surendran and Zachary Stein of Granderson Des Rochers LLP to discuss one of the most daunting aspects of filmmaking.
Stein and Surendran's law firm Granderson Des Rochers LLP specializes in multimedia work covering various industries such as music, film and fashion. Granderson Des Rochers represents filmmakers, producers and actors. The duo spoke from years of experience in film production dealing with faulty copyrights to troubles with distributors. The Lab participants were given the opportunity to bring forth their concerns on their individual projects and receive brief insight from Stein and Surendran.
Participants learned about the benefits of independent artists creating a LLC or S-Corp. "The general rule of thumb is, if you are anticipating for that company through your entertainment-related services to receive $150,000 per year or more, that's when you would actually set up a company like that," Surendran said, while noting that there are some exceptions. Some people set one up too early and end up losing money on the fees associated with creating such a company.
RespectAbility's third annual Lab for Entertainment Professionals with Disabilities brings authentic and diverse portrayals of people with disabilities to the screen by creating a pipeline of diverse professionals with disabilities behind the camera. Participants include people with physical, cognitive, sensory, mental health, and other disabilities ranging in age from people in their 20's through their 50's. Lab alumni from 2019 and 2020 currently work for a variety of studio partners including Nickelodeon, Paramount Pictures, and The Walt Disney Company, as well as in writers' rooms for Netflix's Mech Cadet, CW's 4400, and Showtime's Dexter, among others. Others have had films featured at festivals such as SXSW and participated in additional career track programs including with Film Independent and Sundance Institute.