Los Angeles, June 24 – Disney/Pixar's newest film Luca has tackled several areas of inclusion – including one often not highlighted – disability. This film features characters who are sea monsters including Luca (Jacob Tremblay) and Alberto (Jack Dylan Grazer) who travel to land and meet a new human friend Giulia (Emily Berman). When Luca and Alberto meet Giulia's father Massimo, viewers see that he only has one arm. When Luca asks him how it happened, he says in a scary voice, "A sea monster ate it." After a beat, he reveals he was just kidding and that he was born like that. This is the only acknowledgment of his disability. It is refreshing to see a character with a disability like this and have it be just part of him and not a big plot point. It really hammers home the lesson of acceptance in this movie. The dad not having an arm at first made him really scary, but it is just a part of him that people don't understand.
Ashley Eakin, a writer/director who was born with a limb difference, also agrees that Luca has handled this representation well. "Luca is a great example of how we can include representation of people with different bodies in all of our content. Too often the character with some type of disability or limb difference is the villain or scary. While Massimo is brash, he is also a talented chef and caring father. They even make light of the way he lost his limb with ultimately explaining it was just the way he came into the world."
In this film, Luca is a sea monster boy in Italy whose parents forbid him to go to the surface because of how dangerous it seems to be. Luca soon makes a friend, Alberto, who is a fellow sea monster boy who spends a good amount of time on the surface. He shows Luca the joys of the surface world in their new human forms. They soon decide to run away together and try to begin a new life, living on land. Trying to keep their sea monster identity a secret proves to be difficult. They are forced to try and blend into a world that is keen to hunt down any sea monsters that they see.
Luca really spoke to me on many levels. The fact that Luca is a sea monster child can be seen as a metaphor for having a disability. Whenever he gets wet, he turns into a sea monster. Because of this, there are things that he cannot do without revealing he is really a sea monster, like swim or be out in the rain. His parents and Alberto talk about Luca not being able to do certain things because of their fear that he will not be accepted since he is a sea monster and not technically human. I can personally relate to this as a member of the disability community. The fear of not fitting in is all too real even in the simplest of situations. Going to a new place with new people is always nerve-racking. The anticipation of wondering if there are stairs or a good lighting or other things that will make my low vision even more difficult. I do it, however, because if I didn't do anything I was anxious about, life would be very boring, and I would never do anything fun or exciting. Whenever Luca says. "Silencio Bruno!" he is putting this fear and anxiety away, just like I do.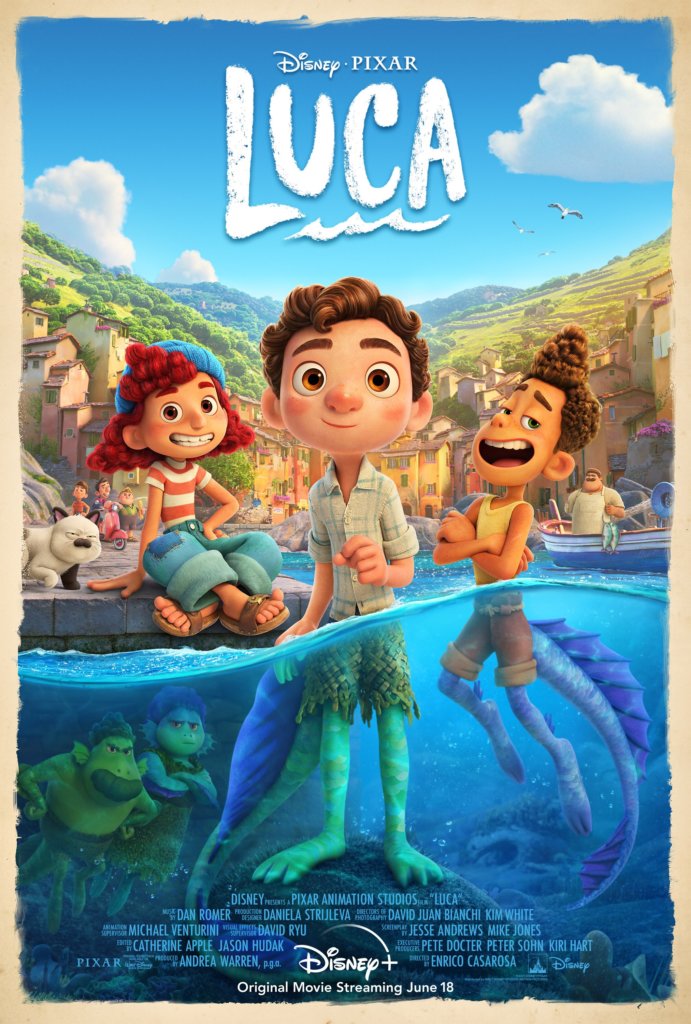 Luca's parents forbade him to go to the surface because they were afraid for his safety. I live with my own self doubt in my own limitations with my disability, as I'm sure everyone does. It's even more difficult when other people tell you what you can or can't do based on your abilities. Luca goes to the surface and investigates and although it is difficult at times, he has fun and really flourishes on the surface world. As someone with a disability, you can't let others put limitations on you. Only you know what you were truly capable of and what you can or can't handle.
The humans are afraid of the sea monsters, and the sea monsters are afraid of the people. It is all a fear of the unknown and a fear of what the other group does not understand. Once Luca sees the goodness of humanity, and Giulia sees how fun Luca and Alberto can be, things are not so scary. A town whose culture is centered around the sea monster legend must eventually come to terms with the fact that maybe sea monsters are not as bad or scary as they thought. In turn, sea monsters must do the same for the humans. Once Alberto's identity is revealed, the humans chase him and try and kill him. It takes a lot of courage for Luca to own up to his identity and show the town that he is also a sea monster. Instead of trying to hide the fact that he is a sea monster and go on living a lie blending in with the humans, he owns up to it and comes out better for it. This can be interpreted as owning up to your own disability. We must accept ourselves and if we do that, others will accept us too. As a society, we cannot be afraid of the unknown. We should be inclusive to everyone, regardless.
"Representation, especially for kids, is so important because sometimes content is the first time they are introduced to people with different bodies," Eakin added. "If we can familiarize differences in films and show that a variety of characters can have disabilities, we have a better chance of creating a more inclusive and accepting society. Representation has the power to change everything."
In addition, it was fantastic to see LGBTQ+ undertones in this film. Although it is never directly addressed, Alberto's character can be viewed as the first gay Pixar character. He is determined to run away with Luca and start a new life together, exploring the human world, with no one to tell them what to do. Luca is excited for this as well, until he learns about other wonders of being human such as school and learning. Alberto gets jealous of Luca's closeness with their new female friend, Giulia. Although Pixar never confirms that Alberto is part of the LGBTQ+ community, it is left open to interpretation.
Luca spoke to me on many different levels in terms of my interpretation of its metaphor being about disability. I think it is great to expose people, and especially children, to lessons like this. It is about accepting all minority groups. It encourages us to embrace the unknown, be respectful of things that you do not understand and may even be afraid of and step out of your comfort zone. It is beautiful, touching, relatable, adorable and so much fun. Luca is definitely one of my favorite films of 2021 so far. Luca is now streaming at no extra cost on Disney+.