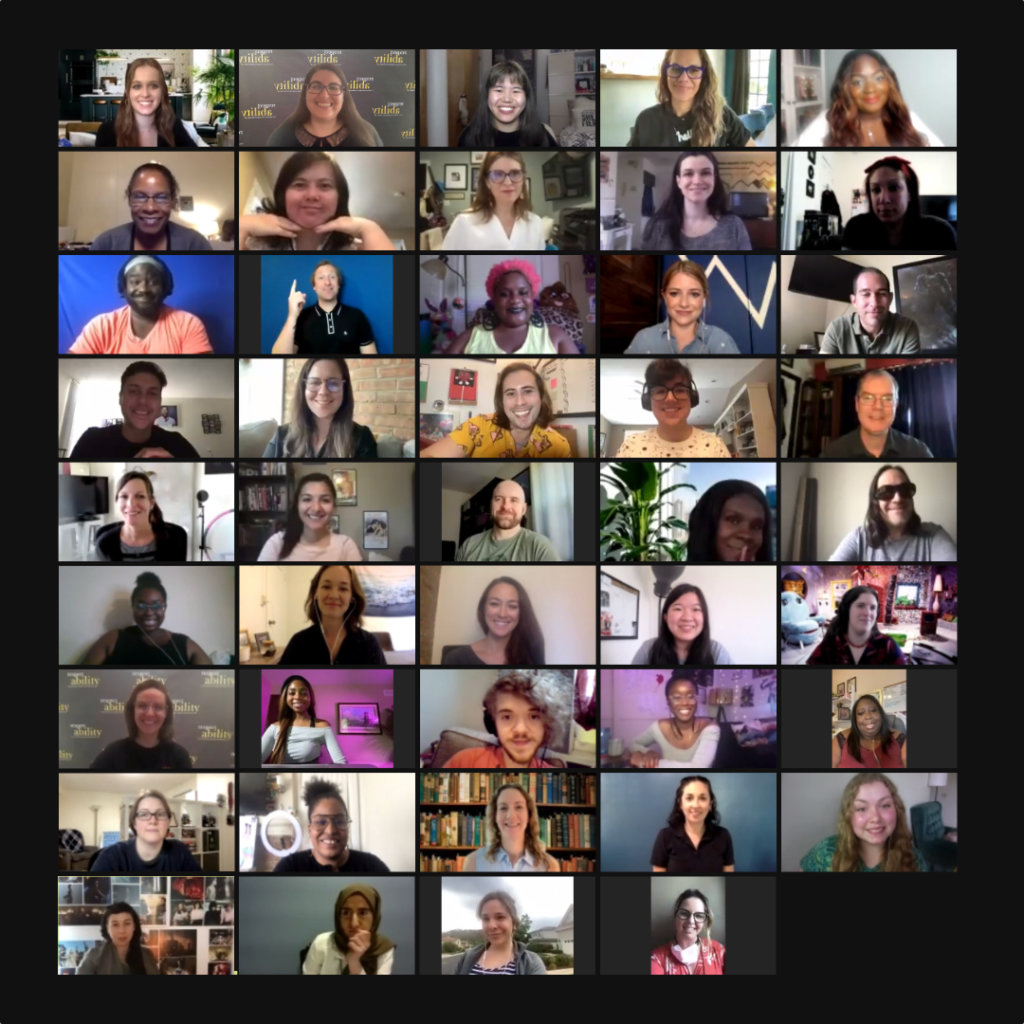 Los Angeles, CA, June 24 – "You help the most marginalized person, everybody else rises," Cheryl L. Bedford told the 30 emerging and mid-career creatives participating in RespectAbility's Lab for Entertainment Professionals with Disabilities, which kicked off the first session of its third round this Tuesday. Bedford who returned as a keynote speaker after rave responses from Lab alumni, spoke about being "a rebel and a trouble-maker" in the entertainment industry.
"Turning fear into action" and "fighting for the marginalized" are two key points of Cheryl's work, but the most inspiring part of listening to her speak is how she embodies that spirit of activism in every aspect of her life and action, offering complete support to those who have been kept down while calling out the others who don't show up when they say they will. She opens the door for everyone to boldly proclaim "I'm that person."
"I'm not fighting anybody else for a seat at your table,'" Bedford says of industry establishment, "so we're out here building our own table." Partnership and community are at the root of her efforts with Women of Color Unite (WOCU), The JTC List, and #StartWith8 Hollywood, and dozens of other projects with "partners in crime" from numerous BIPOC women-led organizations.
After completing her education at the top film schools in the country, Bedford emphasized that her confidence to "know [she's] right" was hard won after watching classmates climb the ranks around her while she was repeatedly handed diversity forms. Bedford has spent 30 years working in the industry as an independent producer, line producer, and production manager, creating films and programs that challenge Hollywood's ideals which have never included her. Bedford admits that this work has included many nights crying and picking herself back up, but all of this work has absolutely earned her the right to "constantly put [her] foot up Hollywood's a** because [she] doesn't owe anyone anything." She says, "That was the best part… I got to hire the way the world looks."
Bedford credits much of her success to her mother, for whom the JTC list is named, and the activism she was raised. She is unapologetic, courageous, vibrant, and fully committed to the changes she describes as essential, and which we all have a part to play in manifesting. A Black woman herself, she sees her community in Latinx, AAPI, LGBTQ+, TGNC, Fat, and Disabled folks kept from the table and has no interest in putting them in a space designed to marginalize them. "I've said this before," she remarks, "That table [that the industry says they want you at] was built on the backs of enslaved Africans on the land of the Indigenous. I don't want to sit at your table. See, I'm going to go off into a corner with all my allies… and we're gonna build our own table."
It is always an honor to hear Bedford speak. Not just because of her many accomplishments, but because there is no better way to start the Summer Lab than with a fire to create, challenge, live in your authenticity, and be an ally.
There is always fear when starting a new endeavor. Cheryl L. Bedford is an icon who knows how to turn that fear into magic for herself and the people she supports. "There is at least one person in this town who is rooting for you and that's me." When she says it, you know it's true, and that can make all the difference.
RespectAbility's third annual Lab for Entertainment Professionals with Disabilities brings authentic and diverse portrayals of people with disabilities to the screen by creating a pipeline of diverse professionals with disabilities behind the camera. Participants include people with physical, cognitive, sensory, mental health and other disabilities ranging in age from people in their 20's through their 50's. Lab alumni from 2019 and 2020 currently work for a variety of studio partners including Nickelodeon, Paramount Pictures and The Walt Disney Company, as well as in writers' rooms for Netflix's Mech Cadet, CW's 4400 and Showtime's Dexter, among others. Others have had films featured at festivals such as SXSW and participated in additional career track programs including with Film Independent and Sundance Institute.