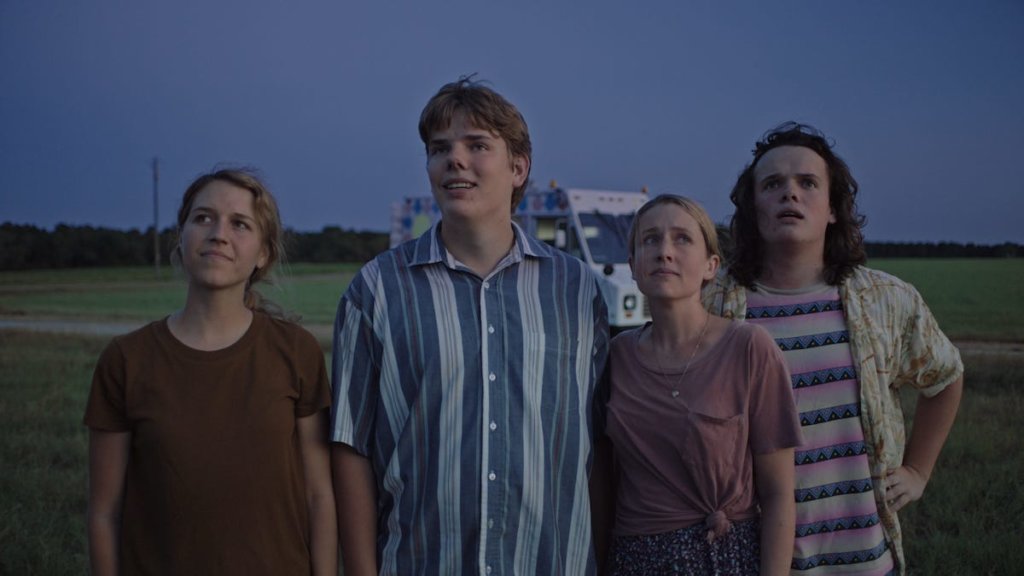 Los Angeles, April 29 – Four people. One ice cream truck. One historic drought. One oncoming storm. Set in 1993 North Carolina, Drought is a feature film that examines sibling dynamics, dealing with differences, learning to understand the people you love, and accepting yourself.
In the film, a younger sister, Sam takes on the parenting role of watching over her autistic brother, Carl. When their mom gets sent to jail, the siblings' estranged older sister, Lillian, shows up at the house to help out. Spurred by Carl's love of weather and storm chasing, Lillian and Sam take their dad's ice cream truck to help Carl chase the impending tempest. The siblings are accompanied on the journey by Sam's friend, Lewis.
Written and directed by Hannah Black and Megan Petersen, Drought was filmed in Wilmington, North Carolina with an entirely local cast and crew. Petersen and Black met in 2017 through an acting class and immediately connected, creating Same Page Pictures, LLC. (Fun fact: The Perks of Being a Wallflower, written by RespectAbility Board Member, Stephen Chbosky, inspired Black to take up acting).
Three years and more than seven drafts later, the Drought film script was finalized and ready for production! The pair raised funds though the arduous process of crowdfunding. With 1 in 4 adults in America living with a disability, and even more who know people with disabilities, the movie's premise "really resonated with people. Locals responded with, 'that's my story,' or 'that's my sister's story,'" Petersen remembered. Additionally, they won a filmmaking competition through Seed&Spark called Hometown Heroes Rally. As winners, their film was executive produced by the Duplass Brothers.
A Drought in the Making
Petersen and Black set the film in 1993 due to historical accuracy; there was a drought during that year in North Carolina along with storms going out west. "I think it's so much more interesting to have a road trip movie set pre-cell phone era," Petersen added.
Although Carl is autistic, none of the characters mention the word "autism." Autism was not as well known in 1993. Strangers sometimes refer to Carl as "the weird one," which his sisters dispute. Viewers watch a rare story that has a disabled person but never specifically focuses on or mentions disability.
In addition to writing and directing the film, Petersen and Black played the lead roles of Lillian and Sam, respectively. When it came time to cast the rest of the movie, inauthentic casting of Carl was never an option. Black and Petersen conducted a nationwide search for autistic male actors. After offering the role of Lewis to Drew Scheid, he recommended his autistic brother and fellow actor, Owen Scheid, for the role of Carl. The minute Petersen and Black met Owen Scheid, they knew he was perfect for the role. Seeming almost too good to be true, Owen Scheid was put through the ringer with an audition and two call backs.
For Owen Scheid, it was easy to step into Carl's shoes. "I was being myself, and pretending like no one was there," Owen Scheid said. The Scheid brothers began acting when they were young, growing up watching TV and local theatre. This increased their interest in the entertainment industry. "Our grandfather was a Master of Ceremonies for a children's variety show. That spurred me to think: that job seems cool. I want to do it," Drew Scheid said. "Drew's and Owen's commitment to their characters made acting so fun and easy," Black commented.
The crew also hired an autistic behind-the-scenes photographer and background actor. "When anyone asks about filmmaking challenges, disability doesn't even come to mind, because it was not a challenge at all," Petersen said. "We had a wonderful cast and crew that we really trusted. Everyone wore multiple hats… and worked collaboratively in 105º weather!" Black said. The cast and crew did have to face the impending threat of a real-life hurricane coming towards the town during filming. "We asked for it," Black joked.
When the Skies Open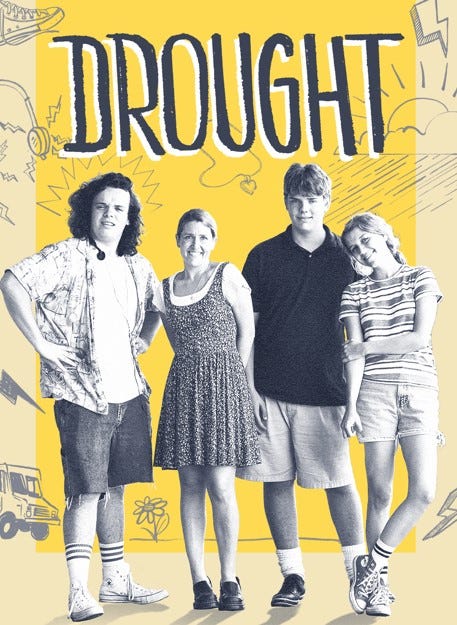 Owen Scheid hopes viewers learn that the experience is more important than the end goal, and "it's okay to be yourself." Black also offered, "There is no such thing as normal. Accept yourself and others fully. I hope viewers call an old friend and tell them how much they mean."
When asked for her main takeaway from creating the film, Petersen said, "During the filmmaking process, I learned I can experience hardships and push through them," While Drew Scheid mentioned, "We all need to be kinder to each other." His character acts as comedic relief, showing a different way of interacting with someone others don't understand. "At the same time, Lewis is a sad clown. Check in on your friends who are always smiling," Petersen said.
Keep an eye out for cinematic parallels between Drought and The Wizard of Oz! Sam: Dorothy, on an adventure. Lillian: Tin Man, looking for a heart and a family. Carl: Scarecrow, people eventually realize his brilliance. Lewis: Cowardly Lion, afraid to show his emotions. Also, note the color of Sam's shoes!
Overall, Drought is a film showing how different personalities relate to one another. Although together, each member of this found family takes their own path through the external and internal storms. What happens when they find what they're looking for?
Watch Drought on Amazon Prime here!