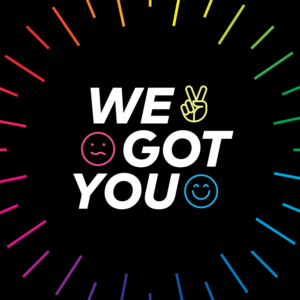 Los Angeles, March 11 – In today's cultural landscape, we are seeing an unprecedented explosion of media that presents a fusion of entertainment and education. Resources like these allow people to look for help in an inviting, compassionate situation before venturing out into other social spaces. We Got You is a podcast that both entertains and educates teens on mental health issues and other disabilities that often are stigmatized or rarely spoken of in an earnest manner. It is through anecdotes that the show explores the truths of its collaborators' unique predicaments.
Hosted by Samantha Logan of 13 Reasons Why and All American, each episode focuses on a single issue as presented through the narration of teenagers of various backgrounds. This format allows for frank and accessible discussions of real, lived experiences without the barriers of clinical jargon and other hurdles for non-specialists.
Creators Halle Petro and Brandon LaGanke sat down with RespectAbility and explained the planning that went into conceptualizing We Got You.
"We wanted to service preteens and teens," said Petro. "It was important we represent this audience and their voice. Kids needed to be heard."
Part of this podcast's charm is the inherent trust and rapport it includes with its interview subjects. While the podcast is aimed at preteens and teens, many of the subjects interviewed are in their late teens so each episode is fine-tuned to resemble a genuine conversation you may have with a respected older sibling. Most notably, each conversation demonstrates the depth and empathy present in Gen Z.
"I was blown away by how eloquent and smart these kids are," said LaGanke. Both creators expressed admiration for the poignancy and the uncompromising earnestness of their teenagers.
What is important about this series is that it presents some of the positives that can come with different conditions, though without discounting the associated struggles. For example, in episode 14, "ADHD is a Superpower," a 14-year-old diagnosed with Attention Deficit Hyperactive Disorder (ADHD) named Asha enumerates the positives and negatives that accompany her condition. She attributes her extraverted and gregarious personality to ADHD, while acknowledging that it is sometimes difficult to focus and concentrate on schoolwork. Asha tells the listeners who may have ADHD to reach out to health professionals or school staff in order to obtain necessary accommodations that will allow them to succeed in academic settings.
We Got You does not just focus on intrapersonal challenges, but also navigating interpersonal relationships. Because disability also is affected by social and environmental factors, it is imperative that these externalities are not left out of the discussion.
In episode 18, "Depression is OK to Discuss," a young woman named Jazmine discusses the period of bad depression she experienced and how it was shaped by her Native American identity. She went on to describe life on the Reservation and the plight of some of the adults who live there. She gives a profound examination of "intergenerational trauma" and how dealing with her own depression provided her with the tools to remedy the problems she sees in her community.
Each episode varies in length from about 15 to 25 minutes. We Got You's digestible runtime allows for concise commentary without any superfluous elements. The interviews are hard hitting and each episode has Samantha Logan remind listeners to not only listen and appreciate the stories, but also to seek professional help if they need it.
This format, primarily directed to younger teens, is a valuable resource for overcoming the isolation and confusion that so often accompany adolescence. Unfortunately, parents, teachers, and peers often are ill equipped or unavailable to guide young people and provide reassurance when they need it the most. We Got You reminds its young listeners that they are not alone and should not be afraid to ask for directions from those who have already been where they are now.