My name is Doctor Hilla Hadas, and I am the CEO of Enosh – The Israeli Mental Health Association. As organizations throughout the world are figuring out how to accomplish their missions in this time of COVID-19, I am pleased to talk about how we did this at Enosh, and how we worked to serve the changing mental health needs of our service users.
Enosh promotes the recovery, social inclusion, and rights of people with psychosocial disabilities and their families in Israel. Enosh is the largest mental health organization in Israel with 70 service centers that deliver comprehensive and groundbreaking community based mental health programs in the domains of housing, employment, social recreation, and family counseling. Enosh programs are based on the Recovery Model principles, which upholds functional disability; i.e., patients can lead a meaningful life in the community, despite persistent symptoms, and discover new abilities and interests. We also work to reduce the self-inflicted stigma and the societal stigma towards people with mental illness and their family members.
The outbreak of COVID-19 as an ongoing social-economical-health crisis has interfered with routine, social interaction, and wellbeing of people worldwide. Between March-August 2020, we at Enosh witnessed a 25% increase in Enosh's support line's number of inquiries. Symptoms of anxiety and depression have increased due to social isolation and loneliness, financial stress, and uncertainty caused by the required physical distancing practices. These circumstances and the growing demand and urgency for Enosh's community mental health rehabilitation services urged and accelerated our move to nationwide online mental health rehabilitation services.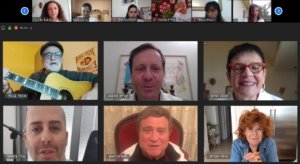 Through this transformation, we left no one behind. Even as we moved to an online platform for the majority of services, we provided in-person support as needed, in accordance with health guidelines.
We took 4 actions in immediate "first aid response" to help us continue to provide our service users with mental health rehabilitation programs during a time of emergency.
These were:
A. Opening 2 mental health support lines for youth and families in addition to the information center of Enosh.
B. Establishing a safe and healthy work environment by wearing masks, practicing physical distancing, and working in small groups as designated capsules.
C. Strengthening organizational resilience among employees and service users:
–        Conducting mandatory resilience workshops to all of Enosh employees
–        Offering short-term psychological support to employees in need
–        Strict safety policy along with flexibility towards home-office and working hours
D. Making everything across organizations electronic and taking all services digitally.
You can read more about Enosh and COVID-19 here. For some of our programs, we took a specific action. Our MILAM Family Centers have maintained consistent activity, having a growing number of inquiries, family therapy sessions, and a total number of service consumers. Our Social Recreational Community Centers have focused on the need to maintain social interaction amid physical distancing. Therefore, we started a process of modifying our social centers' activity (54 centers nationwide, over 2000 service consumers) to an online platform – a YouTube channel, a Facebook page, and daily Zoom activities.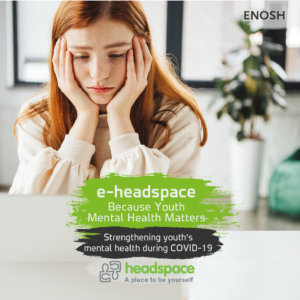 Our headspace youth centers have successfully maintained full operation during the COVID-19 period, providing intake, therapy sessions, and consultation. Nevertheless, we know that tens of thousands of young adults experience a mental health crisis due to COVID-19 and its circumstances. The struggle is even greater for youth coming from marginalized families and cannot afford psychological treatment. In response to this, we are looking to support and strengthen the mental health of youth in Israel during COVID-19 by working toward the establishment of e-headspace, a virtual support, consultation, and treatment services, providing online professional therapy ("from home") to Israeli youth aged 12-25 nationwide, free of physical limitations or the need of arriving at the clinic.
I am pleased to have had the opportunity to share this with you and hope that it provided some helpful insight as we work to cope with COVID-19.