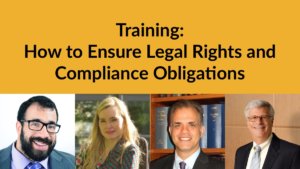 The number seven has incredible significance in Judaism: the seven days of creation and the holiness of Shabbat; the seven Patriarch and Matriarchs; the seven branches of the menorah in the Temple; the seven blessings and circles in weddings; and the seven days of mourning after the death of a close relative – just to name a few. (Perhaps I should add two more, to make my list a symbolic seven?)
It fits, therefore, that the initial run of our Disability Access and Inclusion Training Series culminates in the seventh "How to Ensure Legal Rights and Compliance Obligations." As Matan Koch, Esq. – a lawyer and director of RespectAbility's California and Jewish Leadership – explained, "having established a clear vision of how to do inclusion, the series culminates not by advocating a bare minimum, but by placing our aspirations in a legal framework."
Koch was joined on the Zoom-lawyers bench by Robert "Bobby" Silverstein, Esq., one of the primary architects of the ADA and many other major disability laws, who is now a Principal at Powers Pyles Sutter & Verville, PC; Ariella Barker, Esq., a former RespectAbility Fellow and current counsel for the city of New York; and Matthew W. Dietz, Esq., litigation director at  Disability Independence Group, Inc. Together they covered the Jewish philosophical underpinnings of the ADA, and the legal framework that it creates for Jewish organizations.
Do justice and pursue acts of loving kindness
Reflecting on the vision of those who wrote it, Silverstein stated that "the ADA is a codification of the commandment to do justice and pursue acts of loving-kindness." He broke this idea down into two parts: 1) doing justice and 2) acts of loving-kindness. Doing justice, he explains, involves understanding the history and nature of the injustice experienced by people with disabilities – and taking action based on a set of values and principles to achieve the goals of disability policy. The old paradigm, he shared, saw people with disabilities as "defective, dependent, pitied and in need of fixing," which resulted in policy that excluded, segregated and denied opportunities. However, after the ADA was passed, it led to a new paradigm that saw disability as "a natural and normal part of the human experience that in no way can diminish a person's right to fully participate in all aspects of society" and recognize that discrimination came from the choice to build barriers in designing our world.
As for pursuing acts of loving-kindness, Silverstein stated that "[this] does not entail pity or charity. It does entail helping if help is needed, and it does not entail helping with a sense of superiority. Pursuing acts of loving-kindness does entail treating people with dignity and respect, focusing on strengths and capabilities, embracing and celebrating differences and fostering empowerment and self-determination."
Disability in the workplace
Title I of the ADA, according to Barker, is "one of the most important sections of this law," as it applies to workplace accommodations. This statute, simply put, removes barriers to equal employment for individuals with disabilities who are qualified: it prohibits covered entities from discriminating on the basis of disability in all employment practices and during all stages and requires reasonable accommodation for known disability in an applicant or employee who is qualified, barring undue hardship. Perhaps most important for the Shabbat Smile audience, is that these requirements also apply to religious institutions as employers. For a full legal summary, watch Barker's excellent presentation. She highlights that the most important thing to remember is that Title I prohibits Jewish organizations or anyone else from discriminating against qualified candidates and employees with disabilities, guaranteeing equal access to employment for those who can perform the essential functions with or without reasonable accommodation.
Our events and serving the public
It was noted that Title III is generally the first thing that people always think of when they see the ADA. It focuses on public accommodations, and on removing architectural, communication and transportation barriers. As such, inclusion is ensured by providing reasonable modifications and requiring effective communication. Such barrier removals apply to many Jewish organizations not engaged in traditional religious functions. The details are in the webinar, but the key is that barrier removal not only involves architectural accessibility, but requires that "no individual with a disability is excluded, denied services, segregated or otherwise treated differently." The range in the latter should include allowing service animals to providing ASL interpreters and captions, and much in between.
It would take seven messages of this length to cover all of the details in this informative presentation. With that said, the most important take away is Bobby's declaration to do true justice and pursue true loving-kindness as modeled by the ADA.
On a separate note, this week RespectAbility released our toolkit/guide, "Opening Your Virtual Gates: Making Online High Holiday Celebrations Accessible to All." I hope you find it helpful and will share it with every congregation you know so that all online Jewish convenings can be accessible.
Shabbat shalom!
Lily Coltoff
Communications and Jewish Inclusion Fellow
RespectAbility