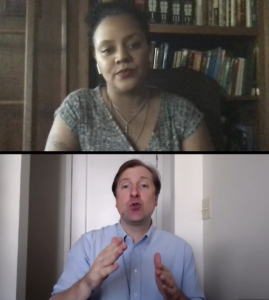 Los Angeles, California, June 16, 2020 – The 2020 RespectAbility Summer Lab kicked off with an informative keynote on navigating film industry politics and virtual networking tips with activist Whitney Davis. Davis' talk emphasized themes of self-worth, career-growth and deeply rooted issues within big-name corporations. She offered tips from her own experience growing from a Page to becoming an executive for CBS.
"Something I wish I'd known early in my career is: don't be afraid to use your voice," Davis told the 30 participants and five-member programmatic team of the Lab. "Using one's voice and knowing that you bring something special into every room that you walk into—which has nothing to do with the outward appearance or ability or disability—but just who you are as a person, and being confident in. That is all the executive presence you need."
Davis began the session by sharing her own story and experiences as a Black woman working in the entertainment industry. She then opened the conversation up to Q&A with the Lab participants. Every question was responded to with poise and a refreshing tone of honesty. When asked about how somebody with an obvious disability could even snag a chance to use their voice, she answered with her own wish for a more inclusive industry. She then transitioned to speaking a necessary truth that is not yet realized by most: 
"The best thing to do is have that person work, show them, like, they get the job done, they hustle just as hard as anybody else, they don't need any corporate charity," she said. "That's how we create the change, and I wish I had a better answer to say, like, this is it."
In giving job-searching advice to participants, Davis emphasized the importance of finding a place that is good fit for the individual. "You are also interviewing that employer to make sure that it's a place for you to be where you can grow in your career, where you can feel you're nurtured to make sure that their brand is aligned with whatever your personal brand is."
Davis reiterated concepts of self-love, confidence and intuition. Her confidence that the world is shifting into an environment of inclusivity truly is a radical manifestation that, given time and perseverance, will blossom into reality.
"I'm so grateful to be working with RespectAbility, and the JTC list, and so many other organizations to push the needle and say the time for change or revolution is now," Davis said.