Californians with disabilities now can use SNAP to eat safely while other states leave people with disabilities at risk
Los Angeles, CA, May 1 – Californians with disabilities and other recipients of the Supplemental Nutrition Assistance Program (SNAP) no longer have to choose between risking exposure to COVID-19 or getting food from the grocery store.
As of April 28, California's SNAP program, CalFresh, covers online grocery delivery. This benefits approximately 1.1 million Californians with disabilities who depended on SNAP benefits.
Because of the COVID-19 pandemic, a simple action like going to the grocery store to put food on the table means potentially risking exposure to the coronavirus. This is especially the case for those who are blind or use wheelchairs or other mobility devices for whom maintaining six feet of distance may be impossible. The answer for many American households has been to turn to online grocery deliveries.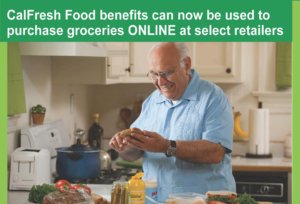 Matan Koch, a Los Angeles-based wheelchair user and Director of RespectAbility California, has been collaborating with civic and nonprofit leaders in Los Angeles to obtain food and other resources for people with disabilities.
"This is an urgent need in the disability community," said Koch. "In virtual gatherings we've hosted for Californians with disabilities – as well as with other groups of people with disabilities across the country, we constantly hear this concern. People with disabilities who use SNAP and who are especially at risk during this pandemic need to be able to eat. We have reached out to every state on this issue, encouraging SNAP directors to urgently enable people to use SNAP for online groceries and delivery. We are grateful for California's attentiveness to this issue."
Koch noted that the number of people – with and without disabilities – relying on SNAP will rise due to the job loss and service disruption of the pandemic.
Added Koch, "While it remains a concern that SNAP will not cover delivery fees, this is a lifesaving victory for Californians with disabilities and we hope more states will join this effort."
A National Issue
The CDC reports that approximately 90 percent of people hospitalized with COVID-19 have underlying conditions. This means that in addition to the higher risk of exposure mentioned above, people with disabilities and other historically marginalized communities, the groups most likely to have these conditions, are among the most at risk for severe complications from the coronavirus if they catch it.
In 2014, the USDA launched a pilot program to allow SNAP beneficiaries in six states – Alabama, Iowa, Nebraska, New York, Oregon and Washington State – to order groceries online to be delivered to their door. Working with Amazon Fresh and Walmart, the pilot program rolled out earlier this year.
In response to the unprecedented needs created by the pandemic, 11 more jurisdictions joined the pilot program in April: Arizona, California, Florida, Idaho, Kentucky, Missouri, North Carolina, Texas, West Virginia and Vermont, as well as the District of Columbia. An additional 14 states have applied to join the pilot: Arkansas, Colorado, Connecticut, Delaware, Hawaii, Louisiana, Maryland, Massachusetts, Minnesota, New Jersey, Oklahoma, Tennessee, Utah and Wyoming.
This victory for people with disabilities is directly attributable to the advocacy of hunger organizations and disability rights groups, including the Consortium of Citizens with Disabilities (CCD), RespectAbility, the National Disability Rights Network (NDRN) and others. These organizations collaborated to release public advocacy letters to Congress, distribute advocacy materials to federal leaders, and educate state leaders about taking action on this life-or-death issue.
Philip Kahn-Pauli, Policy and Practices Director for RespectAbility, has been encouraging state SNAP leaders around the country to apply for approval to join the pilot. "The SNAP program represents a 45-year commitment to the idea that no one should go hungry in the richest country on earth," Kahn-Pauli said. "Allowing online grocery delivery is a critical step to help keep people with disabilities safe and healthy through the current crisis."
To take advantage of online food delivery, Californians can visit GetCalFresh.org or call 1-877-847-3663. Los Angeles residents can also call 888-863-7411 for food delivery.