*** SPOILERS AHEAD ***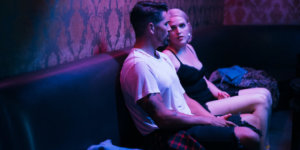 Los Angeles, Calif., March 26 – Rarely does a film come along that feels entirely refreshing, not just in terms of the genre, but in everything it does: "Single" is one of those hidden gems. The new Ashley Eakin film, Special Jury Recognition Winner at SXSW 2020 for Narrative Shorts, shines with its gorgeous, saturated, Hollywood-polished cinematography, authentic representation and undeniable assertation that it is not a love story – while tackling the complexities of dating while disabled.
"Single" tells the story of a day in the life of Kim: a millennial looking to live her life and maybe find love along the way – or at least a chance to get off of Tinder. As the film opens, she can be seen acting like any other twenty-something: buying a bottle of wine, talking on the phone to her friend and telling her about the blind date she's going on, set up by her mom's friend from book club.
She also has one arm.
But Kim makes it instantly clear that she's not someone to feel bad for, and that she won't take pity from anyone – not even the well-meaning but ill-advised grocery clerk offering to help her to her car. We see her drive home and get ready for her date – hair, makeup and all.
When she heads to the bar, she meets her date – Jake. He has one hand.
And, well, if you want to know how she feels about that, you'll have to watch for yourself.
Real People with Disabilities Playing Real People with Disabilities
Among the major issues of disability representation in mainstream media – aside from the overall lack of it – is the fact that, when a character with a disability does appear, they often are portrayed by a nondisabled actor. Moreover, the stories and arcs of these characters often revolve exclusively around their disabilities, and paint them as terrible inconveniences and punishments. And people with disabilities simply do not date much in mass media.
"Single" does none of that. Both main characters have disabilities and are played by actors with those same disabilities; there is no CGI or special effects makeup used here.
But beyond this – which is the logical and only right thing to do, anyway – is the fact that both characters are fleshed out to be real, three-dimensional characters, who do and say and feel real things. In the sequence following the opening scene, viewers see Kim drive home, do her hair and put on her makeup: we see her do the tasks of daily living, and how she specifically does them. There is no big production surrounding how she handles her steering wheel or hair straightener – she just does what she needs to do.
In this way, the characters also give insight into the ableism – primarily in the form of "microagressions" – that they experience on a daily basis, which comes from everyone from shop clerks to family friends to parents. They speak to and show the pain and anger that they feel in each of these situations, and how liberating it can feel to fight back or, at the very least, share these moments with someone else who understands.
They also contend with the fact that they were paired together merely because they both lack a part of an upper extremity; it echoes the commonly joked about, and unfortunately realistic, situation wherein someone meets a wheelchair-user and says, "Oh, my girlfriend's sister's roommate's best friend's cousin is in a wheelchair. Maybe you know him?"
Although they both resent their coupling – both in terms of romance and identity – the immediate rapport they form through their shared experiences brings to the screen what feels to be a first-of-its-kind representation of the friendships that quickly form between individuals with the same disability. Their banter and free-flow of conversation channels to the viewer what it really means to meet someone "like you." For those with disabilities who may have formed connections like this before, seeing that relationship on screen feels very realistic and satisfying.
Kim also struggles with her identity, something writer-director based off her own personal experience. Eakin, who was once ashamed of her physical disability, recalled that she used to wear clothing that could mask certain things of her disability.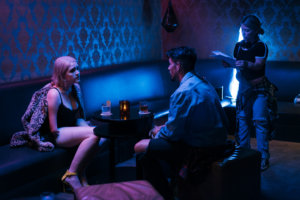 "My journey into accepting this part of my identity has been a very long one. For over 30 years, I was an unknowing ableist because I was so ashamed of my disability. I was consistently hiding my bone disease, until one day I realized I had my own unconscious bias. Unfortunately, a lot of society does see disability in a negative context, which had influenced the way I felt about myself all those years. I think once I was able to confront that bias, and understand the history and type of culture I was born into, I started to accept that maybe it's not my fault I feel this way. This was a big catalyst for my mission on wanting to change the way the world sees us."
About Kim, Eakin said: "She feels she does not belong in the community. It gives a different perspective because there is a guy born with no hand who has a whole different approach for how he has dealt with his disability; it's just part of his life. But Kim is so resistant to it. It gives two perspectives for how they deal with their identity."
Saying the D-Word
Perhaps an even more refreshing aspect of this film, however, was its loud and prominent usage of the word "disabled." The word is rarely uttered in mainstream media and, if it is, is said at a whisper in a side conversation or volleyed as an insult. While this is not a "loud and proud" moment, it does bring up the critically important conversation of what it means to be labeled as disabled and, moreover, how it feels to label oneself disabled.
Given that the concept of identity, both on a personal and group level, is so critical – particularly in today's rhetoric – it is extraordinary to see disability being entered into the conversation. As well, seeing two different perceptions on this idea represented allows for a nondisabled audience to understand how the society that they move through so easily alters the connotation of such a descriptor.
Disability is not a dirty word, but so often it gets treated that way in films and TV shows. Seeing it truly owned in this field shows that mentioning disability will not take away from the artistry or magic of the work but will in fact add to it – making the relationships, topics and stakes far more realistic.
Not Your "Sweet Girl"
When explaining why she dislikes the label of disabled, Kim says that she doesn't want to put on a "sweet girl" attitude. This comment, while brief and fleeting, reveals an important criticism of a common perception of people with disabilities: that they are innocent, naïve and need protection. This belief paints people with disabilities as weak and childlike, creating and reinforcing a dangerous condescending attitude that ultimately can further perpetuate power imbalances and hamper disability justice efforts.
But big words and sociology aside, this idea of the "sweet girl" attitude also reveals how people with disabilities often feel societally pressured to be kind and grateful to nondisabled individuals, even when they're just being basically decent humans or, in some situations, doing things that could actually be harmful to that individual. For example, a nondisabled person who guides a person who is blind across the street by grabbing them or who tries to push a wheelchair-user up the block without asking and then gets angry when that individual is not grateful, is one of the reasons that this belief exists. The idea that people with disabilities should always be grateful to those who "are just trying to help," but in many cases are making things worse, shows a sense of entitlement that, again, stems from this condescending attitude and the misguided belief that they are performing an act of charity. It reinforces the idea that people with disabilities should be eternally grateful to the universe and those around them, and discounts the reality of living with any sort of disability and the amount of pain, stigma and challenges it can cause.
Kim is unapologetic in not being a "sweet girl," which Eakin said has been cathartic for both her in creating such a character as well as for many people in the disability community watching the film.
While shopping, the character of Kim endures numerous stares of adults and children. "Sometimes it is overly done and you wish you could say something to them," Eakin said. "I allowed this character to be vocal and say the things that we all wish we could say. She's a character who does not hold back.
"I was a little afraid about creating a character that is brash and rude," Eakin continued. "From my perspective, as a person with a disability, I try to be a positive representation, but I'm also human – with many flaws. And that's why we need different types of characters to show the whole spectrum of people who have a disability. Kim isn't a bad person, she's on a journey and we get to watch her on that experience."
Ensuring Inclusion Off Screen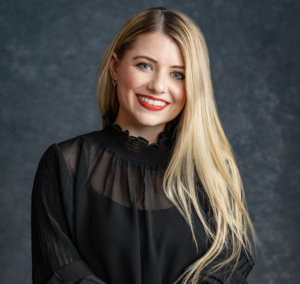 Eakin produced "Single" while participating in the AFI Directing Workshop for Women and her work led to winning the New York Women in Film: Loreen Arbus Disability Awareness Grant. As part of that grant, Woman of Her Word's Michele Spitz ensured "Single" would have accessible assets for viewers who are blind and have low vision, as well as for those who are deaf or hard of hearing.
"Prior to meeting Michele, I did not know much about the accessibility features," Eakin said. "And now that I do, I want to be an advocate for it. It's not required in the film festival world yet."
Even though the film did not show due to the cancellation of SXSW, Eakin recalled that the SXSW team was fully supportive of her, updating the film's page to say it will have these capabilities and ensuring it was showing at a theater with the technology needed to take advantage of these features.
All in a "Single" Film
Eakin shows genius in bringing all of these ideas together in a single film. But, more than that, she shows that a 15-minute short film can be cinematographically beautiful, tell a whole story and shine the spotlight on important issues – and that including those topics does not take away from the overall beauty of the film (and in fact adds to it). Centering the film around a date between two individuals with disabilities also is important, as stories about people with disabilities dating do not exist in mass media. Seeing a film with a strong, independent, sexy and disabled lead, who's unafraid to use the "d-word," creates a sense of hope for the future where every person will be able to see themselves represented up on the big screen. And if Eakin can do this all in a quarter-hour, imagine what so many other studios could do with all the time they have.
Additional reporting by Lauren Appelbaum.