This week has been a challenging and uncertain one for our world. As we are unmoored by the health and economic crisis as well as temporary closures of the mainstays of our lives, the rhythms of our days feel off, and we don't know when normalcy will return. This can be especially concerning to those of us who are Jews with disabilities, who are facing even greater unknowns. Yet, the Jewish tradition is one of continuing adaptation.
After the destruction of the Second Temple in Jerusalem in 70 CE, the rabbis realized that the world they once knew was no more, gone overnight. How were they to move forward and preserve our ancient, precious tradition? Their solution was to make Judaism portable through the compiling and codification of the Mishnah and Gemara which we call the Talmud. This innovative spirit continues today.
The past two weeks have seen the proliferation of Jewish programming online. You can stream a synagogue service any day you choose, drop into a class or even attend a concert. All of this is done out of necessity for sure, but it is also coming from a deep knowing that people seek meaning, connection and solace.
As a blind rabbi, something in this salutatory flurry of activity felt deeply discordant to me. The pace at which programming and even prayer books have suddenly become available online was due to the fact that these things—accommodations, if you were—are now what the majority population requires. We structure our society to center and prioritize the needs of majority populations, even in this ever-shifting reality. We too often forget the 20% of the human family with disabilities whose needs are frequently deprioritized because the perception is that the needed accommodations and supports are not widely needed enough to me important. This perception is really because they have not yet experienced a lack of access directly. This crisis is changing that reality, and new access abounds.
For me, and I assume for many people with disabilities, this newfound ease of access as books are moved to the internet where the screen reader on my computer can read them to me is accompanied by a host of complex feelings. The desire to return to in- person connection is counterbalanced by the joy of newfound access. At the same time there is also an unease as we realize how quickly things like digital prayer books were provided once it was needed by the general public, after years of unsuccessfully seeking it for the disability community.
Disability advocates have often pointed out that the world was not designed for us. And that is due to the choices that we humans make each and every day to prioritize some over others.
In this time of turning inward, we are being given an unparalleled opportunity to make a course correction. I pray we take it.
G-d, in reminding Moshe in Exodus that his disability was just as G-d made him, reminds Moshe and all of us that to build a mikdash—a sanctuary in which the Divine Presence can feel truly at home—we must structure our world so that we all can thrive as our best selves.
Many fear that once life returns to a semblance of normalcy, we will return to a world in which virtual offerings are fewer and not nearly as robust. What would it be like to use the gifts of this time—the gifts of out-of-the-box thinking and trying new things – to shape a reality in which gatherings can co-exist in a variety of ways all at once?
Let us remember and lift up the deep lived wisdom of the disability community for whom innovation has been the name of the game for generations. Let us learn from disability wisdom about emotional and spiritual resilience, being a problem-solver and creating community across geographic and spatial boundaries.
As our yearning to return to our synagogues, houses of study and community centers, and to enjoy Shabbat meals with others becomes reality; as our wonder about what Passover will feel like this year resolves with the passage of time; may we not forget the gifts, newfound communal access, and ways of thinking, this paradigm shift gave to us.
---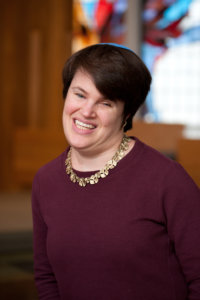 Rabbi Lauren Tuchman received rabbinic ordination from the Jewish Theological Seminary in 2018. Based in the Washington, D.C. area, Rabbi Tuchman is a sought after speaker, spiritual leader and educator. She has taught at numerous synagogues and other Jewish venues throughout North America and was named to the Jewish Week's 36 under 36 for her innovative leadership concerning inclusion of Jews with disabilities in all aspects of Jewish life. In 2017, she delivered an ELI Talk entitled We All Stood At Sinai: The Transformative Power of Inclusive Torah. Learn more about Rabbi Tuchman at www.rabbituchman.com.
In our Jewish Disability Perspectives newsletter, RespectAbility welcomes a wide spectrum of voices. The views expressed in each Jewish Disability Perspectives contribution are those of the guest contributor.