I was but one of 25,000 Jews and allies who attended last Sunday's Solidarity Rally in NYC, supporting NYC's Jewish community during these dark days of "Jew Hating" (the recommended substitute for "anti-semitism"). Together, we marched / rolled from Foley Square across the Brooklyn Bridge to Cadman Plaza Park.
It was a powerful experience: yasher ko'ach to JCRC of NY for organizing the rally within such short turnaround time; and to JCRC of DC, that organized, bussed, and fed the 125 rally-goers from my/our community. Communities arrived by bus, train, and plane, from Canada, Ohio, Massachusetts, New Jersey, Maryland, Virginia, DC, and beyond.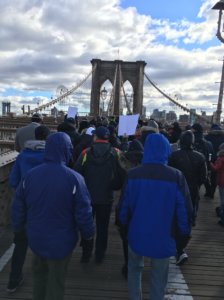 From an accessibility perspective, the organizers did what they could with but a few days to pull the entire event together. We at RespectAbility facilitated, encouraged, and supported the process, with JCRC NY's Noam Gilboord, COO, and Jennifer Glick, who took charge with their team, ensuring that some chairs were available for VIP / Priority / ADA seating; that accessible, portable bathrooms were delivered; and, working with UJA Federation of NY, that two excellent ASL interpreters were on-site. We then collaborated with JCRC-NY's team and vendors to make sure the on-site ASL interpreters were also "in sight!"
My key takeaways:
Taking a stand (or seat) amongst 25,000 Jews and allies, amplifying the message No to Hate, No to Fear, is not limited to NYC. It is a message that needs to reverberate nationwide and worldwide, as Jew Hatred metastasizes. We need to stand (or roll) against all kinds of hate – and people with disabilities (1 in 4 U.S. adults) deserve and want to be a part of this battle for decency.
Collaborating with the rally's dedicated coordinators was essential to ensure basic accessibility and accommodations for the Jews and allies who have disabilities. We can all do better. We must provide—and use—disability inclusion checklists for events ranging in size from a minyan (10) to 25,000. Some of the key checklist points are:

Ensuring that American Sign Language interpreters are on stage next to the speakers – as they were; providing a Priority / ADA seating area (with signage) for wheelchair users, and making sure the area is wheelchair accessible; securing chairs for people who cannot stand for long periods of time; announcing that the Priority / ADA space and seats are available; ordering accessible port-a-potties for wheelchair users and/or others who need such support; adding subtitles or captions on videos and providing live captioning on the large screens for people who are hard of hearing. We must commit as a community that from the moment it is decided to plan a program, rally, or event, that there is a person(s) empowered and responsible for this aspect, ensuring inclusion. May all feel included and empowered to march (or roll) against Jew hatred, and/or to daven and/or to celebrate joyous events as part of K'lal Yisrael or as our allies.

Singing a family favorite, "Kol Ha'Olam Kulo," ("All the world is a narrow bridge / the important thing is to not fear") as we walked the narrow Brooklyn Bridge towards the No Hate / No Fear rally was beyond profound: the song, once a metaphor, became quite literal, as 25,000 walked the narrow bridge in solidarity, facing the narrow-mindedness that breeds hate and fear with love and courage. It was chilling to note this collision of music, history, and reality. Leading the song was my new friend Rabbi Michael Strassfeld. (I embedded a recording by Israeli singer/actress Ofra Haza (z"l), with English captions and musical accompaniment.)
Walking past the Statue of Liberty, as the community leader Rabbi Joy Levitt (CEO of the accessible Marlene Meyerson JCC Manhattan) and I attempted to remember and sing Irving Berlin's musical rendition of "Give Me Your Tired, Your Poor." Its poignant lyrics, emblazoned on the base of the statue, were written by the American Jewish author and activist, Emma Lazarus. Here is the Jewish Irving Berlin himself singing the song, with a simple piano accompaniment. As it has no captions, here are Lazarus' lyrics:
Give me your tired, your poor
Your huddled masses yearning to breathe free
The wretched refuse of your teeming shore
Send these the homeless tempest-tost to me
I lift my lamp beside the golden door!
Meeting new people and making new friends and colleagues along the way.
May we never have a need for another solidarity rally. As I am not naïve, may we all be better prepared to ensure inclusion for everyone the next time around.
In solidarity and Shabbat Shalom,
Debbie
---
Debbie Fink was RespectAbility's Director of Community Outreach & Impact and helped lead its Jewish Inclusion team. She is also a former Hillel Director.
In our Jewish Disability Perspectives newsletter, RespectAbility welcomes a wide spectrum of voices. The views expressed in each Jewish Disability Perspectives contribution are those of the guest contributor.