It's a great time for those of us who care about people with disabilities. Our voter guide is out and you can see it and much more at www.VoteAbility.com. I also just heard from my friend and disability hero, Howard Blas who is Director-National Ramah Tikvah Network, about some very exciting projects. The first is that the Ramah team is continuing to grow their vocational training for people with disabilities. Secondly, his project on identifying creative job sites for people with disabilities continues. You can check out many success stories here: https://howardblas.com/disabilities/job-sites/
Soon Howard is off to Tanzania to climb Kiliminjaro with a fabulous Israeli disability organization, Access Israel. Check out the press release below. WOW, right? They are going to have a blast.

Shabbat shalom!
Jennifer Laszlo Mizrahi
www.RespectAbility.org
---
Accessible Together: 27 Diverse Trekkers with Disabilities to Conquer Mount Kilimanjaro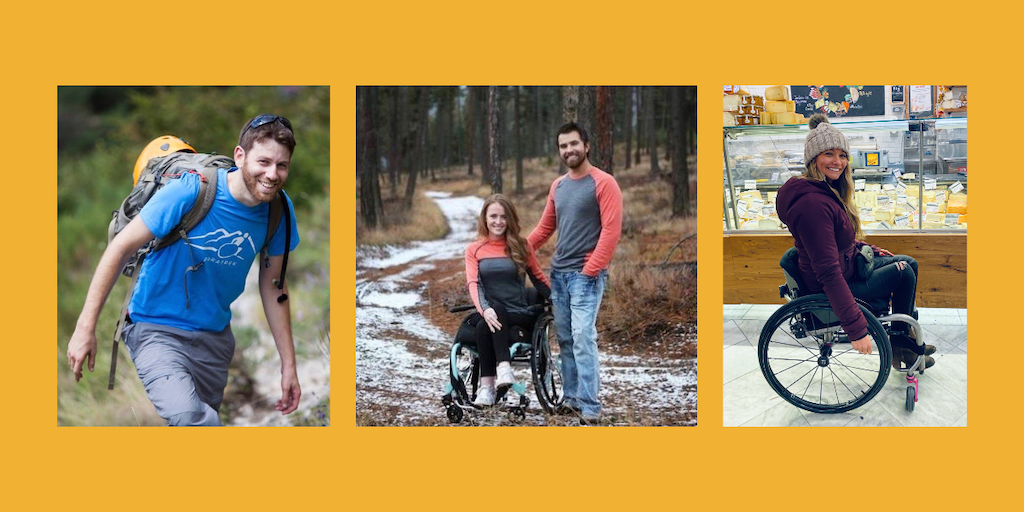 One of the largest delegations of climbers with disabilities are gearing up for an early February 2020 trek up 19,341 foot Mount Kilimanjaro in Tanzania.
The FAISR Kilimanjaro 2020 Team includes four paralyzed trekkers.  The delegation consists of a female who was initially paralyzed in 2009 and was in the process of regaining the ability to walk when the vehicle she was traveling in was totalled by a truck, and she suffered a higher vertebra injury paralyzing her further; a Tanzanian man with paraplegia who lives at the base of Kilimanjaro and always dreamed of making it to the top; a paralyzed woman who travels the world by herself advocating for inclusivity and accessibility; an Israeli adventure and thrill 'junkie' who was paralyzed in an accident; a marathoner who had a debilitating injury and uses trekking poles to cover long distances; a 9/11 first responder who was injured on that day, and several people with PTSD.
Twenty-seven hikers with different abilities will attempt the seven-day climb to benefit Friends of Access Israel (FAISR), an organization promoting accessibility, inclusion, and respect for people of all abilities around the world.
The diverse team consists of hikers from Texas, Montana, New York, and New Jersey in the United States, as well as participants from Israel and Tanzania. They will ascend the Marangu route, also known as the Coca Cola trail to reach the peak.  In accordance with best practices and Tanzanian regulations, which assures the safety of all, the delegation will be accompanied by 3 cooks, 11 guides, and 70 porters.  Daily mileage up the extinct volcano and through five ecosystems and vast game preserves will range from 3.1 miles on the acclimation days, to a grueling 14 miles through the night with a full moon to reach the summit for sunrise.
James Lassner, executive director of Friends of Access Israel, is inspired by the unique stories of each of the participants.  "With our collective physical strengths, mental toughness, and diverse abilities, we are all looking forward to joining together to conquer Kilimanjaro as a team.  Our goal is to unite as one, laugh together, cry together, trek together, and celebrate together at 19,341 feet."
FAISR's collaborative partner Access Israel was founded just over 20 years ago in Israel.  This past summer, at the celebration of the 20th anniversary of Access Israel, FAISR received a welcome endorsement from the State of Israel President Reuven Rivlin. "Our friends from abroad, from the United States -we appreciate very much what you are doing because this is a humanitarian need for everyone to respect human beings as human beings, not only as Israelis, Americans, Brits, or Russians. We appreciate your cooperation and partnership. God Bless You!"
Friends of Access Israel (FAISR) is committed to the acceleration of the removal of actual and perceived barriers for people with disabilities and the elderly. Through education, advocacy, travel, and technology, our efforts are to foster an equitable environment where all people are valued, respected, and supported for the vast abilities they have.
Statements From Some of the Trekkers Participating
Starla Hilliard-Barnes (was twice paralyzed and was selected as Ms. Wheelchair Montana in 2014, became the first wheelchair-user to compete in the Mrs. Montana pageant in 2016, and is founder of Moving Forward Adaptive Sports and the charity, Gifts of Love, will be accompanied by husband, Shannon Barnes): Kilimanjaro is a mountain and a trek that will test us in ways we've never known before.  If we allow it, it can make us stronger individuals on the other end. What I am most excited about is breaking down new barriers with equipment, that we have never seen or used.  It's not necessarily about us being the first group getting to use the material on Kilimanjaro that excites me the most, but about those who will get to follow in our footsteps. It is about them!  We feel humbled and blessed not only to be able to go on this journey as a couple but with some of our closest friends and new friends. Thank you, everyone, for making this possible!
Sabino Kweka (owner and operator of Popote Africa Tour Company): When James Lassner of Friends of Access Israel contacted me that they wanted to create an inclusive trek up Kili with people with disabilities, I was humbled and honored.  Over the past 5 months, he and I have worked like brothers to make sure that everyone's needs are met so that this maiden voyage of 27 people, many with disabilities, will create memories of a lifetime.  I will add that our brotherhood led to the invitation of a family friend Anold J. Tilisho, a 44-year man from Tanzania who lives just miles from Mount Kilimanjaro. He has dreamed of cresting Kilimanjaro and this will be his first trek up Kilimanjaro thanks to the special trekker traveling here from Israel.   Anold is a fine gentleman. who, in his teen years,  was struck with an acute illness that left him paralyzed and dependent on crutches.   I have crested Kilimanjaro over 100 times.  This next trip will certainly be one of the most memorable and life-altering for me, and I hope for our FAISR Kilimanjaro 2020 Team.
Omer Zur (Founder and CEO of Paratrek, and inventor of the trekkers being assembled in and transported from Israel to climb Kilimanjaro): After a missile strike during the 1973 Yom Kippur War that left my father paralyzed from the chest down, my dad vowed to continue life as usual. But there was one Israeli pastime he couldn't enjoy hiking.    He'd say, 'I'll go in the car and meet you on the other side,'" said Zur, a certified Israeli tour guide. I said, 'Why can't he do this with us?' So I designed the Paratrek Trekker and since have shown that "Where there's a wheel, there a way!".  I am very excited about Kilimanjaro because with Paratrek, we will accomplish as a team an important goal.
Marcela Marañon (Global social media advocate for accessibility and inclusivity): Climbing Mount Kilimanjaro with Friends of Access Israel is a dream come true. As someone who strongly advocates for wheelchair access and human kindness, I believe that when we work together towards a goal like climbing Mount Kilimanjaro, we are sending a strong message to the world that only together we can make a positive impact and break harmful stereotypes about people living with disabilities. The world is not designed for us, but when we have organizations like Friends of Access Israel pushing for new limits and helping us experience new horizons, we can only say that the sky is the limit for everyone regardless if you live with a disability or not.
Joseph Grunfeld: I had a traumatic knee injury to both my knees three years ago.  Running outdoors was a passion of mine not only for the physical; benefits but equally for the mental benefits.  Not only was running over, but I had trouble walking due to instability caused by the injury.  This summer, I realized I could hike with the use of trekking poles.  I had both my upper body strength to help with the work and got complete stability.  My dear wife, Gina, and I started hiking regularly.  I was back to doing something physical outdoors!  I now needed a goal to get my hiking to the next level.  I met Jamie through a close friend and found out about the work of Friends of Access Israel and their inclusive hike they were planning to Kilimanjaro. It was the perfect goal in so many ways.  Training for it! The beautiful people I am meeting, but most importantly, it has deep personal meaning for me.  On a very tiny scale, I learned what it is like to lose your freedom through a disability. I am fortunate that two hiking poles gave me my freedom back. For me and for others, the accessibility and inclusivity that FAISR is at the forefront of allows us to conquer many 'bucket list' items we never thought possible.   I am humbled and unbelievably grateful to be involved and shed light on this vital subject.
---
In our Jewish Disability Perspectives newsletter, RespectAbility welcomes a wide spectrum of voices. The views expressed in each Jewish Disability Perspectives contribution are those of the guest contributor.