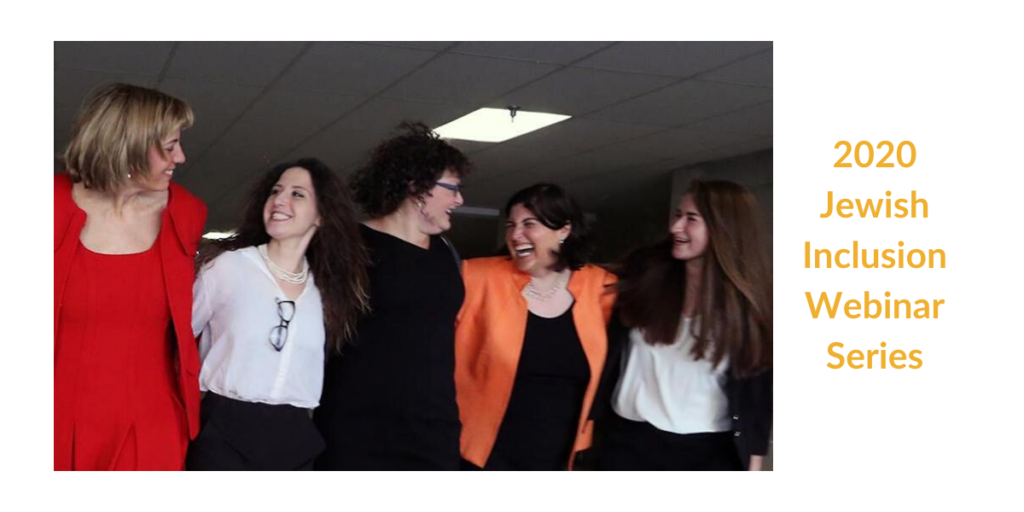 Shabbat Shalom,
This Shabbat begins the month of February, better known to the Jewish disability world as JDAIM, Jewish Disability Awareness, Acceptance and Inclusion Month (the "A" now stands for two words). It is a month full of activity in the Jewish world. As this Shabbat comes to a close, I will fly from Los Angeles to Washington, D.C., both to attend Jewish Federation of North America's Jewish Disability Advocacy Day (JDAD) and to co-host Erev-JDAD, a gathering the eve before, of nearly 80 JDAD attendees, to brainstorm around pressing issues facing the Jewish disability community, and to invigorate collaboration. I will report back on that in next week's Shabbat Smile, but for this week I wanted to make a pitch to you about the importance of making sure that this work is a year-round endeavor.
Inclusion must be a 365-day-year priority for the Jewish community. However, to envision this reality, the Jewish community must know how to include people with disabilities. We are not there yet. In early 2019, we published Disability in Philanthropy and Nonprofits. Thanks to professionals in the nonprofit and philanthropic sector, we discovered crucial information on the state of disability inclusion in the field. The report was covered in the Chronicle of Philanthropy, The NonProfit Times, Fast Company and other publications. We learned that 75 percent of the social sector wants to include people with disabilities. Similarly, in a landmark 2018 study by RespectAbility of more than 4,000 Jewish respondents, more than 90 percent who responded indicated that this is a priority.
Bringing Skill to the Will. While the will is there, the skill and knowledge are not. Indeed, despite great intentions, the push for diversity, equity, access and inclusion in our sector has not led to better outcomes. Time and time again, organizations unintentionally discriminate against people with disabilities in their events, programming, resources, websites, grant applications, volunteer recruitment and hiring practices. It's all about gaining the knowledge and ability to do it right. To this end, eighteen key groups partnered in that work, including BoardSource and the Chronicle of Philanthropy; and more than 1,000 people registered for a webinar series addressing these topics.
At RespectAbility, thanks to the generosity of The Jewish Community Foundation of Los Angeles, The David Berg Foundation, the Glazer foundation, the Schusterman Foundation and others, we are now able to ramp up our Jewish inclusion work and provide a similar targeted training series to the Jewish world. We would like for every organization in the Jewish world to join with us in sharing and promoting this important resource.
"If not now, when?" Now is the chance for you and the members of every group with which you associate to acquire the tools, skills and knowledge needed to advance disability inclusion in your work. Our upcoming series of free webinars will provide all team members step-by-step guidance, as well as resources and contacts to help foundations and nonprofits on their journey.
Can we count you in? Please share this invitation – a free partnership with RespectAbility – with every organization with which you associate, so that we can offer everyone whom they serve free high quality online Diversity, Equity, Access and Disability Inclusion Training. We will provide the skills necessary to welcome, respect and include people with disabilities from all backgrounds in all of their important work. The specifics are in the next few paragraphs, but the key information is that they can sign up at https://www.respectability.org/sponsorjewishwebinars.
Ken Yehi Ratzon. Let it be so!
Respectfully,
Matan Koch
Director of Project Moses and General Counsel
RespectAbility
---
PARTNERSHIP DETAILS ON FREE ZOOM WEBINAR SERIES OPPORTUNITY
We invite every Jewish organization, regardless of size or budget, to serve as a partner of this Zoom Webinar Series. Lend your name as together we advance inclusion in our sector. There is no financial cost to participate, but we do ask each partner to help promote the training so that as many people as possible can benefit. There will be absolutely no fundraising solicitations on these Zoom webinars, and they will be both free and fully accessible.
Partners receive benefits such as:
Listing in mailed marketing materials (for those who commit by the time of our mailing, right now envisioned for mid-February);
Website acknowledgement for each of the seven webinars;
Social media shout-outs;
RespectAbility's year-round e-newsletter available to promote co-presenter events.
Partners are responsible for the following:
Promotion of the Zoom Webinar Series in at least one e-newsletter or email to constituents;
3+ social media posts (including sharing our Facebook events for one or more of the webinars);
Additional outreach efforts as the partner sees fit.
Below is a list of the topics, still without dates. We expect to pick dates within the next few weeks. They will all be done weekdays at 1:30 p.m. ET so that people across the time zones of the world can participate. The speakers are in the process of being confirmed. If you have any questions, please email [email protected].
Thanks for your consideration.
---
CONTENT DETAILS FOR FREE ZOOM WEBINAR SERIES
Throughout calendar year 2020, we will create a live and recorded seven-part series, which collectively will contain skills needed by a Jewish organization to fully practice inclusion of Jewish leaders with disabilities. Here are the seven webinars:
Inclusion Is a Jewish Value:
Most Jewish organizations, including those focused on social justice (Tikkun Olam) issues, ground their work deeply in Jewish values. As the Jewish world puts serious work into becoming more inclusive, the temptation exists to define inclusion either separate from the Jewish mission of the organization – a recent outgrowth of our tradition's focus on Tikkun Olam. In fact, the roots of inclusive values, middot, can be found in the Torah, and there are serious and meaningful discussions of inclusion in the Talmud. This training will help organizations situate inclusion within our Jewish values, within Tikkun Olam, as well as address the intersection between inclusion and modern halachic concerns for organizations serving the Jewish public.
How to Create and Implement Successful Diversity, Equity and Inclusion (DEI) Initiatives – Best Practices and Must-Haves:
From Will to Skill. The decision to prioritize diversity is an important move forward on an organization's DEI journey, but the gap can be large between this well-intentioned decision and successful outcomes. We will bring together leaders from the most successful organizations to share the benefit of their experiences and their secrets for success. This includes Jews with multiple minority status, including those of color, members of the LGBTQ community, women in leadership, and more.
How to Ensure Legal Rights and Compliance Obligations – Exploring the Rights of Employees and Participants, and the Obligations of Jewish Organizations Under U.S. Law:
At RespectAbility, we believe strongly that the greatest motivator and argument around inclusion is the value it brings both to the organization and to the person. Even with this backdrop, we recognize that parties will occasionally find themselves at points of disagreement. At that point, it becomes important for everyone to know the nature of existing legal rights and obligations. This session will cover those topics, including the special sensitivities and limitations applying to religious organizations.
How to Ensure Accessible Events:
Organizational representatives will be given RespectAbility's Accessibility Checklist and will be taught how to use it. Although 72 percent of nonprofit organizations say they have a policy of nondiscrimination against people with disabilities, too few take simple steps to make their programming truly accessible. For example, fewer than 60 percent of organizations have their events held in physically accessible spaces. Fewer than one-third (30 percent) of organizations offer opportunities for participants at public events to request accommodations like sign language interpreters, live captioning or food allergy alternatives. This session will train organizations to ensure that their practices match their principles.
How to Ensure A Welcoming Lexicon, Accessible Websites and Social Media and Inclusive Photos:
Today's website is the front lobby of an organization, and social media is fast supplanting the more traditional ways that our organizations connect with the public. Our research shows that Jewish organizations are not yet using website basics for accessibility, like captioned videos, screen reader-friendly designs and photo description/alt-text. Run by RespectAbility's communications team, this webinar will give a nonprofit everything it needs to know to open its digital door, along with the language that invites all people in to participate.
How to Recruit, Accommodate and Promote Jewish Leaders with Disabilities for Paid Employment and Volunteer Leadership:
A large percentage of nonprofits RespectAbility surveyed agree that the best solutions for the inclusion of a subgroup must incorporate the experience and knowledge of that subgroup, yet less than half of the nonprofits surveyed reported having a person with a disability on staff, let alone in leadership. We envision a training for HR and inclusion professionals to teach them everything they need to know to recruit, hire, accommodate, retain and promote people with disabilities.
How to Advance Disability Inclusion in Jewish Education:
Organizations will learn about fellow organizations advancing Jewish Inclusion through best practices in Jewish Day Schools. For too long Jewish parents of children with disabilities have been faced with a stark decision: get my children the services they need or get them an education in a Jewish day school. We will share the successes of organizations looking to end this dichotomy such as Sulam in Rockville Maryland; Gateways: Access to Jewish Education in Boston, Massachusetts; and Hidden Sparks, based in New York City. Each has pioneered a different approach to make this dream a reality, and we will learn what they did, how they did it, and most importantly how we can learn from them in our own communities.
If not now, when? If not you, then who?
Please join us on this journey to inclusion for all!