Los Angeles, Dec. 19 – In the newly released The Parts You Lose, a young deaf boy named Wesley faces bullying at school and a father who cannot accept that his son cannot hear. He finds a father-figure in an injured fugitive (Aaron Paul) that he rescues, helping him recover in an abandoned barn. A heartfelt film with great acting and memorable scenes, The Parts You Lose's central theme of a young boy looking for a positive male role model is relatable to all audiences.
"To me this story is universal," Christopher Cantwell, director of the film, said. "Aside from Wesley's deafness, he's feeling emotionally isolated. He's struggling to make friends. His family is under a lot of stress, which only amplifies and worsens his disconnection from a disappointed father. I think that story is something probably everyone can relate to… feeling cut off and in need of connection to others. We can empathize with the fear of growing up, and the hardening that often comes on the other side of that. The story isn't about Wesley's deafness, that's merely a part of the aperture through which he sees the world."
Viewers of The Parts You Lose have the opportunity to view the world through a different perspective than typically portrayed – through the eyes of this young deaf boy, played authentically by deaf actor Danny Murphy. Additionally, the filmmakers paid extensive attention to the cinematography of the film – with each scene full of visual detail. Viewers often see scenes from Murphy's perspective and relies more heavily on gestures and facial expressions than the spoken word.
"Look at silent film, and how the best of it conveys as much as the most dialogue-heavy stories out there," Cantwell said. "By framing and lensing Danny in the right ways, we can pick up on absolutely everything we need to in order to tell the story. When we watch a movie, we limited our own senses, and engage primarily with our eyes. In the same way that Danny carefully reads faces, we're reading his. I mean, this goes for every face on screen at a certain point. Line delivery is key, but it's the faces. It's always the faces. That's all you need."
Authentic Casting Yields Authentic Portrayal
From the very beginning, the casting directors put out a call specifically for a deaf child actor for Murphy's role. Cantwellnoted the importance of this, stating "it would bring a level of authenticity and nuance to the performance that I believe even the best young actors with full hearing might miss."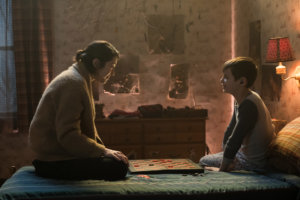 "Every way that [Danny Murphy] engages with people around him is visual and tangible in nature," Cantwell added. "That's every interaction, and it happens even in the most subtle ways others might not pay attention to or realize. The Deaf experience of the protagonist of the film needed to real, out of respect for the Deaf community, but more so to fully believe the character's POV in the story."
In order to reflect reality more accurately, the team filmed scenes at a deaf school, and utilized deaf teachers and students to play other parts in the film.
"I'm not deaf and none of the senior producers, department heads, or crew members were," Cantwell explained. "We needed to understand that way of communicating not just for the betterment of the film, but also for ease behind the scenes, and as a way to make Danny feel comfortable and safe… Once we shot scenes at a Deaf School, it made sense to have real teachers play themselves. Once all of that feels legitimate and not contrived, we can buy in to the rest of the story and the drama."
Yet it is important that Wesley – and other deaf characters – are portrayed as multi-dimensional.
"Atypical abilities can enrich a character and make them an even more fleshed out person, instead of reducing them to one thing," Cantwell said. "Because of PARTS, if I'm ever tackling a project where a character is described as Deaf or something else, there MUST be an answer to the following question: 'And what else are they?'"
Cantwell's advice for other filmmakers about incorporating people with disabilities in roles is simple: "Make films where people play people."
Film Reflects Reality for Many Deaf Children
Wesley's mother (Mary Elizabeth Winstead) is very supportive of the family learning sign language for her son's sake. Wesley's father (Scoot McNairy), on the other hand, has a hard time coming to terms of him being deaf. Murphy's father even goes as far to tell his wife, "the boy can hear me just fine." While Murphy, who is part of the fifth generation of deaf children on his father's side of the family, was born to deaf parents and therefore did not experience this himself, this scenario happens far too often when deaf children are born to hearing parents, making this scene in the film even more important.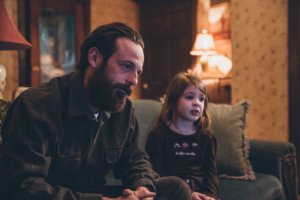 "This was tough for me," Murphy said. "I realised that's how deaf children are feeling about this. This is quite tough. I think it is important to show everyone this on screen because people deserve to know, and possibly improve their family relationships. There needs to be understanding of what deaf children have been/are going through. Hearing parents need to respect what their deaf children need. In real life, I've meet some of them and I think it is horrible and tough, so I hope this will improve."
Wesley also faces incessant bullying at school – from other kids calling out, "here comes the retard bus," and another putting snot in his hair. What is important here, is that this student teasing Wesley has Down syndrome teases Wesley, which shows no matter if you have a disability or not, you can be a mean person – and treats children with and without disabilities equally in the role of the bully.
"Why does someone with atypical abilities need to be seen as the victim?" Cantwell said. "Why can't they be the hero, like Wesley, or even a villain, like our bully at school? No one is just one thing, and I think the best characters highlight that. Human beings can be delightfully interesting paradoxes that way."
Portrayals like these are vitally important in reducing stigma against people with disabilities. However, the film does have one inaccurate representation when Wesley is shown to be able to read lips. Most individuals who are deaf are unable to read lips to do so, with the best lip readers only catching 30 percent of words, filling in the rest with context clues.
"When this is shown on film, it makes it look like I can lipread when I'm not," Murphy said. "It's really weird for me."
Cantwell noted the crew "had translators and liaisons just off-screen to help him in terms of where we were in the scene if he got lost" because he was playing someone who could lip read when Murphy himself could not.
Danny Murphy, Rising Star
Murphy, who has wanted to be an actor since he was seven years old, now has quite a following online due to his Danny's Skits videos. In addition, he has been touring across the U.S. performing Danny's Skits acts at deaf schools, clubs and organizations.
"I love touring across the world to perform at my events because I like to connect/interact with the audience, because they are part of the deaf community like me," Murphy said. "I love to share my experience with the audience. I like to make their day brighter."
The Danny's Skits videos use a great deal of expressive and physical comedy. This movie is a drama with intense, powerful scenes. Since Murphy was not able to rely on comedy for The Parts You Lose, he recalled having to practice a great deal for this role. Yet, Murphy conveyed emotion through his body language and facial expressions, which are captivating in this film.
Murphy, who is from the UK, also had to perfect a new language for this role. Sign Language is different in the U.S. and UK. In North America, American Sign Language (ASL) is used, while in the UK, British Sign Language (BSL) is used. His first language is BSL and second is spoken English. Murphy learned ASL because of his tours in the U.S., and he performed his lines in ASL in The Parts You Lose. He utilized an ASL tutor to help him to feel more confident. "But I love to learn something new," Murphy added.
The Parts You Lose, a Samuel Goldwyn Film, is available on digital, including Amazon, Apple TV and Fandago Now.