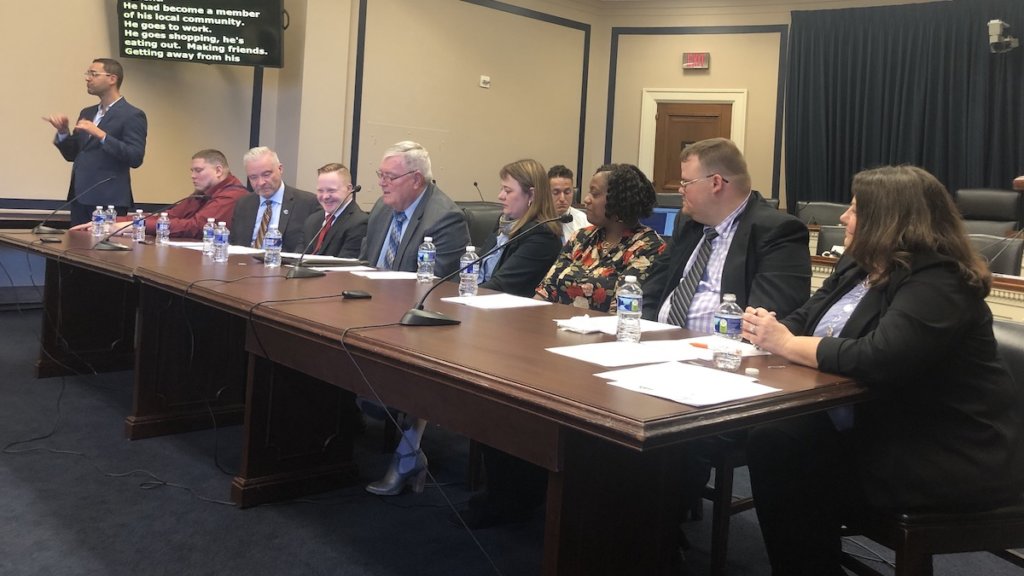 Washington, D.C., Nov. 6 – The Collaboration to Promote Self-Determination (CPSD) and the National Council on Disability celebrated National Disability Employment Awareness Month (NDEAM) with their third congressional briefing last week. There was standing room only as the audience learned about competitive integrated employment (CIE), community jobs where people with disabilities work alongside co-workers without disabilities and are paid competitive wages (minimum wage or above). Evidence from the briefing indicates that CIE provides greater financial independence for people with disabilities.
The event shined the spotlight on Virginians with disabilities who have successfully transitioned from sheltered workshops, where people with disabilities earn just a few dollars an hour and are segregated from employees without disabilities, to CIE. Tonya Millings, Director of Arc of Virginia was on the first panel. Her organization provides direct services to Lakesha Logan and Eric Cottrell—both Virginians. Lakesha and Eric are two success stories of people with disabilities who transitioned from sheltered workshops to CIE.
People with disabilities from Virginia, Iowa, Oregon and Maryland described making subminimum wage for many years in sheltered workshops during the event. Progress is being made, however. Oregon, for example, passed legislation to eliminate subminimum wage in 2023.
Bill Stumpf, a licensed practical nurse from Iowa, works with individuals with disabilities and serves on a local council. He talked about his journey to promoting CIE for his son Kyle Stumpf, a person with a disability. Kyle's experiences with CIE have allowed his income to increase enough so that he has set up an ABLE account. ABLE accounts allow people with disabilities to save money above and beyond the $2,000 savings ceiling the government has set for people with disabilities. If people with disabilities have more than $2,000 in savings, they could lose SSI safety net income.
In 2011, self-advocate Joshua Laird aged out of foster care. Laird admits he had behavioral issues stemming from a lack of resources. Poverty caused him to act out in anger. This all changed when Laird landed a job washing the parking lot of a local marina and was asked back for subsequent seasons, thus boosting Laird's confidence and income. To this day, every April to September, Laird continues working the marina.
This NDEAM has been marked by the transitions people with disabilities are successfully making into competitive integrated employment. CIE provides greater financial independence that often leads to having a place of their own.