Illinois athlete believes current perceptions amount to 'inspiration porn'
Washington, D.C., September 10, 2019 – Anastazia Kohout, an Illinois native with spina bifida whose competitive swimming career has cast her in the spotlight, wants people to see her individuality before her disability.
Kohout just completed a summer Fellowship with Respectability, a nonprofit that fights stigmas and advances opportunities for people with disabilities. With the skills and confidence she gained this summer, Kohout will lead empowerment training for women with disabilities when she returns to Beloit College this fall.
She is motivated, in large part, to fight "inspiration porn," the portrayal of people with disabilities as inspiration solely because of their disabilities.
As a disabled athlete, Kohout feels she has been objectified by media coverage that portrayed her disability as something she had to overcome. "Being a swimmer who uses a wheelchair does not make me an inspiration," she says. "I want people to understand that my disability is not something I have to overcome –– I would not change it for anything."
According to the Centers for Disease Control and Prevention, 1 in 4 adults in America have a physical, sensory, cognitive, mental health or other disability. However, only 2 percent of television characters with disabilities are played by people with disabilities, and most of these portrayals are either negative or exemplify inspiration porn.
Stereotypes of people with disabilities carry grave consequences. For example, low expectations about people with disabilities make employers less likely to hire them. Nationally, the employment rate of people with disabilities is only 37 percent, and Illinois is only slightly better at 38 percent. However, Illinois Gov. J.B. Pritzker has vowed to make employment of people with disabilities a top priority.
This summer, RespectAbility opened an office in Hollywood to continue educating the film and television industry about people with disabilities. This new program will train people in all aspects of movie and T.V. production to ensure a realistic and positive presentation of people with disabilities. Kohout worked to identify and secure funders for RespectAbility's Hollywood program and other initiatives that fight stigma.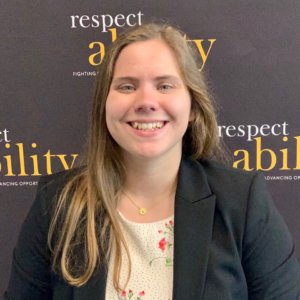 "This summer I have learned how to research and write grants, become more confident with myself and network," Kohout added. "I have had the opportunity to meet the most amazing people."
A rising junior at Beloit College in Wisconsin, Kohout is studying education and youth studies and disability studies and hopes to embark on a career in education and disability advocacy.
A nonprofit, nonpartisan organization led by people with disabilities and their allies, RespectAbility works with policymakers, educators, philanthropists, journalists and the entertainment industry to promote accessibility and inclusion for people with disabilities. Its free tools and resources aim to help people with disabilities achieve equal opportunities in education, training, jobs, security and good health.
Kohout is one of 169 graduates of RespectAbility's National Leadership Program. To learn more about the program or to apply, go to www.respectability.org/about-us/fellowship.
Media Contact:
Ben Spangenberg
[email protected]
(202) 517-6272 ext. 120