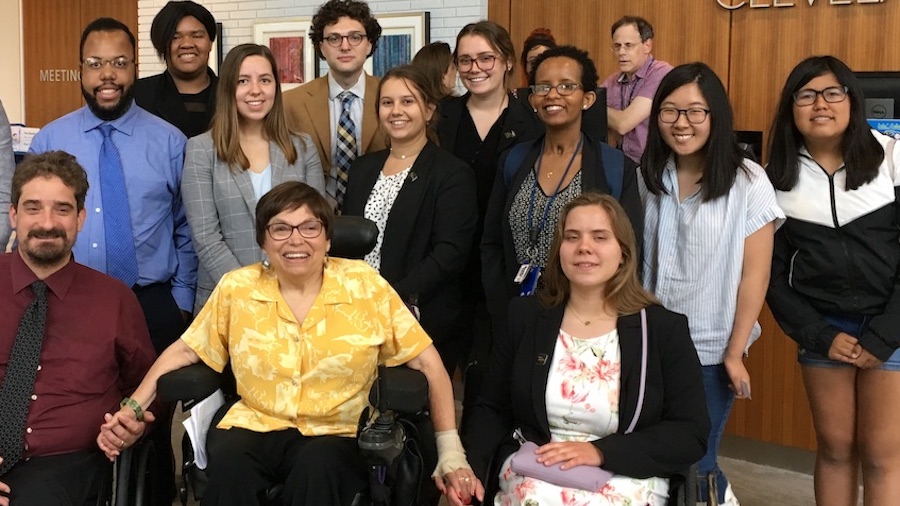 Washington, D.C., August 6 – Judy Heumann, one of the main progenitors of the disability rights movement, recently gave a talk to the Fellows at RespectAbility. Heumann emphasized the importance of the growing disability movement and encouraged our involvement in it.
An immense amount of progress has been made in the past few decades in accessibility; many things that are taken for granted today are more recent than people realize. For instance, accessible busses and curbs on sidewalks developed largely as the result of regulations in the 1970s. More recently, college campuses created disability offices to accommodate students with disabilities. All of these advancements are the direct result of the work and energy that countless disability advocates like Heumann have put into the movement.
However, there is still a staggering amount of work to do as people with disabilities still suffer many injustices. For example, people with disabilities face double standards in job interviews, Heumann noted. This is in many ways due to the stigma surrounding disability that often results from the media's representation of people with disabilities. As a result of this, Heumann created the Road Map for Inclusion: Changing the Face of Disability in Media, which lays out the current state of the field for disabled people in media and provides a wide set of recommendations to break down barriers and have more authentic visibility of disability within media.
To promote a more balanced portrayal of people with disabilities, Heumann suggested that advocates should have increased engagement and interaction with the media. For instance, she advised writing to film and T.V. producers with constructive criticism of or praise for their representation of people with disabilities. Overall, Heumann expressed optimism about the disability rights movement given the great progress made and the continued involvement of its advocates.
JOIN OUR TEAM!
RespectAbility is a nonprofit organization fighting stigmas and advancing opportunities for and with people with disabilities. This summer, 11 Fellows had the opportunity to learn from a variety of guest speakers. Learn more about the National Leadership Program and apply for the next cohort! Contact [email protected] for more information.
ALL FELLOWSHIP OPPORTUNITIES
LEARN MORE