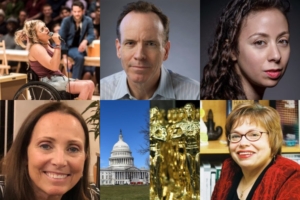 Washington, D.C., July 11 – A panel of diverse leaders with disabilities and their allies are gathering on Monday, July 22 to discuss the changing landscape of disability in media. This panel, composed of disability advocates and entertainment professionals, will be presenting between 1:00 p.m. and 2:00 p.m. as part of a day-long summit sponsored by RespectAbility, a nonprofit organization fighting stigmas and advancing opportunities for people with disabilities.
Judy Heumann will discuss a year-long project she conducted as a Senior Fellow for the Ford Foundation, the "Road Map for Inclusion: Changing the Face of Disability in Media." The report not only outlines the problems in representation but also offers a set of clear, practical recommendations for change.
Heumann also will discuss a Drunk History episode detailing her involvement and leadership with the Section 504 sit-in, paving the way for the passage of the Americans with Disabilities Act. Ali Stroker, Tony Award-Winning Actress, who portrayed Heumann in the Drunk History episode, will address the audience via a video message.
Rounding out the panel are Nasreen Alkhateeb, an award-winning director whose original content illuminating unrepresented voices has broadcast internationally for more than a decade, and Candace Cable, 12-time Paralympic Medalist. Jonathan Murray, reality TV pioneer and founder/executive consultant of Bunim/Murray Productions, is moderating the panel. Murray is a multi-Emmy-winning creator of Born This Way, Autism: The Musical and Deaf Out Loud.
"As a gay teen, I saw few positive representations of gay people in TV and film," Murray said. "What I did see was usually negative. This is very harmful to someone's self-esteem growing up. For people with disabilities, it is the same. They need to see positive representations of themselves, both as people with satisfying personal lives and as people who can perform successfully in the workplace. Seeing those positive images will open up a world to them that they may have thought was not for them. Also, those positive images will change for the better the way the greater society sees people with disabilities, opening up more opportunities for them."
The event will be taking place in Rooms 2043 & 2044 at the Rayburn House Office Building, Capitol Hill, Washington, D.C. Breakfast starts at 8:00 a.m. with formal remarks beginning at 9:00 a.m. The full conference agenda (all open to the press) is available on RespectAbility's website here: www.respectability.org/2019/07/2019-dc-summit. Space is extremely limited and RSVPs are required.
Media Contact:
Lauren Appelbaum
Vice President, Communications
RespectAbility
[email protected]